Kris Dawson Named Student Employee of the Year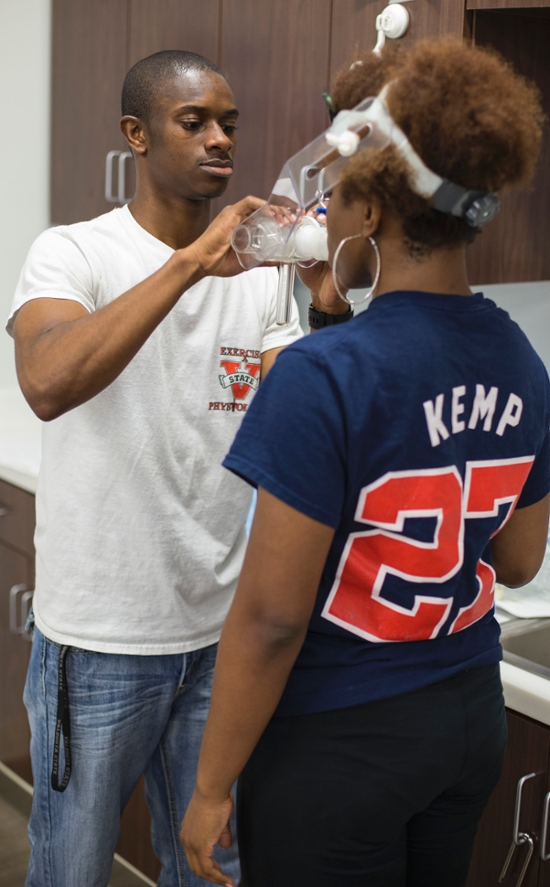 Kris Dawson is Valdosta State University's 2016-2017 Student Employee of the Year
VALDOSTA — Kris Dawson is Valdosta State University's 2016-2017 Student Employee of the Year. He was chosen based on his reliability, quality of work, initiative, professionalism, and uniqueness of contribution. 
Dawson has worked as a research assistant in the College of Nursing and Health Sciences's Exercise Physiology Human Performance Laboratory since May 2016. He was hired to assist Dr. Dharini Bhammar, an assistant professor in the Exercise Physiology Program, with a research project on the effects of high intensity interval exercise on ambulatory blood pressure in pre-hypertensive adults. 
"I was lucky to have a dedicated, intelligent, resourceful, and thoughtful student employee to help with my project … he not only took care of all the little details but … also pushed me to make the project better," said Bhammar in her nomination letter.  
As a research assistant, Dawson focused his efforts on recruiting participants for research, running tests, and collecting data. He presented the results of the project at VSU's 2017 Undergraduate Research Symposium. 
"My work with Dr. Bhammar has helped prepare me for my career field," said Dawson, who plans to pursue a career as a physician's assistant or physical therapist. 
"When I was announced as the winner of the Student Employee of the Year award, I was caught by surprise," he added. "I knew Dr. Bhammar was really happy with my initiative and what I was doing in the lab ... winning the award is definitely humbling." 
Dawson expects to graduate in May with a Bachelor of Science in Exercise Physiology and a minor in psychology.  He will spend the summer working as an intern at St. Joseph's Hospital in Savannah, where he will concentrate on wellness and cardiac rehabilitation. 
Dawson is a regular on the Dean's List and a member of the Exercise Physiology Club, Golden Key International Honour Society, and Sigma Alpha Pi: The National Society of Leadership and Success. 
He is the son of Antoinette Dawson and Brian Moody of Kingsland. 
Valdosta State University annually recognizes student employees for the contributions they have made working on campus while attending college. A total of 19 students were nominated for the Student Employee of the Year award. 
On the Web: 
https://www.valdosta.edu/colleges/nursing-and-health-sciences/welcome.php
General VSU Information
Office of Communications
Campus Address
Office of Communications Powell Hall West, Suite 1120
Mailing Address
1500 N. Patterson St.
Valdosta, GA 31698