May 1, 2017
17-133
Jessica Pope
Communications and Media Relations Coordinator
Gov. Nathan Deal to Speak at VSU's 223rd Commencement Ceremony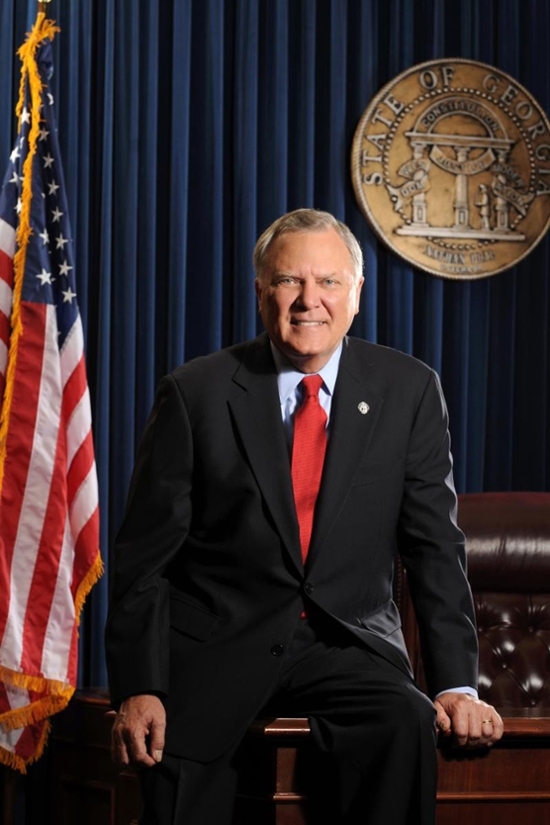 Nathan Deal
VALDOSTA — Gov. Nathan Deal will deliver the keynote address during Valdosta State University's Spring 2017 commencement ceremony at 7 p.m. on Saturday, May 6, on the Front Lawn.
"Graduation is a defining moment in every student's life," said Dr. Richard A. Carvajal, president of VSU. "We are excited that the governor of this great state will help us pay tribute to the outstanding efforts of our spring graduates and celebrate education as the foundation upon which success is built. These students have had to overcome any number of challenges to reach this point in their life's journey. It is that very perseverance that protects and nurtures Blazer Nation's 100-plus-year-old tradition of academic, creative, athletic, research, and service excellence. This weekend we celebrate not an ending but the beginning of many great things to come."  
A Sandersville native and United States Army veteran, Deal was elected the 82nd governor of Georgia in 2010 and re-elected in 2014. Under his leadership, Georgia has been named the No. 1 state in the nation for business four years in a row — a first in Georgia history. Since taking office in January 2011, he has helped create more than 575,000 private sector jobs. The state continues to grow local small businesses and attract top companies from around the world thanks to his tax reform, workforce development, and investment in education and infrastructure initiatives.
Deal has led Georgia to produce six balanced budgets, save millions of taxpayer dollars by maintaining a AAA bond rating, and grow the Rainy Day Reserve Fund to more than $2 billion. To keep up with a growing infrastructure demand, he implemented a number of investments in Georgia's transportation system, including the Transportation Funding Act of 2015, which will generate $10 billion in new transportation funding over 10 years. Transportation projects under his watch have already alleviated traffic and improved safety for a growing state.
When Deal took office, Georgia was in the midst of a criminal justice crisis, with high incarceration costs and recidivism rates. To address these issues, he implemented a series of bipartisan reforms, including expanded access to the Accountability Court Program, greater sentencing discretion for juvenile court judges, and removing barriers to give returning citizens a chance to rejoin the workforce and support their families. These reforms have already paid dividends by saving taxpayers $264 million and reducing the need for 5,000 prison beds.
Deal has also made investments in education a top priority, an effort to strengthen the workforce pipeline that runs from the classroom to the job market. He has devoted a higher percentage of the budget to K-12 funding than any governor in the past 50 years, worked closely with the General Assembly to save the HOPE (Helping Outstanding Pupils Educationally) Scholarship Program from bankruptcy, expanded the HOPE Grant for students attending technical colleges, and established the REACH (Realizing Educational Achievement Can Happen) Georgia Scholarship, a public-private partnership that provides scholarships to high-achieving students in underserved areas.
More than 1,200 undergraduate and graduate students will be recognized during Valdosta State University's 223rd commencement ceremonies on Friday, May 5, and Saturday, May 6.
The schedule of events is as follows:
• Dental Hygiene Pinning Ceremony
The Dental Hygiene Pinning Ceremony will be held at 10 a.m. on Friday, May 5, in the Student Union Theater.
• College of Nursing and Health Sciences Convocation
The College of Nursing and Health Sciences Convocation will be held at 12:30 p.m. on Friday, May 5, in the P.E. Complex. Dr. Sheri Noviello, dean of the College of Nursing and Health Sciences, will lead the festivities, recognizing all the candidates for the Associate of Applied Science, Bachelor of Science in Athletic Training, Bachelor of Science in Exercise Physiology, Bachelor of Science in Nursing, and Master of Science in Nursing. The nursing students will be pinned, and the master's level students will be hooded.
• Graduate School Commencement Ceremony
The Graduate School Commencement Ceremony will be held at 7 p.m. on Friday, May 5, in the P.E. Complex. The doors will open at 5 p.m. Graduates will line up at 5:30 p.m. at the Education Center.
• Air Force Reserve Officers' Training Corps (ROTC) Commissioning Ceremony
The Air Force ROTC Detachment 172 will conduct a commissioning ceremony at 9 a.m. on Saturday, May 6, in the Student Union Ballroom.
• Undergraduate Commencement Ceremony
The Undergraduate Commencement Ceremony will be held at 7 p.m. on Saturday, May 6, on the Front Lawn. Graduates will line up at 5:30 p.m. at Nevins Hall and the Hugh C. Bailey Science Center. President's Award for Academic Excellence recipients, honor graduates, and commissioned Air Force ROTC cadets will be recognized, and every graduate in attendance will have his or her name called as they walk across the platform area in front of their fellow graduates, their faculty, and their family and friends. The celebration will end with a full fireworks display. Transportation will be provided from the university parking lots. Students will be able to bring as many family and friends as they desire. Accessible parking and seating will be available. Guests unable to attend my view the ceremony live at www.valdosta.edu/commencement.
Please visit http://www.valdosta.edu/administration/advancement/event-services/commencement/ for a complete who, what, where, when guide to VSU's 223rd commencement ceremonies, including directions on where to park.
General VSU Information
Office of Communications
Campus Address
Office of Communications Powell Hall West, Suite 1120
Mailing Address
1500 N. Patterson St.
Valdosta, GA 31698