May 26, 2017
17-160
Jessica Pope
Communications and Media Relations Coordinator
Bass Fishing Team Headed to YETI FLW College Fishing National Championship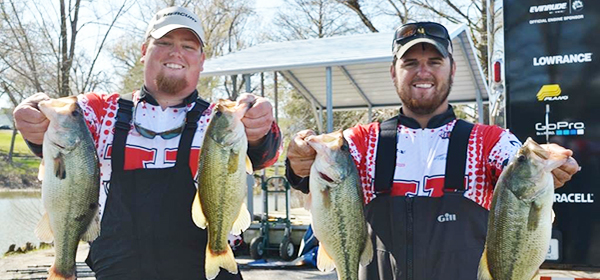 Pictured, from left to right, are Cody Cleary and Max Gresham. 
VALDOSTA — Max Gresham and Cody Cleary of Valdosta State University's Bass Fishing Club will compete at the 2017 YETI Fishing League Worldwide (FLW) College Fishing National Championship May 31-June 3 at Wheeler Lake in Alabama.
This is VSU's first time qualifying for the YETI FLW College Fishing National Championship.
"We are super excited to be heading to Wheeler Lake," said Gresham, an Adel native pursuing a Bachelor of Business Administration in accounting. "We are looking forward to getting back on the water together."
Cleary, a Dalton native, graduated from VSU with a Bachelor of Science in criminal justice in December.
"Since then we haven't been able to compete with each other," Gresham added. "We are excited to make VSU history, and we hope to grow into a championship-winning team." 
To earn the 2017 YETI FLW College Fishing Championship title, Gresham and Cleary will have to beat out 147 other collegiate bass fishing clubs from across the United States, all of whom are expected to converge at Wheeler Lake for a chance to win $30,000 in prizes, including a new Ranger Z175 boat with a 90-horsepower Evinrude outboard and entry into the 2017 Forrest Wood Cup, the world championship of bass fishing.
Gresham and Cleary qualified for the 2017 YETI FLW College Fishing Championship more than a year ago when they competed against 201 other teams at the two-day 2016 FLW College Open on Kentucky Lake in Gilbertsville, Kentucky. The duo finished the first day of the competition in 24th place, catching five bass weighing 13 pounds 14 ounces. They moved up to 11th place on the second day with five bass weighing 12 pounds 13 ounces and ended the tournament in 11th place with 10 total bass weighing 26 pounds 11 ounces.
"Going to the national championship is not something that everyone gets to do, so it is very special," Cleary said previously. "Qualifying means a lot to the both of us because we have worked so hard for it."
Gresham and Cleary will kick off their 2017 YETI FLW College Fishing Championship run at 6:30 a.m. Central Daylight Time on Wednesday, May 31, when all the collegiate anglers take off from Joe Wheeler State Park, located at 4401 McLean Drive in Rogersville, Alabama. Wednesday's and Thursday's weigh-in will be held at the state park beginning at 2:30 p.m. CDT. Friday's weigh-in will be held at McFarland Park, located at 200 Jim Spain Drive in Florence, Alabama, at 3 p.m. CDT.
The 2017 YETI FLW College Fishing National Championship is presented by Lowrance C-Map Genesis and hosted by the Florence/Lauderdale Convention and Visitors Bureau.
FLW is the world's largest tournament-fishing organization, providing anglers of all skill levels the opportunity to compete for millions in prize money in 2017 across five tournament circuits. Headquartered in Benton, Kentucky, with offices in Minneapolis, it conducts more than 274 bass fishing tournaments annually across the United States and sanctions tournaments in Canada, China, Mexico, South Africa, and South Korea.
On the Web:
https://valdosta.collegiatelink.net/organization/bass
https://www.facebook.com/VSUFishing
General VSU Information
Office of Communications
Campus Address
Office of Communications Powell Hall West, Suite 1120
Mailing Address
1500 N. Patterson St.
Valdosta, GA 31698