VSU Enactus Places in Nation's Top 16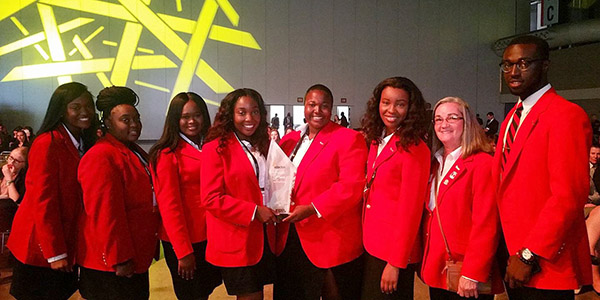 Pictured, from left to right, are Jamie Williams; Venessia Harris; Mamsai Secka; Jasmine Williams; Ashlee Holness; Alison Mgbeke; Diane Guess, faculty advisor; and Nathaniel Danquah. Not pictured are Tori Brown; Alexis McCutchin; and Jeffrie Shipley, faculty advisor. 
VALDOSTA — Valdosta State University Enactus placed in the Top 16 at the 2017 Enactus United States National Exposition. 
"I can't even began describe in words how excited and proud I am to be a part of the VSU Enactus team …," said Alison Mgbeke, outgoing president of VSU Enactus. "Even though our Enactus team doesn't do it for the recognition, this win goes to show that the more than 15,000 hours our members have put in this school year alone are truly making an impact on not only our local community but also the world. This is great encouragement for us to continue doing what we do best, which is helping others." 
VSU Enactus qualified for the 2017 Enactus United States National Exposition after winning first place at the 2017 Enactus United States Regional Competition in March in Atlanta.  
VSU Enactus competed against 106 teams at the 2017 Enactus United States National Exposition, which was held May 21-23 in Kansas City, Mo.  It presented the results of four ongoing projects — Kultured Kampus, Ora Lee West Homes and Hudson Dockett Homes, Boys and Girls Club, and the Greenhouse Project. 
Through Kultured Kampus: An International Project, VSU Enactus works with three tailors in the Republic of The Gambia — one who makes ties and bowties, one who makes book bags, and one who makes long-sleeve and short-sleeve dashikis as well as clothing for children. An overseer manages the production and ensures the tailors have what they need to create the goods. Enactus takes these items and makes them available for purchase through an online boutique. Proceeds provide job opportunities to tailors in The Gambia and fund the education of Gambian school children. 
VSU Enactus mentors high school students at the Boys and Girls Club of Valdosta, concentrating on competition and entrepreneurship. Inspired by the hit television show "Shark Tank," Enactus helps students develop a product or service idea and teaches them about design, product cost, pricing, and marketing. Students present their business endeavors to professional members of the community. 
At Ora Lee West Homes and Hudson Dockett Homes, VSU Enactus creates and leads educational programs for children, focusing on mentorship and entrepreneurship. Enactus members help the children create plans for small businesses, teaching them that they can make a difference in their community. 
Enactus partners with Lowndes Associated Ministries to People Inc., a nonprofit that serves homeless men, women, and children. Through the Greenhouse Project, Enactus helped shelter residents design and construct a greenhouse out of recycled plastic bottles and taught them how to grow their own food. Enactus is developing plans to build an aquaponics center where the residents can grow fresh vegetables and raise fish. Residents will be able to sell excess food to local markets. Through ComputerSmarts, Enactus helps shelter residents gain basic computer skills.   
Enactus is an international organization that connects student, academic and business leaders through entrepreneurial-based projects that empower people to transform opportunities into real, sustainable progress for themselves and their communities. 
Guided by academic advisors and business experts, the student leaders of Enactus create and implement entrepreneurial projects around the globe. The experience not only transforms lives but also helps students develop the kind of talent and perspective that is essential to leadership in an ever-more complicated and challenging world. 
"VSU Enactus has a reputation of strong, quality projects and presentation within the national organization," said Jeffrie Shipley, faculty advisor for VSU Enactus. "I am so proud of our students as they work to make the Valdosta community better.... Making it to the Top 16 in the United States validates their hard work. Having more than 25 students receive job offers this year is another reward for their efforts. I look forward to the upcoming academic year and the opportunity to explore new ideas with new and returning members ready to make a difference." 
Contact Jeffrie Shipley at (229) 245-6573 or
jkshiple@valdosta.edu
to learn more. 
On the Web: 
http://www.vsuenactus.org/
https://www.enactusunitedstates.org/national_exposition
http://enactus.org/
General VSU Information
Office of Communications
Campus Address
Office of Communications Powell Hall West, Suite 1120
Mailing Address
1500 N. Patterson St.
Valdosta, GA 31698