April 26, 2017
17-128
Jessica Pope
Communications and Media Relations Coordinator
Jayson Crum Honored with President's Award for Academic Excellence at Valdosta State University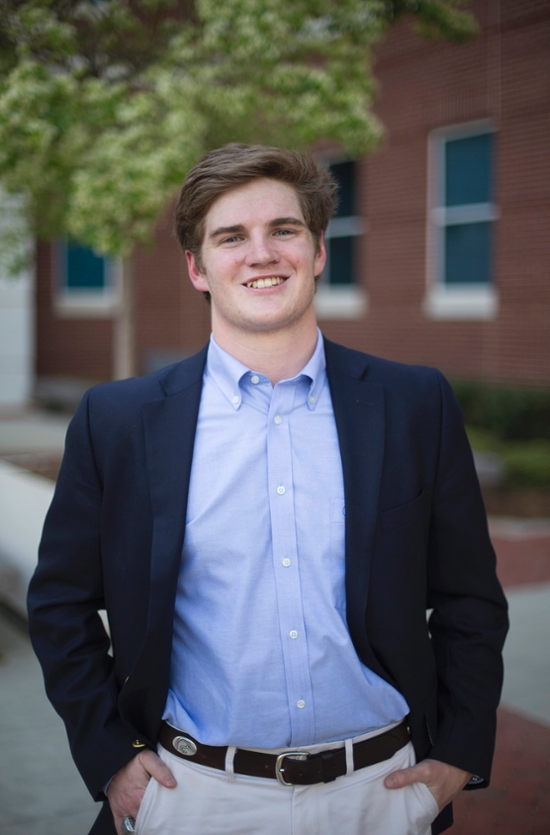 William Jayson Allen Crum
VALDOSTA — William Jayson Allen Crum of Valdosta, Georgia, is the recipient of the Spring 2017 President's Award for Academic Excellence for the College of Nursing and Health Sciences at Valdosta State University.
The President's Award for Academic Excellence is presented to the graduating student with the highest grade point average in each of VSU's five colleges — College of Arts and Sciences, College of the Arts, College of Nursing and Health Sciences, Harley Langdale Jr. College of Business Administration, and James L. and Dorothy H. Dewar College of Education and Human Services.
VSU will celebrate its 223rd commencement on Friday, May 5, and Saturday, May 6.
Crum will serve as the official banner carrier for the College of Nursing and Health Sciences during the undergraduate commencement ceremony at 7 p.m. on Saturday, May 6, on the VSU Front Lawn. He will graduate with a Bachelor of Science in Exercise Physiology.
"I am very thankful and excited to have received such a prestigious honor from Valdosta State University," he said. "I want to thank the faculty and staff for recognizing the long hours of studying and hard work to maintain my grade point average. I would not be where I am today without God and both of my parents. My parents have always encouraged me to work hard, be humble, and pursue my dreams.
"Earning my degree in exercise physiology at VSU has not come easily. I have faced challenges, been through hardships, and at times wanted to give up, but I have always found a way to preserve and overcome adversity. Franklin D. Roosevelt once said, 'The only thing we have to fear is fear itself.' We will all face hardships and have low points in our lives, but we must work harder during those times, focus on the positive, and forget about the negativity of the circumstance that we are facing. As I lead my fellow graduates out on May 6, I want everyone to remember how hard they worked to get where they are now and to be proud of what they have accomplished and the degree that they have earned."  
During his time as a student at VSU, Crum regularly achieved Dean's List status and served his university as an ambassador. He was a member of the Christian Student Center; the College Republicans; Alpha Lambda Delta Honor Society; the Blazer Football Team, where he played long snapper for two seasons, including the 2012 national championship season; the Exercise Physiology Club, where he served as vice president from 2015 to 2017; Ducks Unlimited, where he served as president of the VSU chapter from 2015 to 2016 and helped raise $20,000 for conservation efforts; and Relay for Life, where he served as sponsorship chairman and vice president for the VSU event from 2014 to 2016 and helped raise $23,000 for the American Cancer Society. His research, "Effect of Aging on Body Composition in Obese and Non-Obese Individuals," was presented at VSU's 2016 Undergraduate Research Symposium.
Crum's commitment to academic, research, and service excellence on campus, in the community, and around the world resulted in him earning a $10,000 scholarship from the University of Nebraska Medical Center for Cardiovascular Perfusion School, a $1,000 scholarship from the VSU Foundation Inc. for demonstrating excellence at all events as a university ambassador, and a $3,000 scholarship from Colquitt EMC.
Crum will spend the summer interning in the Cardiac Rehabilitation Program at South Georgia Medical Center's Dasher Memorial Heart Center. He said he is thankful for the cardiovascular team at SGMC, especially those who wrote letters of recommendation for him and helped him get where he is today.
"My professional objective is to become a cardiovascular perfusionist," said the son of John and Beth Crum and 2012 Lowndes High School alumnus. "I am very interested in the physiological and pathological aspects of the cardiovascular and respiratory systems, and I believe that my attention to detail, technological aptitude, innate curiosity, and critical and analytical thinking skills will ideally suit me to a career in cardiovascular perfusion. As a member of the cardiovascular team, the perfusionist plays a vital role in keeping the patient alive during open heart surgery via the heart-lung machine."
Crum will attend the University of Nebraska Medical Center in the fall.
On the Web:
http://www.valdosta.edu/colleges/nursing-and-health-sciences/
http://www.valdosta.edu/administration/advancement/event-services/commencement/
General VSU Information
Office of Communications
Campus Address
Office of Communications Powell Hall West, Suite 1120
Mailing Address
1500 N. Patterson St.
Valdosta, GA 31698