Tillman Helps VSU Students Find Their Purpose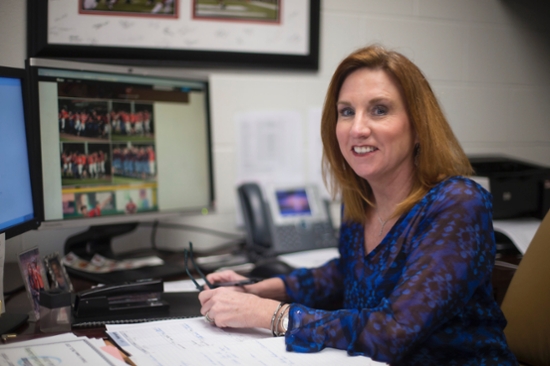 For 25 years and counting, Dr. Cheri Tillman has supported Valdosta State University students as they make a pivotal decision — choosing a major.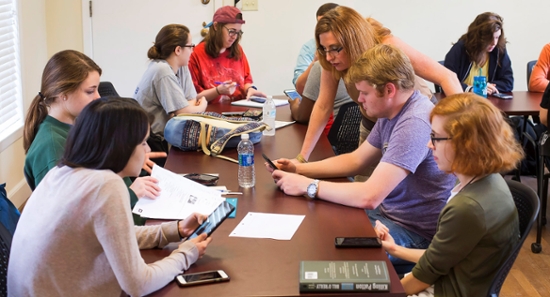 VALDOSTA — For 25 years and counting, Dr. Cheri Tillman has supported Valdosta State University students as they make a pivotal decision — choosing a major. She works with every student who has not decided on a major and helps them discover how they can incorporate their interests, passions, and skill sets into a career. 
Tillman, a Valdosta native and VSU alumna, started as an adjunct faculty member in 1992. Today, she primarily serves first-year students as both an instructor and a senior advisor in VSU's Centralized Advising. 
"I love teaching and building relationships with my students," she said. 
"From day one Dr. Tillman wanted me to do better and be the best person I could be; she believed in me every step of the way," said James Powell, who expects to graduate with a Bachelor of Business Administration in healthcare administration in May. 
In 2013, Powell began at VSU with a primary goal of playing basketball. He said he was not focused on grades or studying at all. He remembered meeting with Tillman as he struggled to choose a major. Tillman's advice and wisdom helped him realize the value of an education. 
"I cannot emphasize how important her mentorship and guidance was during that time in my life," he said. 
Tillman recognized the importance of reaching out to first year students and helped pioneer Centralized Advising's first year programs. The programs are designed to help students adjust to college life and support them throughout their academic careers. 
"We want to help students achieve success academically and socially," said Tillman, when explaining the importance of first year programs. "Academically, college courses are more rigorous and require more study time than most high school courses. Our students need help with study skills, time management, and critical thinking skills in order to make a successful transition to college. They also need to know about all of the available resources on campus to help them achieve academic success. 
"Socially, we want students to connect to their academic advisor and other faculty and staff campus members as well as other students. We hope to provide an avenue for meaningful contacts between our students and various members of the VSU community. The class sizes are kept small so students have a chance to build a sense of community. When our students make a connection to the VSU community, they are more likely to stay and graduate from VSU. First year programs are all about student success." 
Tillman's passion has always been about student success, and she works to form a relationship with each student who walks through her office door. 
"It always begins with a conversation getting to know the student," she said. "I strive to really get to know the student ... so conversations will be open and honest." 
"Whether I needed to discuss school issues or personal matters, I always knew that I could come to her for help or advice," said Jessica Kimbrell, a graduate student from Reidsville. 
"Because of her passion and dedication to working with students, Dr. Tillman made my freshman year of college an exciting and memorable experience. She encouraged our class to get involved on campus and try new things, while also taking the time to teach us good study habits, time management skills, and many other ways to be successful in college. As a freshman, most professors came across as intimidating and unapproachable; however, this was never the case with Dr. Tillman. Her priority is to make sure that every student is successful inside and outside of the classroom." 
Kimbrell recalled a time Tillman went above and beyond to make her college life easier. The two first met in the summer of 2011 when Kimbrell attended orientation. As she prepared to leave for home that afternoon, she discovered a conflict in her schedule. She noticed Tillman in her car, preparing to leave, and rushed over to ask for help. Tillman lead Kimbrell back inside and revised her schedule, making sure it was perfect. 
Kimbrell went on to earn a Bachelor of Science in Education in communication disorders in 2015 and expects to complete a Master of Education in communication sciences and disorders in Summer 2017. She works as a graduate assistant in Centralized Advising. 
To honor her years of hard work and service to the institution, VSU nominated Tillman for the National Resource Center and Cengage Learning's Outstanding First-Year Student Advocate Award. 
"Dr. Tillman has a selfless approach to serving our students, and she seeks to break down barriers inhibiting student persistence," said Alicia Roberson, director of Centralized Advising. "She advocates for students in a way that impacts them not only in the first year but also beyond as they progress in life. Her advocacy impacts our team, our students, and our institution." 
Tillman earned a Bachelor of Science in Education in early childhood education in 1985 and a Master of Education in early childhood education in 1992, both from VSU. She earned a Doctor of Education from the University of Sarasota in 2004. 
She is married to Hamilton Tillman, who serves as president and chief executive officer of Tillman Insurance Agency. The two have been married for 32 years and have a son, Reeves. 
Tillman enjoys playing tennis, saltwater fishing, playing bridge, and seeing students succeed. 
"When students give me a hug and say thank you, I know I made a difference," she said. "I want to help them choose the correct major and graduate. When they graduate, that is a win for everyone."                                                                                                                                                                                              
On the Web 
https://www.valdosta.edu/advising/
http://www.sc.edu/fye/
General VSU Information
Office of Communications
Campus Address
Office of Communications Powell Hall West, Suite 1120
Mailing Address
1500 N. Patterson St.
Valdosta, GA 31698