February 2, 2017
17-28
Jessica Pope
Communications and Media Relations Coordinator
Ira Flatow Makes Science Sexy at VSU Feb. 21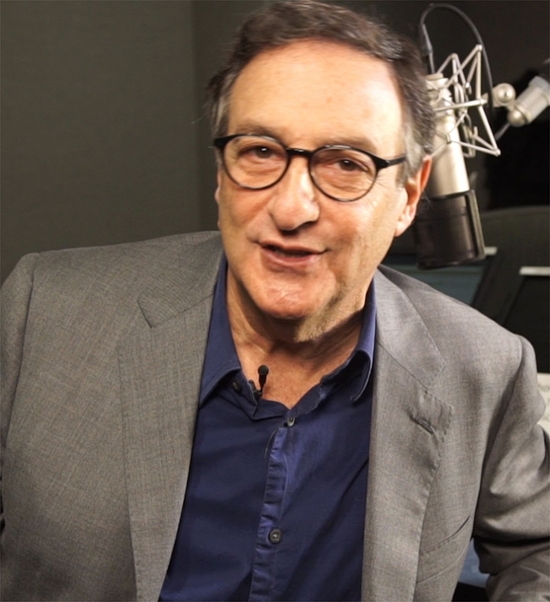 Ira Flatow is an award-winning science correspondent and television journalist. He currently hosts Public Radio International's popular "Science Friday."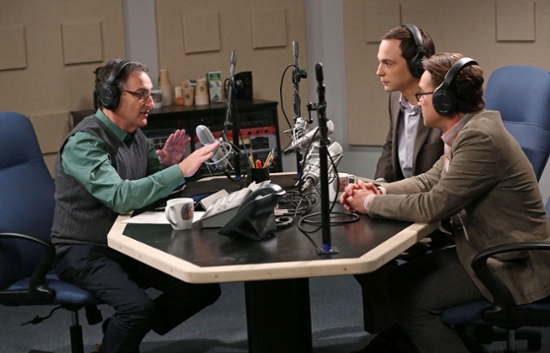 Ira Flatow has co-starred twice on the CBS hit series "The Big Bang Theory." Here is he pictured with Leonard, played by Johnny Galecki, and Sheldon, played by Jim Parsons.
VALDOSTA — Ira Flatow, host of Public Radio International's popular "Science Friday," will present "Smart is the New Sexy" at 7 p.m. on Tuesday, Feb. 21, at Valdosta State University's Whitehead Auditorium.
Admission is free of charge and open to the public. Seating is limited. Tickets are available by visiting www.valdosta.edu/flatow or by calling (229) 333-2150 from 8 a.m. to 5:30 p.m. Monday through Thursday.
"Ira Flatow's talk speaks to a growing recognition of the importance of science and technology, which are increasingly valued and embedded in our entertainment and leisure activities and in how we express ourselves," shared Dr. Anthony Scheffler, interim associate vice president for VSU's Division of Academic Affairs. "He is more than just knowledgeable; his presentations are both entertaining and thought provoking. His ability to capture the interest of people from all backgrounds with his engaging presentations on stage, television, and radio has made him a sought after speaker."
Flatow has a passion for science and technology and has shared that enthusiasm with public radio and television fans for more than 35 years. He is founder and president of the Science Friday Initiative, a nonprofit company dedicated to creating radio, television, and Internet projects that make science "user friendly." He considers it his personal challenge "to make science and technology a topic for discussion around the dinner table."
"I was the proverbial kid who spent hours in the basement experimenting with electronic gizmos and then entering them in high school science fairs," he shared. He almost burned down his mother's bathroom trying to recreate a biology class experiment.
Through his weekly "Science Friday" talk show, Flatow uses his unique and lively interviewing style to bring radio and Internet listeners around the globe an informative discussion on science, technology, health, space, and the environment. His show is heard by two million people each week on the radio and podcasts. His listeners know him to be "a bit of a ham." He has also hosted numerous science-related webcasts for Discovery Online and the American Museum of Natural History in New York. His podcasts are among the most listened to on the Internet.
Flatow's numerous television credits include six years as host and writer for the Emmy Award-winning "Newton's Apple" on PBS and science reporter for "CBS This Morning" and CNBC. He wrote, produced, and hosted "Transistorized!," an hour-long documentary about the history of the transistor, which aired on PBS. He has talked science on many TV talk shows, including "The Merv Griffin Show," "Today," "Charlie Rose," and "Oprah." He has also discussed the latest cutting-edge science as host of the four-part PBS series "Big Ideas," produced by WNET in New York. He has co-starred twice on the CBS hit series "The Big Bang Theory" and "Brain Dead."
Flatow has authored articles for various magazines, ranging from Woman's Day to ESPN Magazine to American Lawyer. His commentary has appeared in The Los Angeles Times and other newspapers. In his most recent book, "Present at the Future: From Evolution to Nanotechnology, Candid and Controversial Conversations on Science and Nature," he shares groundbreaking revelations from conversations with the world's top scientists and researchers and also explores his favorite topic — the science of everyday life. 
Flatow's commitment to making science fun and relevant has been honored many times over the years. He most recently received the Isaac Asimov Award (2012,) Nierenberg Prize (2010), Connecticut Academy of Science and Engineering, membership (2008), National Science Teachers Association Faraday Science Communicator Award (2007), National Science Board Public Service Award (2005), World Economic Forum Media Fellowship (2005), American Association for the Advancement of Science Journalism Award (2000), Brady Washburn Award (2000), and Carl Sagan Award (1999).
A native of New York, Flatow now lives in Connecticut. His hobbies include scuba diving, gardening, and electronic gadgets. He loves the theatre.
Flatow's "Smart is the New Sexy" is part of VSU's Presidential Lecture Series and is presented in collaboration with the university's STEAM (Science, Technology, Engineering, Art, and Mathematics) Center for Applied Creativity and Innovation. 
Whitehead Auditorium is located on the first floor of VSU's Fine Arts Building, which is located at the intersection of Brookwood Drive and Oak Street. 
On the Web:
http://www.valdosta.edu/academics/academic-affairs/presidential-lecture-series/welcome.php
http://www.iraflatow.com/
http://www.sciencefriday.com
http://www.scifri.org/
General VSU Information
Office of Communications
Campus Address
Office of Communications Powell Hall West, Suite 1120
Mailing Address
1500 N. Patterson St.
Valdosta, GA 31698