February 1, 2017
17-26
Jessica Pope
Communications and Media Relations Coordinator
Georgia Artist Wins Valdosta National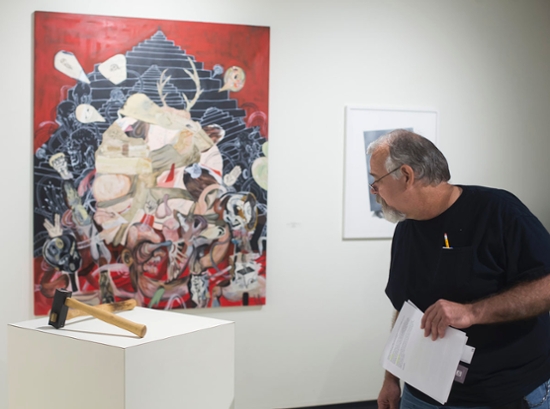 Scenes from opening night of Valdosta National 2017. Richard Pruett's first place piece, "The Deer Hunter," is pictured.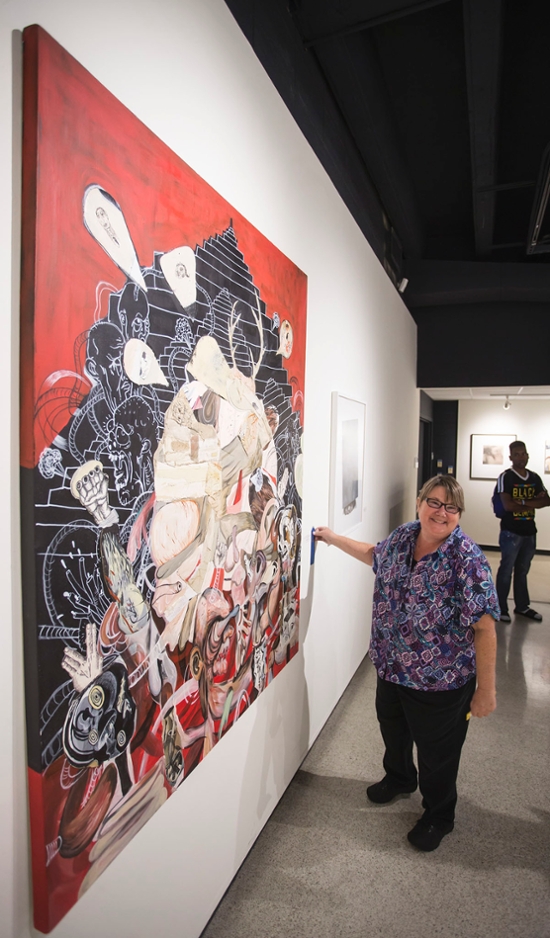 The Last Day to Explore This Exhibit is Feb. 3
VALDOSTA — Richard Pruett of Monroe won first place at Valdosta National 2017 with "The Deer Hunter," an acrylic and cannibalized painting pieces on canvas.
"I'm interested in organic forms and the decomposition and cannibalization of my paintings to produce new forms," according to an online artist statement. "I feel the need for continual physical and metaphorical deconstruction and reconstruction of my paintings. I am interested in the layered and amorphous qualities of paint that accentuate the tactile sense of vision. There is movement and tension, an internal force that pulls things toward figuration.
"Spontaneity and intuition are important elements in my painting process. The physical and immediate approach that painting affords is fundamental to my goal. In a sense my paintings are about painting as a practice. Taking this stance, and by being constantly bombarded by information concerning the viable role of art, I find that I am often unsatisfied with my painting. By taking risks I have learned to embrace failure and painting's limitations as progressive steps toward a more critical understanding of what I am doing."
A multiple award-winning studio artist, Pruett teaches art at Monroe Area High School. His works have been featured in exhibitions throughout Georgia and Tennessee, and he previously showed his work at VSU during the 2000 Governor's Honors Program.   
Other Valdosta National 2017 winners were Josh Brinlee of Memphis, Tenn., who won second place with "Masculine Projection 1: Double Self Portrait as Good Ol' B," a digital archival print; Michael Weinbrecht of Vero Beach, Fla., who won third place with "Useless Pieces," a sculptural work featuring salvaged and repurposed wood; Lynx Nguyen of Morrow, who won fourth place with "Ultimate Heaven," a ballpoint pen drawing with a drill on paper; James Mai of Normal, Ill., who received honorable mention for "Pure Land (Hexagons)," an archival print; Brad Whitney of Blacksburg, Va., who received honorable mention with "Waves Across the Time Desert," an acrylic on canvas; Sandra Jane Heard of Perrysburg, Ohio, who received honorable mention with "Freedom Fortress," a sculptural work featuring hand-woven vintage steel tape measures, silk, and linen; and Noelle Mulder of Houston, Texas, who received honorable mention with "Urban Flow: Seed and Feet," a video.
More than 150 adult artists from across the United States submitted a total of 437 individual works of art for the Valdosta State University Dedo Maranville Fine Arts Gallery's Valdosta National 2017, an all-media juried competition and exhibition.  
For the 29th annual showcase of contemporary visual art, Bryce Speed, Valdosta National 2017 judge, selected 43 works by 41 artists from 22 states to be featured and to compete for $1,500 in awards. The selection process was highly competitive.
"My goal as the juror was to select work that appealed to me on a conceptual or technical level or both," he shared. "I feel that each of the winning pieces requires some amount of questioning and probing by the viewer. I am particularly drawn to pieces that reveal something about the artist and the particular psychological world they inhabit.
"The first place piece strikingly reflects the momentum and anxiety of the world we live in. It has a frantic and searching quality that addresses issues of regionalism and life in the South. The surface treatments and varied paint qualities are lyrically chaotic, sometimes descriptive and sometimes abstract, but wonderfully complex. The implied hierarchy of the black pyramid structures helps to organize and give order to the mesh of activity we are presented with in this canvas.
"The second place winner addresses and dissects the tangled cultural expectations and realities of southern masculinity. Digital processes are used to create an atmosphere of uncertainty in this dueling and confrontational double portrait. The viewer takes on the role of being engaged, even if unwillingly, with this person and his environment. This intimate encounter is on a large scale and demands our attention through provoking, off-putting, and challenging fragments of imagery.
"The third place piece allows us to entertain the dichotomies possible within a three-dimensional form. This large-scale wooden sculpture is composed of numerous small pieces that work together to construct a tower within the gallery. The piece is beautifully evocative in its inner play with balance, finish, and space. Small circular shapes open allowing light to pass through and to relieve the heavy mass of the piece.
"The fourth place winner is using non-traditional approaches to mark making to create work that is dense in layering and color. A process using common ballpoint pens that are attached to an electric drill serves as a stand in for the artist's hand in the work. The repetitive motion is used to create a luminous and expansive field of purple that is sublime and contemplative."
Speed is an assistant professor of art, specializing in painting, at the University of Alabama. He earned a Bachelor of Fine Arts in painting and drawing from the University of Mississippi and a Master of Fine Arts in painting from the University of Alabama. He previously taught at the University of Nebraska at Omaha. His work has been exhibited extensively over the last decade. In 2014, he held a solo exhibition at VSU.
The Dedo Maranville Fine Arts Gallery is located on the first floor of VSU's Fine Arts Building, at the intersection of Brookwood Drive and Oak Street. It is open from 8:30 a.m. to 5:30 p.m. Monday through Thursday and 9 a.m. to 3 p.m. on Fridays. Admission is free of charge.
Contact Julie Bowland, Dedo Maranville Fine Arts Gallery director and Department of Art professor, at (229) 333-5835 or jabowlan@valdosta.edu to learn more or to schedule a guided tour of this exhibition or future exhibitions.
On the Web:
http://www.valdosta.edu/art/gallery
https://www.facebook.com/VSU-Fine-Arts-Gallery-133203592765/timeline/
http://brycespeed.com/home.html
http://rbpruett.weebly.com/
General VSU Information
Office of Communications
Campus Address
Office of Communications Powell Hall West, Suite 1120
Mailing Address
1500 N. Patterson St.
Valdosta, GA 31698