January 17, 2017
17-7
VSU Counseling Center Staff
VSU's Counseling Center Celebrates 17 Years of IACS Accreditation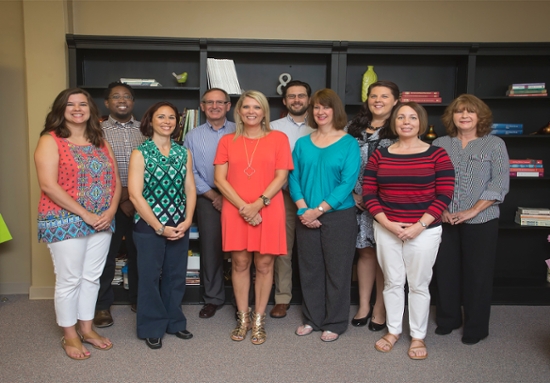 Pictured, from left to right, are Heidi O'Connor, Bradford Coleman, Tricia Hale, Mark Williams, Holly Wright, Ryan Couillou, Brenda Johnson, Caitlin Connolly, Rebecca Smith, and Beverly Phelps. 
VALDOSTA — Valdosta State University's Counseling Center celebrates 17 years of accreditation by the International Association of Counseling Services (IACS). 
The Counseling Center was first accredited in 2000 and is evaluated annually by the IACS to ensure that it continues to meet the highest professional standards. The IACS standards include fostering a strong relationship between the university and the community; providing adequate counseling service roles; upholding ethics policies; and more. 
"Valdosta State University's Counseling Center staff has worked hard to maintain being one of the few premier college counseling centers in the state and continues to strive for service excellence," said Dr. Tricia Hale, licensed professional counselor, certified professional counselor supervisor, and director of the Counseling Center.  
VSU's Counseling Center is one of five in Georgia that has achieved and maintained IACS accreditation. The other schools in the state that hold IACS accreditation are the Georgia Institute of Technology, Georgia State University, Clayton State University, and Georgia Southern University. 
The Counseling Center offers individual and group counseling, workshops and seminars, ADHD assessments, and psychiatric services. The Counseling Center continues to innovate by offering up-to-date online resources, a relaxation room with a massage chair, aromatherapy, and state-of-the-art services such as Eye Movement Desensitization and Reprocessing and biofeedback. 
Services at the Counseling Center are available to all VSU students and are provided free of charge. VSU faculty and staff may visit the Counseling Center for one free referral session. The Counseling Center's online resources are available to everyone. 
IACS began in 1949 as the Committee of the National Vocational Guidance Association. IACS was established as an association in 1972 to encourage and aid counseling services to meet high professional standards through peer evaluation and to inform the public about campus counseling services that are competent and reliable. 
Call the Counseling Center at (229) 333-5940 to learn more. 
On the Web: 
http://www.valdosta.edu/student/student-services/counseling-center/
General VSU Information
Office of Communications
Campus Address
Office of Communications Powell Hall West, Suite 1120
Mailing Address
1500 N. Patterson St.
Valdosta, GA 31698