December 7, 2016
16-325
Jessica Pope
Communications and Media Relations Coordinator
Kevin Carter Earns USG Distinguished Service Award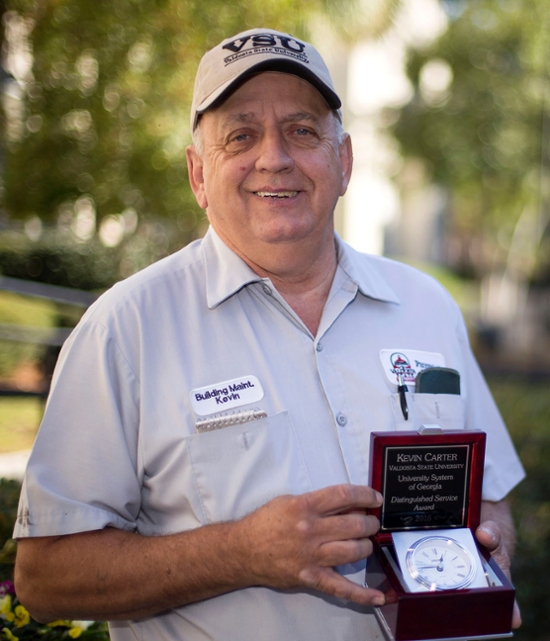 Kevin Carter
VALDOSTA — Valdosta State University's Kevin Carter is the recipient of the 2016 University System of Georgia Distinguished Service Award.
A plumber with more than 40 years of experience, Carter joined the Blazer Nation family in 1990 and currently helps the men and women of Plant Operations maintain the daily operations of all VSU facilities and systems. He reports each day to the Mechanical, Building Maintenance, and Paint Shop, waking every morning at 4:30 a.m., ready to respond to maintenance and repair requests.  
"I enjoy working," he said. "I really enjoy what I do."
Carter said this is his first time receiving the University System of Georgia Distinguished Service Award. He did not know that he had been nominated for the honor, so he was a little surprised when his boss called him to the office and told him he had won.  
"You work every day and you think people don't really notice what you do," he shared. "It's pleasing to know they do."
Carter was presented the 2016 University System of Georgia Distinguished Service Award during the 20th annual Office of Real Estate and Facilities Conference in Savannah. The three-day educational and networking opportunity invited University System of Georgia real estate and facilities team members to share their experiences and best practices with each other and to learn more about the many facets of project planning, maintaining safe learning and living environments, and emerging trends in higher education facilities.   
"This is quite an accomplishment and shows that we have the best maintenance in the University System of Georgia," shared Robert Tindall, associate director of Maintenance, a division of Plant Operations at VSU.
During his 26 years with the university, Carter has risen through the ranks and obtained master plumbing certification and back-flow prevention certification, shared Tindall and Ray Sable, director of Physical Plant and Facilities Planning at VSU, in their joint nomination letter. His turnaround time on work orders is usually less than 24 hours, with many completed the same day. 
"But Kevin does not simply fix what is broken," Tindall and Sable wrote. "He takes an active interest in making the facilities at VSU the best they can be and tries to head off problems before they happen. For example, one residence hall on campus used a unique toilet with an oval opening between the tank and the seat — most toilets have a standard circular opening. Kevin advocated for and received funds to retrofit all toilets in a 500-person residence hall with an adaptor so that oval rings, which are almost impossible to find, are no longer needed."
Carter has advocated for advanced equipment, with a desire to always provide the university community with faster and better service. Because of his efforts, for example, the Mechanical, Building Maintenance, and Paint Shop was able to obtain a truck-mounted water jet "snake" to replace the old twisting metal snakes used for decades to clean obstructions out of plumbing lines. This has resulted in on-campus plumbers being able to respond to requests much faster and to ensure plumbing lines are as clear as possible.     
"Kevin has taken on more responsibility and is now the second in command and running shop meetings and assigning work orders," Tindall and Sable continued. "He is also managing a budget and scheduling work in buildings. He is always available and willing to work. He completes more work orders than any technician and is always finding ways to get the job done. He has taken on the task of supervising other technicians and is first to teach them how and the why things are done. Everyone in the shop respects Kevin for his knowledge and comes to him first for help.  
"No one knows more about Valdosta State University plumbing systems than … Kevin Carter."
Carter and his wife, Judy, live in Adel. He enjoys traveling to the mountains, watching NASCAR (National Association for Stock Car Auto Racing) races, and flipping houses.
Newsroom
Office of Communications Powell Hall West, Suite 1120
Mailing Address
1500 N. Patterson St.
Valdosta, GA 31698
General VSU Information
Office of Communications