Career Opportunities Launches Next Step Mentoring Program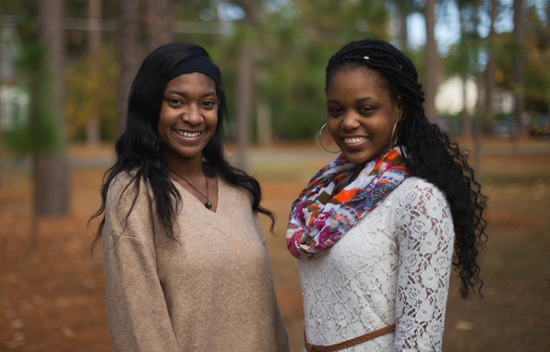 Valdosta State University's Office of Career Opportunities recently launched the Next Step Mentoring Program. Pictured are Ettia Lambert and Kelexis Battle.
VALDOSTA — Valdosta State University's Office of Career Opportunities recently launched the Next Step Mentoring Program. The program's pilot year began with 15 senior mentors and 15 sophomore mentees who met several times during the fall semester to discuss academic, personal, and career goals. The student pairs will continue to meet throughout the spring semester. 
"The Next Step Mentoring Program was created to assist sophomores with facilitating a smoother transition into their major," said Kevin Taylor, interim director of Career Opportunities. "I have been impressed with the willingness of our mentors in going the extra mile to ensure their mentees have the information and resources needed to be successful at VSU." 
The program's goals include helping mentees become adjusted to college, developing communication and leadership skills in both mentors and mentees, and strengthening career goals for program participants with the assistance of a career counselor. 
Ettia Lambert, a senior criminal justice major, was paired with Kelexis Battle, a sophomore criminal justice major. 
"The transition into your college major can be hard, and I know that I would have wanted to be a part of this program as a sophomore," said Lambert. "It's great to have someone to guide you who has been where you are in life. My mentee and I are able to talk about school as well as the importance of campus involvement." 
Lambert shared that she hopes to pursue a career in social work. While Battle intends to pursue a different path with her degree as a juvenile probation officer, the two found similarities in their desires to lead active academic and extracurricular lives. 
"My mentor and I really connected, and I felt like I could ask her anything because she was more than ready to help," said Battle. "I was able to get Ettia's perspective on careers and what I could possibly do once I graduate." 
Battle said that the program has been very helpful, and she looks forward to applying to be a mentor in her senior year. 
Recruitment for the 2017-2018 academic year for mentors will begin in Spring 2017, and recruitment for mentees will begin in Summer 2017. 
Students interested in joining the Next Step Mentoring Program for the 2017-2018 school year can visit
https://www.valdosta.edu/student/student-services/career-services/next-step-major-mentoring-program.php
to view the program requirements and apply online. 
Contact Kevin Taylor at
ktaylor@valdosta.edu
to learn more.
Newsroom
Office of Communications Powell Hall West, Suite 1120
Mailing Address
1500 N. Patterson St.
Valdosta, GA 31698
General VSU Information
Office of Communications