November 21, 2016
16-305
Jessica Pope
Communications and Media Relations Coordinator
Thomas Wright Honored with President's Award for Academic Excellence at Valdosta State University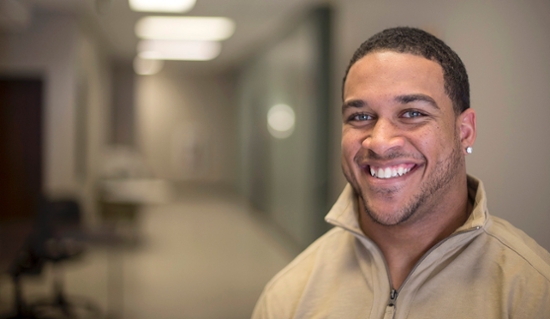 Thomas Isaiah Wright
VALDOSTA — Thomas Isaiah Wright of Leesburg, Georgia, is the recipient of the Fall 2016 President's Award for Academic Excellence for the College of the Arts at Valdosta State University.
The President's Award for Academic Excellence is presented to the graduating student with the highest grade point average in each of VSU's five colleges — College of the Arts, College of Arts and Sciences, College of Nursing and Health Sciences, Harley Langdale Jr. College of Business Administration, and James L. and Dorothy H. Dewar College of Education and Human Services.
VSU will celebrate its 222nd commencement on Friday, Dec. 9, and Saturday, Dec. 10.
Wright will serve as the official banner carrier for the College of the Arts during the undergraduate commencement ceremony at 5 p.m. on Saturday, Dec. 10, on the VSU Front Lawn. He will graduate summa cum laude with a Bachelor of Fine Arts in mass media, with a minor in speech communications.
"To be chosen as this award's recipient is truly an honor and a blessing," he said. "By no means was this journey easy — between classes and football — but when you love what you study, it makes all of the struggles worth it. Being able to lead my colleagues out during graduation will definitely be a memory to always cherish."
Wright has been a regular on the Dean's List and a Georgia HOPE (Helping Outstanding Pupils Educationally) Scholar since Fall 2012. He was named to the 2014 and 2015 Gulf South Conference Academic Honor Roll and earned the 2015 and 2016 Academic Athlete Award. He played football for the Blazers from 2012 to 2016, where he earned a scholarship all four years and was named team captain in 2016. He has served as a representative on the Blazer Council since 2012. He was awarded the Lee County Farm Bureau Scholarship in 2012.
Wright is a member of Alpha Lambda Delta: National Honor Society for First-Year Students, where he served as president in 2013, and Lambda Pi Eta: National Communication Association. He was appointed to the Gulf South Conference Student-Athlete Advisory Committee in 2015 and the VSU Student-Athlete Advisory Committee in 2012, serving as treasurer of the organization from 2014 to 2015 and vice president from 2015 to 2016. He was previously a member of Collegiate Men of VSU. He volunteered with the Boys and Girls Club from 2012 to 2014 and served as a mentor with the organization from 2013 to 2014.
"There is so much I want to achieve in life," said the son of Anthony and Tonya Wright. "The ultimate goal is to be a sports reporter/anchor for a large sports network, such as ESPN or CBS Sports. In addition to that, I want to do a handful of other things, such as motivational speaking, freelance videography, fitness instructing, modeling, and acting. Immediately after graduation I have accepted a full-time position as a kickboxing instructor in a fitness studio."
On the Web:
https://www.valdosta.edu/colleges/arts/welcome.php
http://www.vstateblazers.com/
http://www.valdosta.edu/administration/advancement/event-services/commencement/
Newsroom
Office of Communications Powell Hall West, Suite 1120
Mailing Address
1500 N. Patterson St.
Valdosta, GA 31698
General VSU Information
Office of Communications