October 13, 2016
16-264
Jessica Pope
Communications and Media Relations Coordinator
Tubaween Comes to VSU Oct. 23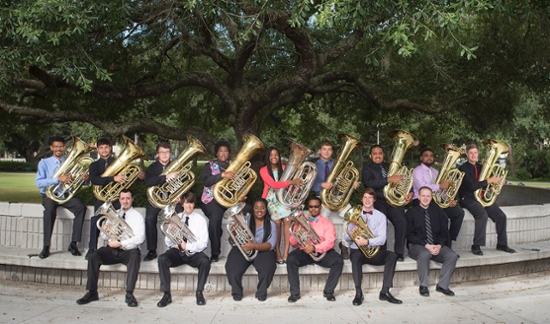 VSU's 14-member Tuba and Euphonium Ensemble has a rather creepy, kooky performance planned for the university's second annual Tubaween
VALDOSTA — Valdosta State University will present a hair-raising Tubaween at 7:30 p.m. on Sunday, Oct. 23, in Whitehead Auditorium. The concert is free of charge, open to the public, and sure to entertain ghosts and ghouls of all ages.
Dr. Daniel "Danny" J. Rowland, a lecturer in VSU's Department of Music, said that his 14-member Tuba and Euphonium Ensemble has a rather creepy, kooky performance planned for the university's second annual Tubaween. There will be costumes, ghost busting, narration, monster mashing, and so much more, and audience members are encouraged to dress the part as well.
"We had a tremendous response and a huge crowd last year, and I'm hoping we can do that again this year," Rowland said.
Tubaween marks the culmination of VSU's month-long Octuba celebration of recitals and concerts designed to bring attention to the "under-served and under-recognized" tuba and euphonium, Rowland said.
Whitehead Auditorium is located on the first floor of VSU's Fine Arts Building, at the intersection of Oak Street and Brookwood Drive.
Contact Dr. Daniel J. Rowland at djrowland@valdosta.edu or (229) 333-5456 to learn more.
On the Web:
https://www.facebook.com/VSUTubaEuph
https://www.valdosta.edu/colleges/arts/music/
http://www.tubadaniel.com
Newsroom
Office of Communications Powell Hall West, Suite 1120
Mailing Address
1500 N. Patterson St.
Valdosta, GA 31698
General VSU Information
Office of Communications