August 24, 2016
16-222
Jessica Pope
Communications and Media Relations Coordinator
VSU, Florida Gateway College Establish New Educational Partnership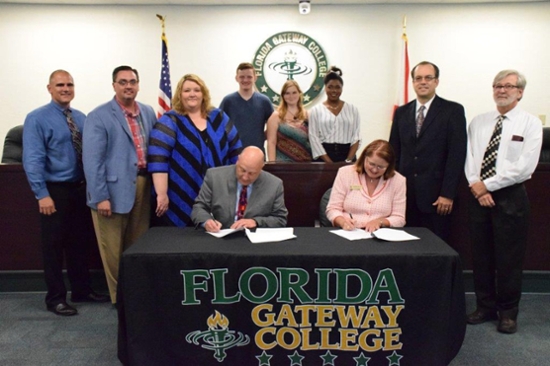 Valdosta State University and Florida Gateway College signed a 2+2 Transfer Admission Guarantee Wednesday. Pictured, from left to right, (main group) are Dr. Brian Dopson, vice president for academic programs at FGC; Steve Benson, vice president for business services at FGC; Dr. Jennifer Price, vice president for enrollment management at FGC; Dr. Lawrence Barrett, president of FGC; Dr. Kelli Brown, interim president of VSU; Dr. Brian Gerber, interim provost and vice president for academic affairs at VSU; and Dr. Joseph Weaver, director of off-campus programs at VSU; (back row) Tyler Berger, Grace Rambo, and Shea Clayton, all FGC students.
VALDOSTA — Valdosta State University and Florida Gateway College have established a new educational partnership designed to better serve currently enrolled and future students at both institutions of higher education.
Dr. Kelli Brown, interim president of Valdosta State University, and Dr. Lawrence Barrett, president of Florida Gateway College, signed the 2+2 Transfer Admission Guarantee on Wednesday. During the brief ceremony the two leaders solidified their commitment to improving access to top-quality post-secondary educational opportunities for North Central Florida residents. 
"This agreement provides Florida Gateway College students with one more option to further expand their education and enter the workforce with the knowledge and the critical-thinking, problem-solving, and interpersonal skills needed to be successful," Brown said. "We look forward to welcoming these students into our Blazer Nation family for many years to come." 
Provided they meet all necessary requirements, the 2+2 Transfer Admission Guarantee will guarantee Florida Gateway College graduates with an Associate in Arts degree admission to VSU and allow them to transfer up to 60 core credit hours — or two full years of coursework — towards a bachelor's degree. They will pay in-state tuition, an opportunity that is available to all Florida residents whose applications for admission are accepted.
With the 2+2 Transfer Admission Guarantee, Florida Gateway College graduates with an Associate in Arts degree will have full access to the more than 100 degree, certificate, and endorsement programs offered at VSU, both on campus and online, provided they meet the specific requirements of their desired programs of study. They will be able to take advantage of a full menu of extracurricular activities, from national championship baseball, football, softball, tennis, and even debate teams to honors organizations, sororities and fraternities, intramural sports, academic and service clubs, a symphony orchestra, art and theatre, research opportunities, and more. They will also have opportunities to file patents on inventions and make life-changing scientific discoveries, present at national and international conferences, publish research in collaboration with their professors, work in campus-based clinics that benefit the community, live and learn at partner institutions around the globe through study abroad — the possibilities are endless.
"The partnership between Florida Gateway College and Valdosta State University will allow our students another pathway to earn a bachelor's degree upon completion of their Associate in Arts degree," Barrett said. "We look forward to referring many of our graduates to Valdosta State."
Florida Gateway College students interested in taking advantage of this educational option are encouraged to declare their intent to utilize the 2+2 Transfer Admission Guarantee as early in their academic career as possible. This will save them time, money, and confusion; allow them to finish their degrees as efficiently as possible; and give them earlier access to VSU faculty and advisors.
On the Web:
About Valdosta State University:
Valdosta State University is a premier comprehensive university characterized by outstanding instruction, a wide range of student life opportunities, and a close connection to the community. Established in 1906, the institution's mission is to prepare students to meet global opportunities and challenges through excellence in teaching and learning; to expand the boundaries of current knowledge and explore the practical applications of that knowledge through excellence in scholarship and creative endeavors; and to promote the economic, cultural, and educational progress of the community and region through excellence in service outreach. It seeks to accomplish this mission in a dynamic, student-centered learning environment marked by a respect for diverse abilities, backgrounds, and contributions by all members of the university community.
About Florida Gateway College:
Located in Lake City, Florida Gateway College is committed to providing superior instruction, nurturing individual development, and enriching the community through quality higher education programs and lifelong learning opportunities. The comprehensive, public community college serves the postsecondary educational needs of the citizens of Baker, Columbia, Dixie, Gilchrist, and Union counties, welcoming more than 6,000 students each year to its main campus and three off-site locations in the rural areas of Olustee, Cross City, and Bell. It offers a variety of programs leading to the Bachelor of Science, Bachelor of Applied Science, Associate in Arts, Associate in Science, and Associate in Applied Science degrees; certificates in several occupational and technical areas; and an array of credit and noncredit courses for those seeking career advancement or personal enrichment.
Newsroom
Office of Communications Powell Hall West, Suite 1120
Mailing Address
1500 N. Patterson St.
Valdosta, GA 31698
General VSU Information
Office of Communications