July 12, 2016
16-202
Jessica Pope
Communications and Media Relations Coordinator
PSST! Season Ends July 17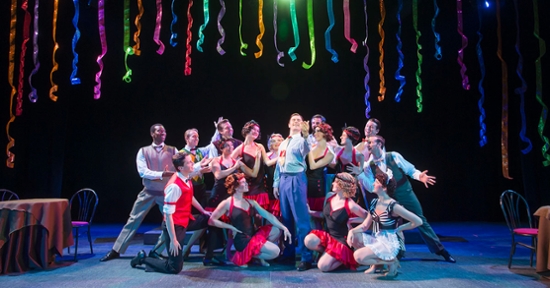 "Nice Work If You Can Get It"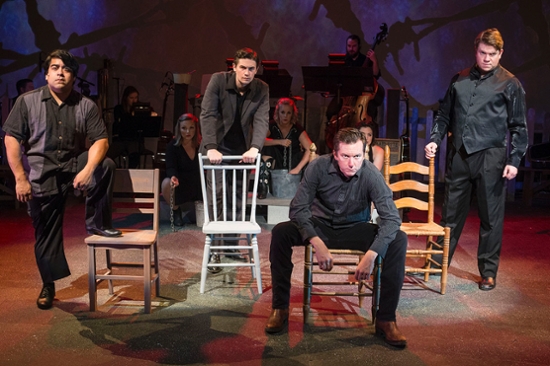 "Ring of Fire"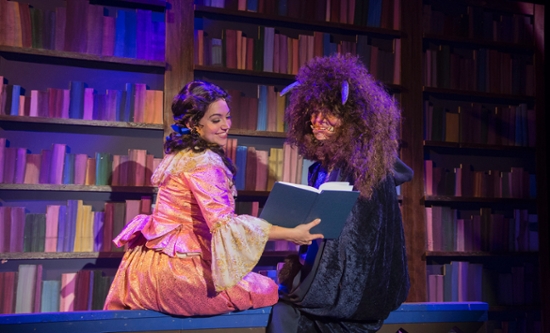 Disney's "Beauty and the Beast"
VALDOSTA — Peach State Summer Theatre fans have just a few more opportunities to catch one, two, or all three of this year's must-see shows.
Final performances of "Nice Work If You Can Get It" are scheduled for 2 p.m. on Wednesday, July 13; 7:30 p.m. on Friday, July 15; and 3 p.m. on Sunday, July 17.
Set in 1927's Long Island, N.Y., "Nice Work If You Can Get It" tells the story of a Jazz Age playboy who gets involved with bootleggers, rumrunners, and gold diggers on the weekend of his marriage. The musical comedy features music and lyrics by George and Ira Gershwin and a book by two-time Tony Award winner Joe DiPietro. It opened at the Imperial Theatre on Broadway on April 24, 2012, and enjoyed 478 performances before closing on June 15, 2013.
"The show is a new take on a classic 1920s musical farce," according to The Guide to Musical Theatre. "It's the tale of Jimmy Winter, a wealthy and carefree playboy living the good life in the midst of Prohibition. Jimmy has an unfortunate habit of marrying chorus girls, until he's forced to marry a woman of substance — Eileen Evergreen, the finest interpreter of modern dance in the world. On the weekend of their nuptials, Jimmy meets Billie Bendix, a tough-as-nails bootlegger who has inadvertently stashed 400 cases of gin in Jimmy's basement. Knocked out by this one-of-a-kind woman, Jimmy must deal with his high strung fiancée and an assortment of bootleggers, prohibitionists, G-Men, and chorus girls, as well as one very moralistic senator."
Final performances of "Ring of Fire" are scheduled for 7:30 p.m. on Wednesday, July 13, and 7:30 p.m. on Saturday, July 16.
Conceived by Bill Meade and created by Richard Maltby Jr., "Ring of Fire" is a jukebox musical celebrating the music of the late, great Johnny Cash. Unlike most theatre productions, it is not a series of dramatized scenes on stage but rather a collection of real life moments inspired by more than 30 of the Man in Black's most popular country songs, such as "I Walk the Line," "Folsom Prison Blues," "Hurt," "Sunday Morning Coming Down," and "Jackson."
"Ring of Fire" is not a biography about Cash because that was not "the most important story available to tell," Maltby wrote for The Guide to Musical Theatre. "Taking all the songs together, adding in the life he led, the person he was, the people he knew, loved, and sang about, it seemed to me that there is another story here. It's an almost mythic American tale of growing up in simple, dirt-poor surroundings in the heartland of America, leaving home, traveling on wings of music, finding love, misadventure, success, faith, redemption, and the love of a good woman and eventually returning home. It's about the journey of a man in search of his own soul, which is what in fact emerges when you consider all the details of Cash's life together. That seemed to be a worthy story to put on a stage — and the best part is we could tell it entirely in the songs."
Final performances of Disney's "Beauty and the Beast" are scheduled for 7:30 p.m. on Thursday, July 14, and 2 p.m. on Saturday, July 16.
Based on the Academy Award-winning animated feature released in 1991, "Beauty and the Beast" is the story "of Belle, a young woman in a provincial town, and the Beast, who is really a young prince trapped under the spell of an enchantress," according to a synopsis provided by Music Theatre International. "If the Beast can learn to love and be loved, the curse will end and he will be transformed to his former self. But time is running out. If the Beast does not learn his lesson soon, he and his household will be doomed for all eternity."
Featuring music by Alan Menken, lyrics by Howard Ashman and Tim Rice, and a book by Linda Woolverton, Disney's "Beauty and the Beast" has been performed for more than 35 million people in 13 countries and was previously presented by Peach State Summer Theatre in 2006. It opened on Broadway at the Palace Theatre on April 18, 1994, and closed at the Lunt-Fontanne Theatre on July 29, 2007, following a 5,461-performance run, making it the ninth longest running production in Broadway history. The original Broadway production earned a Tony Award for Best Costume Design.
Peach State Summer Theatre, or PSST!, is Valdosta's premiere professional summer stock theatre. Each summer, dozens of singers, dancers, technicians, managers, and creators gather on the campus of Valdosta State University for 10 weeks, and during that time, they rehearse, build, and present three musicals in rotating repertory.
The 2016 Peach State Summer Theatre season marks the 27th year of VSU producing professional theatre for the city of Valdosta, the state of Georgia, and beyond. From 1990 to 2004, VSU produced the Jekyll Island Musical Theatre Festival. In 2005, the summer theatre program was relocated to the university and renamed PSST!
The Georgia Legislature designated Valdosta State's summer stock theatre program the Official Musical Theatre of the State of Georgia.
VSU's Jacque Wheeler serves as the artistic director of Peach State Summer Theatre. H. Duke Guthrie is the managing director.
Individual admission is $31.28 for adults and $25.93 for students and senior citizens, including taxes and fees. A discount is available for groups of 10 or more.
The Peach State Summer Theatre Box Office is open from 10 a.m. to 5 p.m. Tuesday through Saturday and 10 a.m. to 1 p.m. Sundays. It is located on the first floor of the VSU Fine Arts Building, at the corner of Brookwood Drive and Oak Street, and can be reached by calling (229) 259-7770. The online box office at www.valdosta.edu/psst is open 24 hours a day, seven days a week.
Visit www.valdosta.edu/psst for more information.
---
Valdosta State University's 2013-2019 Strategic Plan represents a renewal of energy and commitment to the foundational principles for comprehensive institutions.
Implementation of the plan's five goals, along with their accompanying objectives and strategies, supports VSU's institutional mission and the University System of Georgia's mission for comprehensive universities. 
The story above demonstrates VSU's commitment to meeting the following goals: 
Goal 1: Recruit, retain, and graduate a quality, diverse student population and prepare students for roles as leaders in a global society.
Goal 3: Promote student, employee, alumni, retiree, and community engagement in our mission.
Goal 4: Foster an environment of creativity and scholarship.
Goal 5: Develop and enhance Valdosta State's human and physical resources.
Visit http://www.valdosta.edu/administration/planning/strategic-plan.php to learn more.
Newsroom
Office of Communications Powell Hall West, Suite 1120
Mailing Address
1500 N. Patterson St.
Valdosta, GA 31698
General VSU Information
Office of Communications