June 8, 2016
16-190
Jessica Pope
Communications and Media Relations Coordinator
Obediah Hall Wins Best Poster Award at VSU Symposium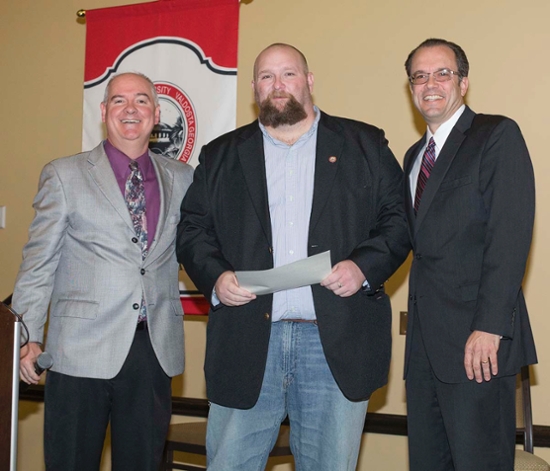 Pictured, from left to right, are Dr. James LaPlant, assistant vice president for research, dean of the Graduate School, and a faculty member in the Department of Political Science; Obediah Hall; and Dr. Brian Gerber, interim provost and vice president for Academic Affairs.
VALDOSTA — Obediah Hall's "31 in a Billion: An Analysis of the Adoption of Voter ID Laws" won the Best Poster Award in the Social Sciences at the 2016 Undergraduate Research Symposium hosted by Valdosta State University.
"I examined predictors of whether a state will pass new voter identification laws, especially after the 2013 Supreme Court ruling on 'Shelby Co. v. Eric Holder,' which removed Article 4 of the 1965 Voter Rights Act, the preclearance clause," said the 39-year-old who graduated from VSU in May with a Bachelor of Arts in political science and a minor in women and gender studies.
"This part forbid any state covered under the Voter Rights Act to enact new laws pertaining to the access of or to the polling place and the ability to vote before it was first cleared by federal observers working for the Office of the Attorney General of the United States. I believe the free and open access to vote by qualified citizens is the very heart of citizenship. It's how we make our voice heard. It was not always the rights of all, but many have fought and died to ensure it is today. To see that right being denied to individuals due to identification requirements that, when compared to the data, act as nothing more than a poll tax. Many state officials have used the straw man argument of preventing voter fraud, but the numbers don't agree. When examined, out of a billion votes cast only 31 cases of in-person voter fraud, which the picture identification requirement is meant to prevent, were found."
Hall's award-winning research was guided by Dr. James LaPlant, a faculty member in the Department of Political Science.
All freshmen, sophomores, juniors, and seniors at VSU were invited to submit proposals for the 22nd annual Undergraduate Research Symposium. Individual academic departments and colleges then selected the university's best paper, poster, and video research presentations, as well as creative arts exhibits, to be featured throughout the four-day event and to compete for prizes.
"Each year I am incredibly impressed with the quality of our undergraduate student research, scholarship, and creative work," said LaPlant, who also serves as assistant vice president for research and dean of the Graduate School. "The students are making original contributions to the body of knowledge of their disciplines. Many of the students are doing research that we often do not see until the graduate level."
The Undergraduate Research Symposium reflects VSU's commitment to increasing the opportunities available for undergraduate students to participate in research through specialized courses, engagement in internships and service learning, and other opportunities. This has many benefits, according to the university's Council on Undergraduate Research, as students who engage in research activities are able to build relationships resulting in enhanced learning with their faculty mentors, are more likely to be retained, are more likely to pursue advanced degrees, have an increased knowledge base of research methodology, and are more likely to promote an innovation-oriented culture.
Hall plans to pursue a Master of Public Administration, with a focus in public policy, at VSU. His dream is to work for the United States Department of State, possibly with the Diplomatic Corps, and travel all around the world promoting peace, supporting prosperity, and protecting American citizens while advancing the interests of the U.S. abroad.
As an undergraduate student at VSU Hall was an active member of the Gay-Straight Alliance, SAVE (Students Against Violating the Environment), Model United Nations, and Young College Democrats, where he served as treasurer for years. He lives in Live Oak, Florida.
On the Web:
https://www.valdosta.edu/academics/graduate-school/urc/
http://www.valdosta.edu/colleges/arts-sciences/political-science/welcome.php
---
Valdosta State University's 2013-2019 Strategic Plan represents a renewal of energy and commitment to the foundational principles for comprehensive institutions.
Implementation of the plan's five goals, along with their accompanying objectives and strategies, supports VSU's institutional mission and the University System of Georgia's mission for comprehensive universities. 
The story above demonstrates VSU's commitment to meeting the following goals: 
Goal 1: Recruit, retain, and graduate a quality, diverse student population and prepare students for roles as leaders in a global society.
Goal 3: Promote student, employee, alumni, retiree, and community engagement in our mission.
Goal 4: Foster an environment of creativity and scholarship.
Visit http://www.valdosta.edu/administration/planning/strategic-plan.php to learn more.
Newsroom
Office of Communications Powell Hall West, Suite 1120
Mailing Address
1500 N. Patterson St.
Valdosta, GA 31698
General VSU Information
Office of Communications