May 2, 2016
16-144
Whitney N. Yarber, Communications Specialist
William "Austin" Haney Named Graduate Assistant of the Year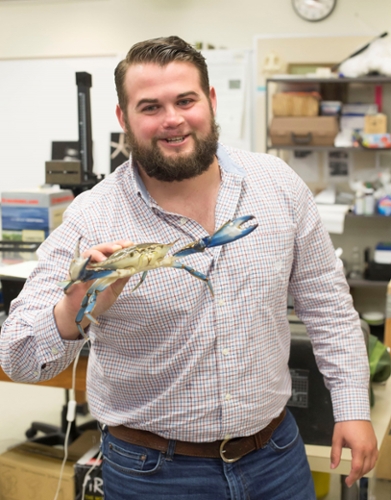 Pictured is William "Austin" Haney with one of the many blue crabs that VSU's Department of Biology uses to maintain the salt water tanks.
VALDOSTA – William "Austin" Haney is Valdosta State University's 2015-2016 Graduate Assistant of the Year.
Dr. Ted Uyeno, associate professor in the Department of Biology, nominated the 23-year-old Woodstock native for the distinguished honor. He said that Haney has served as his graduate assistant for one year and referenced his reliability, initiative, professionalism, research, and uniqueness of contribution in the nomination letter.
"I rely on Austin as both a research assistant in the field of marine biomechanics and also as a teaching assistant for the super-section classes," said Uyeno. "But if you ask Austin what I think his job title should be, it is 'junior faculty' … he has to think and plan like a professor to effectively partition his time between teaching, research, writing, and doing administrative tasks. Austin has taken this title to heart and is succeeding largely due to an inner drive and focus on what needs to be done."
As a graduate assistant, Haney's responsibilities included stocking gloves and supplies in the anatomy and physiology lab; setting up and breaking down lab practical examinations; assisting students in Uyeno's BIO 2651: Human Anatomy and Physiology course with the in-depth lab material; and coordinating with professors in the Department of Biology to ensure that all anatomy and physiology labs were running smoothly.
Drawing from the notes he took when previously assisting Uyeno, Haney had the privilege of running two 75-person anatomy and physiology lab classes on his own. He said the experience showed him how to properly run a lab and control a classroom, and taught him the responsibility of knowing the material so he can be the greatest help to students.
"Austin goes above and beyond what is required of him … he's undertaken a number of teaching assistant tasks without being asked and without supervision," Uyeno shared. "He has never once been late for a lab section, and even though he's taught this before, he comes to [my] lectures to refresh himself."
Haney, who has served as a member of the Baptist Collegiate Ministries leadership team for six years, said the most rewarding aspect of his position as a graduate teaching assistant was the ability to exercise servant leadership in laying down his own personal time to host study sessions and help students in need.
He also developed a manual that provides future graduate teaching assistants with concrete ideas of what they need to do to support the teaching faculty from week-to-week in terms of setting up and breaking down the human anatomy and physiology labs.
Uyeno noted Haney's professionalism when sharing the results of an overwhelmingly positive Student Opinion of Instruction. When students were asked what the best part of Haney's instruction throughout the human anatomy and physiology course was, they noted that he was helpful, friendly, and caring. Uyeno said he had never seen that type of reaction to a teaching assistant before.
As a graduate research assistant, Haney assists Uyeno with his three-year National Science Foundation funded grant for biomechanics research on deep sea hagfish. He also manages Uyeno's biomechanics lab.
"Austin has been answering fundamental questions of how hagfish use their body muscles to tie their rope-like bodies into knots," said Uyeno. "It turns out that nobody has ever been able to get them to knot repeatedly in a controlled manner. Austin's contribution to this science is that he has been the lead designer in a testing rig that allows us to do just that."
Uyeno said he foresees Haney's technique being used by biomechanicists and neurobiologists in the future to study how muscles activate to create and move body knots and how the brain generates the motor pattern outputs to control these motions.
In 2015, he assisted Uyeno with collecting and performing research on deep sea hagfish at the University of Washington College of the Environment's Friday Harbor Laboratories, located on San Juan Island in Friday Harbor, Wash.
Uyeno said that while the arduous job involved video recording and animal observations throughout the day and night, Haney never once complained, never went missing from his post, and returned with zero incomplete datasets.
"Austin consistently ends up producing quality work," said Uyeno. "… the science of biomechanics is a relatively young, integrative field of biology that looks at how animal mechanisms work. To do this, one must be competent in classical biological arts, such as microscopy, dissections, field techniques, and technical writing. One must also master Newtonian physics/math and computer modeling, as in addition, be able to design and build experimental rigs used in lab experiments. Austin had a firm background in biology and some physics, but he has had to tackle the rest along the way. Austin's approach to problems is to identify the goal, and then persevere until he gains enough mastery to accomplish the task."
Haney noted that the opportunity taught him valuable lessons about leading and organizing research labs and assisting with other research projects, including his own.
Earlier this year, Haney was one of seven students in the United States to be selected as a finalist for Best Student Presentation in the Division of Comparative Biomechanics at the Society for Integrative and Comparative Biology's Annual Meeting in Portland, Ore.
Although Haney was a Master of Science graduate student competing against Ph.D. candidates, he said his presentation and research received great praise from everyone in attendance. His work was also requested for publication by two journal editors.
A noted bluegrass musician and first-generation college student, Haney said the work he has completed under Uyeno's leadership has pushed him to strive for higher standards and has driven him to be the best possible student he can at VSU.
"He has made me feel pride in the work I have accomplished, as well as excitement for the future work I will be doing," said Haney, who earned a Bachelor of Science in biology from VSU in May 2015.
When asked how it felt to be named Graduate Assistant of the Year, he said, "I felt great humility and honor in representing all of the hard work every graduate assistant put into this year. It felt as if all of the hard work had finally paid off in my own academic journey and I am very thankful for the recognition. Awards like this are exciting because they drive graduate assistants to work towards a goal and be the best we can be at all times. It is an amazing feeling to be recognized like this and I hope this tradition continues on for years to come."
Haney and his fiancé, Caroline Stalvey, a senior English major from Hahira, are set to wed May 14.
He expects to graduate with a Master of Science in biology in December 2016.
---
Valdosta State University's 2013-2019 Strategic Plan represents a renewal of energy and commitment to the foundational principles for comprehensive institutions.
Implementation of the plan's five goals, along with their accompanying objectives and strategies, supports VSU's institutional mission and the University System of Georgia's mission for comprehensive universities.
The story above demonstrates VSU's commitment to meeting the following goals:
Goal 1: Recruit, retain, and graduate a quality, diverse student population and prepare students for roles as leaders in a global society.
Goal 3: Promote student, employee, alumni, retiree, and community engagement in our mission.
Goal 4: Foster an environment of creativity and scholarship.
Goal 5: Develop and enhance Valdosta State's human and physical resources.
Visit http://www.valdosta.edu/administration/planning/strategic-plan.php to learn more.
General VSU Information
Office of Communications
Campus Address
Office of Communications Powell Hall West, Suite 1120
Mailing Address
1500 N. Patterson St.
Valdosta, GA 31698