May 31, 2016
16-183
Whitney N. Yarber, Communications Specialist
VSU Alumna, Husband Donate Collection of Artwork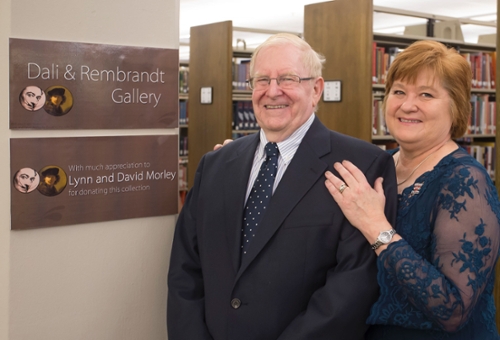 Pictured, from left to right, is Col. David Morley and Valdosta State University alumna and Lt. Col. Lynn Morley, both retired from the United States Air Force.
VALDOSTA – Valdosta State University alumna and Lt. Col. Lynn Morley and her husband, Col. David Morley, both retired from the United States Air Force, have donated more than a dozen works by renowned artists Rembrandt van Rijn and Salvador Dali to the university.
The Morleys, who are contributors to VSU's Invest. Ignite. Inspire. comprehensive capital campaign, said they decided to donate the works to Valdosta State University because it "would be a great place to be seen and appreciated by students, faculty, and visitors alike, and hopefully touch people who may not otherwise be able to see" them.
The Morley collection features eight millennium edition prints from an edition of 2,500 original etched copper plates by Rembrandt, including "The Raising of Lazarus;" "Self-Portrait Drawing at a Window;" "The Artist's Mother With Her Hand On Her Chest;" "The Card Player;" "Landscape with Cow Drinking;" "The Golf Player;" "Christ and the Women of Samaria Among the Ruins;" and "Bust of Man Wearing a High Cap," as well as eight serigraphic prints on woven paper from an edition of 300 originals by Dali, including "Destino" Nos. 53, 64, 56, 66, 74, 24, 25, and 68.
The artwork is currently on display in a gallery space located on the second floor of VSU's Odum Library and is open to the general public from 8 a.m. to 10 p.m. Monday through Thursday; 8 a.m. to 9 p.m. on Friday; noon to 8 p.m. on Saturday; and noon to 10 p.m. on Sunday.
Lynn Morley earned a Bachelor of Fine Arts in speech communication emphasizing intercultural organizational communication from VSU's College of the Arts in 1980. She joined Detachment 172 of VSU's Air Force Reserve Officers' Training Corps (AFROTC) during the second semester of her freshman year.
David Morley earned a Bachelor of Art in history and received a commission from the AFROTC program from Purdue University in West Lafayette, Ind. He also earned a Master of Business Administration degree from Central Michigan University.
"We met on active duty at Scott Air Force Base, Ill., where we were both assigned," said Lynn Morley. "David retired not long after we met and followed me on four more assignments that landed us back in Warner Robins where I had grown up."
The Morleys now reside in Warner Robins with their two children — Max, a government contractor at Robins Air Force Base, and Megan Pope (Glenn), a preschool teacher — their granddaughter, Harley, 8, and Lynn's mother, Verna Polnaszek, who is 93 years young.
When asked about their passion for art and how they were able to purchase such valuable works of art over the years, the Morleys said, "We have both loved art and travel. Over the course of the years, our travels have enabled us to purchase art to remind us of where we had been. Collecting and sharing art is something that brings us great pleasure."
They also shared that they enjoy supporting local art and artists and annually contribute to the Georgia National Fair's fine arts program in Perry, as well as the Museum of Aviation in Warner Robins.
Contact John Crawford, vice president for University Advancement at (229) 333-5939 or jdcrawford@valdosta.edu for more information on VSU's comprehensive campaign.
On the Web:
https://blog.valdosta.edu/library/2015/11/09/unveiling-of-the-rembrandt-destino-collections/
http://www.valdosta.edu/administration/advancement/capital-campaign
https://www.valdosta.edu/administration/advancement/vsu-foundation
http://www.valdosta.edu/administration/advancement
---
Valdosta State University's 2013-2019 Strategic Plan represents a renewal of energy and commitment to the foundational principles for comprehensive institutions.
Implementation of the plan's five goals, along with their accompanying objectives and strategies, supports VSU's institutional mission and the University System of Georgia's mission for comprehensive universities. 
The story above demonstrates VSU's commitment to meeting the following goals: 
Goal 1: Recruit, retain, and graduate a quality, diverse student population and prepare students for roles as leaders in a global society.
Goal 3: Promote student, employee, alumni, retiree, and community engagement in our mission.
Goal 4: Foster an environment of creativity and scholarship.
Visit http://www.valdosta.edu/administration/planning/strategic-plan.php to learn more.
Newsroom
Office of Communications Powell Hall West, Suite 1120
Mailing Address
1500 N. Patterson St.
Valdosta, GA 31698
General VSU Information
Office of Communications