May 10, 2016
16-159
Whitney N. Yarber, Communications Specialist
Tommy Crane Honored with President's Award for Excellence in Service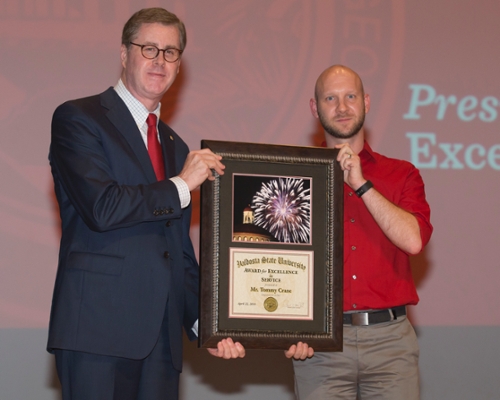 Pictured, from left to right, is Dr. Cecil P. Staton, interim president of VSU, and Tommy Crane, an assistant professor of interior design in the Department of Art.
VALDOSTA – Tommy Crane is the recipient of Valdosta State University's 2016 President's Award for Excellence in Service.
The President's Award for Excellence in Service is presented to a full-time faculty member who has worked at VSU for a minimum of three years and displays a strong and consistent commitment to service on the university campus, in the community, and/or in their professional discipline.
Crane, an assistant professor of interior design, was selected by the College of the Arts Presidential Award Committee for his significant and noteworthy contributions to Valdosta State University, the College of the Arts, the Department of Art, the Interior Design Program, and the Valdosta-Lowndes County community.
"It is an honor to receive the nomination for the VSU President's Award for Excellence in Service," said Crane, who joined the Blazer Nation family in August 2012. "Service as a faculty member involves many issues, goals, and responsibilities that are forever growing and changing. While at times this can feel overwhelming, these challenges are ultimately positive because they reflect Valdosta State University's continued expansion and strive for excellence. My service to this university … has enabled me to stay connected and contribute to the larger mission of the university. My service work — at every level — provides me with the ability to help our students succeed even outside the classroom."
Noted as a "hard-working faculty member who understands the importance of service work, service learning, and teaching," Crane is viewed as an essential component of VSU.
"He consistently goes above and beyond regarding every service activity he is involved with," said Michael Schmidt, head of the Department of Art. "Always willing to assist and ready to put forth a concerted effort for the good of the department, college, or university, he takes initiative and action when a faculty service assignment is open or needed and is the first to respond when representation is needed by the department."
It is also said that Crane sets high standards for each course he teaches and for his students.
"He is a collaborator and listens well to his students and colleagues … He is highly regarded and respected by his colleagues … He works diligently to improve the Interior Design Program, the Department of Art, and VSU," said Schmidt."
Within the College of the Arts, Crane works alongside faculty to help facilitate student collaboration and success.
As chairman of the Curriculum Committee, he reviews the syllabi and catalog content for the 2016-2017 academic year. As a member of the DrawProject Subcommittee, he is responsible for the process of setting up and documenting the donated works, as well as assisting in the preparation of artwork for display. On the Foundations Committee, he assists with curriculum development and project evaluations, and he reviews student portfolios in the Art Foundations courses. Within the Catalog/Web Page Committee, he implements changes to the Department of Art's and the Interior Design Program's webpages, and as part of the Senior Portfolio Assessment Committee, he evaluates and assesses art work created by graduating seniors.
An active member of the Executive Committee, he recently facilitated the College of the Arts with meeting the necessary requirements for a Master of Arts in Teaching degree in music.
"I am thankful I can contribute to these wonderful changes that will improve opportunities for student success," he said.
Crane also serves as a faculty advisor for the student chapter of the American Society of Interior Designers, as well as a key member of the Council for Interior Design Accreditation (CIDA) Committee where he assists his colleagues in the Interior Design Program with collecting, organizing, and displaying student work.
"He works routinely in gathering crucial program data to comply with CIDA requirements for future accreditation," said Schmidt. "His contributions, both prior to and after the CIDA site visit in September 2015, have been immeasurable. He collaborates with the interior design faculty and [myself] in reviewing program curriculum, assignments, course documents, assessments, and accreditation standards and compliance. His efforts are essential to the advancement of the Interior Design Program."
At the university level, Crane, who is about to begin his second term as university senator, works with members of the Faculty Senate to ensure that the voice of the College of the Arts, as well as the university as a collective entity, is heard.
As past chairman of the Academic Scheduling and Procedures Committee, Crane said he and the committee members accomplished the task of developing a five-year academic calendar and VSU's current final exam schedule addressing the removal of the designated preparation for exam day, formerly known as Dead Day.
He also served as a member of the Ad Hoc Committee, which developed a response to the University Strategic Plan on behalf of the Faculty Senate.
With a professional focus on sustainability, Crane also serves as chairman of the Resource Conservation Committee, a subcommittee of VSU's Environmental Issues Committee.
"Our current stance in the subcommittee is to develop educational materials and programs to help enlighten students, faculty, staff, and administrators to ways they can conserve our natural resources," said Crane. "While being a member of the Energy Conservation Subcommittee, I participated in the safety and lighting walk on campus. I also helped process energy consumption data for six buildings on campus based on data collected by an energy audit. The committee members were looking for ways to reduce energy use."
Crane said he also developed digital posters in order to educate the VSU community about ways to conserve energy use.
He believes it is the important decisions and policies developed and made in these committees that allow the Interior Design Program, the Department of Art, the College of the Arts, and Valdosta State University to evolve and adapt to changes.
Crane's service also ranges beyond committee work and includes attending art events, graduations, and award ceremonies. He also serves as a summer advising liaison for the Department of Art and the Interior Design Program.
As an ambassador to VSU's Department of Art, Crane helped adjudicate regional high school art shows, a Boys and Girls Club regional show, and contributed to the DrawProject to advance student scholarships. He has also assisted in judging the Youth Art Month event, hosted by the Annette Howell Turner Center for the Arts.
Crane earned a Bachelor of Science in interior design from the University of Southern Mississippi in 1999 and a Master of Fine Arts in interior design from Florida State University in 2008.
As a professional, he is an active member of the Interior Design Educators Council (IDEC) where he serves as the communication liaison for the IDEC South Region and a reviewer of regional abstracts. He has also reviewed textbooks that directly relate to interior design courses at VSU.
"Professional connections help me stay connected to the professional industry and allow me to assist our students with networking and advancement in their future successes," said Crane. "My Leadership in Energy and Environmental Design Accredited Professional Interior Design and Construction credential allows me to bring the knowledge of sustainable design practices to the classroom and allows me to also offer solutions for those that seek professional consulting."
Crane currently provides design consultations to various individuals within the Valdosta-Lowndes County community and the surrounding region, including A. Blake Pearce, dean of the College of the Arts. His largest professional consulting client is the Garden Clubs of Valdosta and their historic home, The Crescent at Valdosta Garden Center.
Crane said he has offered his professional advice on period appropriate upholstery for a few furniture pieces, assisted in guided tours of the building, and is currently developing resources, including brochures, for members to educate others on the building.
"I find that consulting allows me an outlet to the active design profession I once held full-time," said Crane. "It also allows me opportunities to serve in educating the public about the interior design profession."
Contact Tommy Crane at tjcrane@valdosta.edu or (229) 333-5855 for more information.
On the Web:
https://www.valdosta.edu/academics/academic-affairs/presidential-excellence-awards.php
http://www.valdosta.edu/colleges/arts/
http://www.valdosta.edu/colleges/arts/art/welcome.php
http://www.valdosta.edu/colleges/arts/art/interior-design.php
---
Valdosta State University's 2013-2019 Strategic Plan represents a renewal of energy and commitment to the foundational principles for comprehensive institutions.
Implementation of the plan's five goals, along with their accompanying objectives and strategies, supports VSU's institutional mission and the University System of Georgia's mission for comprehensive universities.
The story above demonstrates VSU's commitment to meeting the following goals:
Goal 1: Recruit, retain, and graduate a quality, diverse student population and prepare students for roles as leaders in a global society.
Goal 3: Promote student, employee, alumni, retiree, and community engagement in our mission.
Goal 4: Foster an environment of creativity and scholarship.
Goal 5: Develop and enhance Valdosta State's human and physical resources.
Visit http://www.valdosta.edu/administration/planning/strategic-plan.php to learn more.
Newsroom
Office of Communications Powell Hall West, Suite 1120
Mailing Address
1500 N. Patterson St.
Valdosta, GA 31698
General VSU Information
Office of Communications