May 11, 2016
16-160
Jessica Pope
Communications and Media Relations Coordinator
Tochukwu Madueke Earns Marga Award at VSU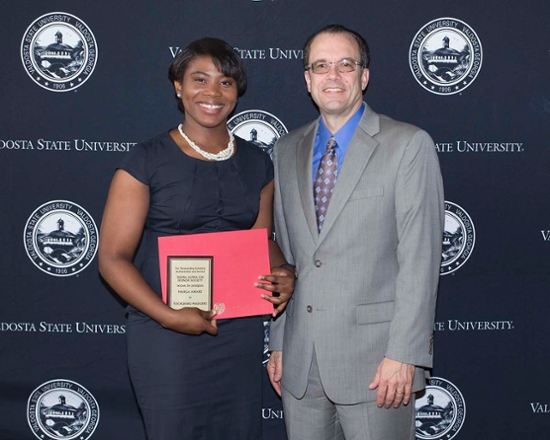 Pictured, from left to right, are Tochukwu Madueke and Dr. Brian Gerber, interim provost and vice president for the Division of Academic Affairs.
VALDOSTA — Tochukwu Madueke of Nigeria is the recipient of Valdosta State University's 2016 Sigma Alpha Chi Marga Award.
"It was an immense honor to be selected for this award," said the 20-year-old. "For me this award symbolizes the fact that nothing worth having in life ever comes easy, but with persistence, dedication, the love and support of family and friends, and lots of prayers, anything is possible."
Sigma Alpha Chi is the oldest honor society at VSU. To be considered for the Marga Award, Madueke had to demonstrate academic superiority and an active participation in campus organizations. She was recognized during VSU's annual Academic Honors and Awards Dinner. 
Madueke graduated from VSU on May 7 with a perfect 4.0 grade point average and a Bachelor of Arts in political science and a minor in economics. A regular on the Dean's List, she earned the 2015 David W. Winder Best Paper Award and the 2016 William M. Morrow Award, both from the Department of Political Science, as well as first place in the Pi Sigma Alpha: The National Political Science Honor Society Best Paper Award. She was inducted into Pi Gamma Mu: International Honor Society in Social Sciences, where she served as president from 2015 to 2016; Pi Sigma Alpha: The National Political Science Honor Society; and Alpha Lambda Delta: National Honor Society for First-Year Students. She served as a senator in the Student Government Association from 2012 to 2014 and was an active member of the Society of International Students for four years, serving as the organization's public relations officer from 2012 to 2013. 
Madueke plans to attend Florida International University in Miami in the fall and pursue a combined Master of Arts and Doctor of Philosophy in African and African Diaspora Studies and International Relations.
"I have a dream, and that dream is to be a leading figure in the area of international relations, specifically concerning the African continent," she said. "Consequently, my dream job would be to work for international organizations like the United Nations and World Bank, specializing on African issues. Many might think my dogged pursuit of knowledge on the African continent is too limited and that I should broaden my horizons. To those people I say, Africa is very close to my heart. I called it home for more than 16 years of my life, and my experiences there have helped shape me into the very person I have become today. Therefore, I intend to study and educate myself in all ways possible in order to gain a better and profound understanding of the complexities of this beautiful continent I call home."
Madueke is the daughter of Michael and Gloria Madueke. She is from the city of Awka in the state of Anambra. Her family currently lives in Lagos.
On the Web:
http://www.valdosta.edu/colleges/arts-sciences/political-science/
---
Valdosta State University's 2013-2019 Strategic Plan represents a renewal of energy and commitment to the foundational principles for comprehensive institutions.
Implementation of the plan's five goals, along with their accompanying objectives and strategies, supports VSU's institutional mission and the University System of Georgia's mission for comprehensive universities. 
The story above demonstrates VSU's commitment to meeting the following goals: 
Goal 1: Recruit, retain, and graduate a quality, diverse student population and prepare students for roles as leaders in a global society.
Goal 3: Promote student, employee, alumni, retiree, and community engagement in our mission.
Goal 4: Foster an environment of creativity and scholarship.
Visit http://www.valdosta.edu/administration/planning/strategic-plan.php to learn more.
Newsroom
Office of Communications Powell Hall West, Suite 1120
Mailing Address
1500 N. Patterson St.
Valdosta, GA 31698
General VSU Information
Office of Communications