May 24, 2016
16-176
Jessica Pope
Communications and Media Relations Coordinator
Taylor Holder Honored by VSU Athletics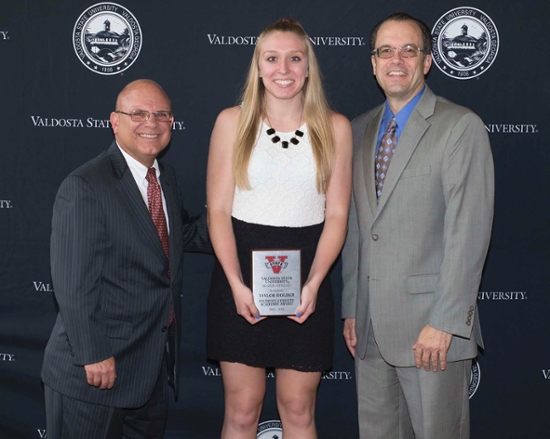 Pictured, from left to right, are Herb Reinhard, director of athletics; Taylor Holder; and Dr. Brian Gerber, interim provost and vice president for Academic Affairs.
VALDOSTA — Taylor Holder of Chicago, Illinois, is a recipient of Valdosta State University's 2016 Academic Athlete Award.
The 20-year-old defensive specialist from the Lady Blazers volleyball team said, "Being selected for this award is such an honor." She also said that she is proud to share this recognition with her teammate and friend, Lea Jacklen. 
Holder's scholastic achievements and service to the university, her team, and her community were recognized during VSU's annual Academic Honors and Awards Dinner, where she was honored by Herb Reinhard, director of athletics.
Holder expects to graduate from VSU with a Bachelor of Science in chemistry and an Honors College Certificate in May 2017 and then pursue a professional pharmacy degree. She maintains a 4.0 grade point average, is a regular on the Dean's List and an Honors Scholar, and recently earned the 2016 Inorganic Chemistry Award. She enjoys tutoring pre-nursing majors.
Holder is the daughter of Mark and Natalie Holder.
On the Web:
http://www.valdosta.edu/colleges/arts-sciences/chemistry/
---
Valdosta State University's 2013-2019 Strategic Plan represents a renewal of energy and commitment to the foundational principles for comprehensive institutions.
Implementation of the plan's five goals, along with their accompanying objectives and strategies, supports VSU's institutional mission and the University System of Georgia's mission for comprehensive universities. 
The story above demonstrates VSU's commitment to meeting the following goals: 
Goal 1: Recruit, retain, and graduate a quality, diverse student population and prepare students for roles as leaders in a global society.
Goal 4: Foster an environment of creativity and scholarship.
Visit http://www.valdosta.edu/administration/planning/strategic-plan.php to learn more.
Newsroom
Office of Communications Powell Hall West, Suite 1120
Mailing Address
1500 N. Patterson St.
Valdosta, GA 31698
General VSU Information
Office of Communications