May 24, 2016
16-175
Whitney N. Yarber, Communications Specialist
Regina Ogden Named VSU's Spring 2016 Employee of the Semester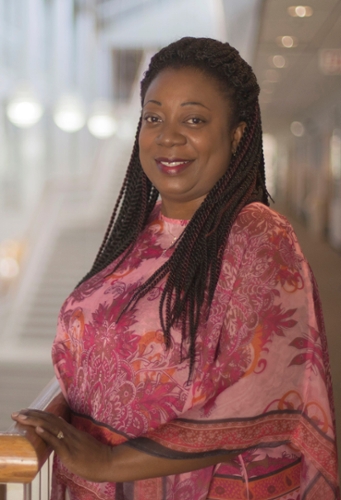 Pictured is Regina Ogden.
VALDOSTA – Regina Ogden is Valdosta State University's Spring 2016 Employee of the Semester.
Ogden, who has worked at VSU since 1998, is the senior administrative secretary in the Department of Biology. She previously served as a teacher aid in VSU's Center for Developmental Education and a senior secretary in the Department of Biology.
"I am super excited and honored to have been nominated for this award," said Ogden. "Never in all my years here on this earth did I expect to receive any awards for anything, nonetheless winning the Employee of the Semester Award. I feel like everyone nominated was deserving of this award. I just want to congratulate them all. I feel extremely blessed to have been selected as a winner. I want to thank those who voted for me.
"I especially want to thank Dr. Robert Gannon, head of the Department of Biology, who nominated me. Words cannot express the gratitude I feel for him thinking enough of me to nominate me for this award. I appreciate that you see that I try and do my best. It means a lot."
Gannon said that Ogden "always has a pleasant disposition and exemplifies the best in customer service" and is an "expert" when it comes to assisting faculty, students, parents, and members of the community.
"The Department of Biology advises more than 400 sophomore to senior undergraduate students each term," said Gannon. "Each student comes to the office to pick up their advising folder, answers questions from Regina about their graduation status, and then returns the folder back to the office after advising when it must then be re-filed. Many of the students repeat this process several times. So in addition to handling 800 student visits in just a week's time, Regina also logs in to Banner to help these students from other majors who are taking our service courses."
Gannon also noted that Ogden maintains the normal business of the Department of Biology, including purchasing thousands of items each year for the laboratories and continuously updating their webpage.
She has also developed several web-based forms to accommodate faculty and students within the Department of Biology, including a laboratory supply order form, a class-size and pre-requisite override request form for students, degree checklists for students who wish to obtain veteran benefits through the Office of Financial Aid, and contact information for the department's roster of faculty and graduate students.
"Regina also completely reorganized the Department of Biology's main office to reflect the reduced staffing … the replacement and redesign of the office furniture will now only sit one secretary," said Gannon. "We could simply continue to do things as we always have, but Regina constantly seeks to update and improve our operating efficiency."
Ogden earned an Associate of Arts degree in May 1999 and a Bachelor of Arts degree with a major in administrative services in May 2005, both from Valdosta State University.
She and her husband, Lavertt Ogden Jr., have been married for 17 years. Together, they have two children, Amber, 13, and Alexander, 8, and a Labrador-mix dog, Maximus, they adopted from the Lowndes County Animal Shelter as an 8-week-old puppy.
"We love him like one of our children," she said.
In her spare time, Ogden enjoys spending time with her family, attending bible study at Mount Calvary Baptist Church, reading, and enjoying a good meal and socializing with her best friends at girls night. She is the daughter of Calvin and Vivian Gamble of Baxley.
Ben McCranie, a carpenter in the Building Maintenance Shop, a division of Plant Operations, and Barbara Meeks, budget analyst in the Office of Financial Services, were runners-up for VSU's Spring 2016 Employee of the Semester. The other nominees were Ted Davis Jr., Campus Mail; Jamae Flint, Shanika Hezekiah, and Jenny White, Office of Financial Services; Melissa Moore-Nolley, Department of Chemistry; Alfred V. Reed, Information Technology; and Rozelle Slaymon, Harley Langdale Jr. College of Business Administration.
VSU's Council on Staff Affairs presents the Employee of the Semester Award at the end of every fall and spring semester. All full-time classified staff employees are eligible for the award.
Visit http://www.valdosta.edu/administration/council-on-staff-affairs/employee-of-semester.php to learn more.
---
Valdosta State University's 2013-2019 Strategic Plan represents a renewal of energy and commitment to the foundational principles for comprehensive institutions.
 
Implementation of the plan's five goals, along with their accompanying objectives and strategies, supports VSU's institutional mission and the University System of Georgia's mission for comprehensive universities. 
 
Employee of the Semester award meets the following goals: 
 
Goal 3: Promote student, employee, alumni, retiree, and community engagement in our mission.
Goal 5: Develop and enhance Valdosta State's human and physical resources.
Visit http://www.valdosta.edu/administration/planning/strategic-plan.php to learn more.
Newsroom
Office of Communications Powell Hall West, Suite 1120
Mailing Address
1500 N. Patterson St.
Valdosta, GA 31698
General VSU Information
Office of Communications