May 2, 2016
16-143
Whitney N. Yarber, Communications Specialist
Dr. Victoria Russell Honored with President's Award for Excellence in Online Teaching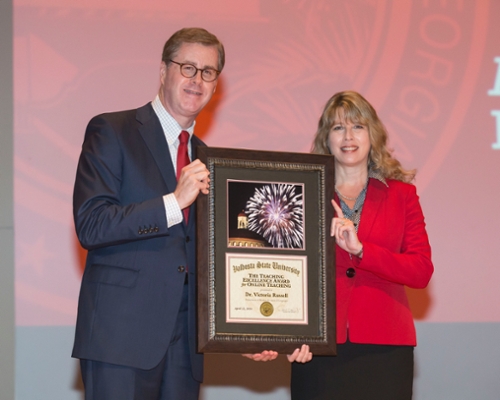 Pictured, from left to right, is Dr. Cecil P. Staton, interim president of VSU, and Dr. Victoria Russell, an associate professor of Spanish and foreign language education and coordinator of online programs in the Department of Modern and Classical Languages.
VALDOSTA – Dr. Victoria Russell is the recipient of Valdosta State University's 2016 President's Award for Excellence in Online Teaching.
The President's Award for Excellence in Online Teaching is presented to a full-time faculty member who has worked at VSU for a minimum of three years; displays a strong and consistent commitment to quality online teaching and learning; engages in effective and innovative online teaching practices that result in student engagement, satisfaction, and effectiveness in achieving desired learning outcomes; and is committed to fostering the academic success of online students through the development of rapport with individual learners in and beyond the virtual classroom.
Russell, an associate professor of Spanish and foreign language education in the Department of Modern and Classical Languages, was selected by the College of Arts and Sciences Presidential Award Committee for her knowledge and efforts in making foreign language classes available to students online, being proficient in the specific area of online learning, and her overall student satisfaction and success rates.
"Each student that I encounter is a gift," said Russell, who joined the Blazer Nation family in August 2010. "As a teacher, I have the opportunity to make a positive and lasting impact on other people's lives. The minute that I step into the classroom, whether on campus or online, I remind myself that my job is to teach, support, encourage, and hopefully, inspire my students. I am passionate about teaching, and I believe that my passion is evident to every student that I encounter.
"I have spent most of my adult life learning and developing an expertise in the areas of teaching and research. However, I think that subject matter expertise and a strong research agenda can only make one a good teacher. In order to be a great teacher, it is important to focus on the needs of students. Institutions of higher learning would not exist without students, and serving students should be the main goal of every teacher. I believe that when students are encouraged and feel supported in the classroom, they typically strive to produce their best work."
Russell teaches graduate and undergraduate courses in second language acquisition, foreign language education (FLED), English for speakers of other languages (ESOL), and Spanish.
As the coordinator of online programs for the Department of Modern and Classical Languages, Russell also assists the Spanish for professionals and teaching English to speakers of other languages online certificate programs, as well as the online Bachelor of Arts in Spanish and online Bachelor of Arts in French eLearning degree programs.
"She has taken a very active role innovating and improving all of our online offerings," said Dr. Viki Soady, head of the Department of Modern and Classical Languages. "Her willingness to share her knowledge and her time is beginning to have a positive impact for our department and university across the state."
Soady said Russell has collaborated with other faculty members in the Department of Modern and Classical Languages to organize various eLearning workshops for partnering institutions at the Conference on Instructional Technologies, Innovations, and Educational Strategies — commonly referred to as the TIES Conference — for the past three years.
In addition to her willingness to share her knowledge of online teaching and program development with her colleagues and graduate students, Russell is described as a "cutting-edge teacher who is devoted to teaching and empowering students to do their best work for her."
"They find her passion for teaching to be inspirational and see her as their biggest champion," said Dr. Connie Richards, dean of the College of Arts and Sciences. "The courses she teaches online are well planned, engaging, and highly successful. In fact, her ESOL 4060/FLED 7500: Theory and Practice in Second Language Acquisition course met Quality Matters national standards when first designed in 2013. Furthermore, her Student Opinion of Instruction scores in her online courses range from 4.5 to 5 on a 5-point scale. Students find her immediately responsive to their online questions and needs, highly supportive, and academically engaging. She wants to know what they are thinking and is respectful of their thoughts and opinions."
Soady noted that Russell is "an exceptionally gifted teacher who understands the two secrets of teaching excellence — students work harder for professors whom they see bringing their best and doing their best [and] education is about the learner's comfort and needs, not those of the teacher."
Russell earned a Bachelor of Science in Business Administration with a major in international business and a specialization in Spanish from Auburn University in 1990; a Master of Arts in Teaching in Spanish language and literature from Jacksonville University in 1994; and a Doctor of Philosophy in second language acquisition and instructional technology from the University of South Florida (USF) in 2009.
"While I was a doctoral student at USF, I coordinated a large-scale distance Spanish program for the 2009-2010 academic year," she said. "This experience, combined with my academic preparation, empowered me to be a successful online instructor at VSU."
Russell noted that she is able to design, develop, and deliver high quality online courses due to the training that she received in her doctoral second language acquisition and instructional technology program. She attends professional conferences and numerous training workshops each year in order to keep up with the latest technologies and best practices in distance education.
An active researcher, her research interests include online language teaching and learning, pragmatics and intercultural communication, and foreign language teacher preparation.
The author of seven peer-reviewed publications, three invited publications, and a book chapter forthcoming in June, Russell has published research on online language teaching and learning in journals such as The Internet and Higher Education, Foreign Language Annals, and the International Association of Language Learning Technologies Journal. She has also presented more than 45 papers focusing on best practices in online language teaching and computer-assisted language learning.
Russell has also served in a number of national leadership positions for the American Council on the Teaching of Foreign Languages (ACTFL), one of the accrediting agencies for VSU's FLED program, including chairwoman and newsletter editor of the Research Special Interest Group.
Russell, who is the current chairwoman of the Distance Learning Special Interest Group, is currently working with ACTFL to create a national mentoring program for online secondary and tertiary language teachers who are new to the online teaching environment. She noted that participants will be able to earn professional learning units of credit from George Mason University.
At VSU, Russell served as chairwoman of the 2015-2016 Faculty Senate Technology Committee and a member of the 2011-2016 eLearning Advisory Board. She currently serves as a member on the Institutional Review Board.
A 2016-2017 Innovative Designs for Enhancing the Academy (IDEA) Center Faculty Scholar, Russell was awarded a $4,500 pedagogical innovation grant to improve retention in the SPAN 2001: Intermediate Spanish Language and Hispanic Cultures I online course in Spring 2015.
She also earned a $5,000 Faculty Research Seed Grant for the acquisition of complex Spanish grammar in a web-based learning environment among students with a low aptitude for languages from the Office of Sponsored Programs and Research Administration in Fall 2012.
"Dr. Russell is a consummate teacher and academic," said Soady. "It is a pleasure to help her seek out new funding sources for her initiatives and to ponder improvements and innovations in online language teaching. Under her leadership, our departmental eLearning initiatives are nationally recognized and are preparing us to lead in second language instruction among system schools in Georgia."
Russell will serve as VSU's nominee for the University System of Georgia Board of Regents' Teaching Excellence Award for Online Teaching.
Contact Dr. Victoria Russell at varussell@valdosta.edu or (229) 333-7357 for more information.
On the Web:
https://www.valdosta.edu/academics/academic-affairs/presidential-excellence-awards.php
https://www.valdosta.edu/colleges/arts-sciences/modern-classical-languages/welcome.php
http://www.valdosta.edu/colleges/arts-sciences/
https://varussellblog.wordpress.com/
---
Valdosta State University's 2013-2019 Strategic Plan represents a renewal of energy and commitment to the foundational principles for comprehensive institutions.
Implementation of the plan's five goals, along with their accompanying objectives and strategies, supports VSU's institutional mission and the University System of Georgia's mission for comprehensive universities.
The story above demonstrates VSU's commitment to meeting the following goals:
Goal 1: Recruit, retain, and graduate a quality, diverse student population and prepare students for roles as leaders in a global society.
Goal 3: Promote student, employee, alumni, retiree, and community engagement in our mission.
Goal 4: Foster an environment of creativity and scholarship.
Goal 5: Develop and enhance Valdosta State's human and physical resources.
Visit http://www.valdosta.edu/administration/planning/strategic-plan.php to learn more.
Newsroom
Office of Communications Powell Hall West, Suite 1120
Mailing Address
1500 N. Patterson St.
Valdosta, GA 31698
General VSU Information
Office of Communications