April 28, 2016
16-136
Jessica Pope
Communications and Media Relations Coordinator
Lauren Jacobs Wins First Place Honors at Georgia Speech-Language-Hearing Association Annual Convention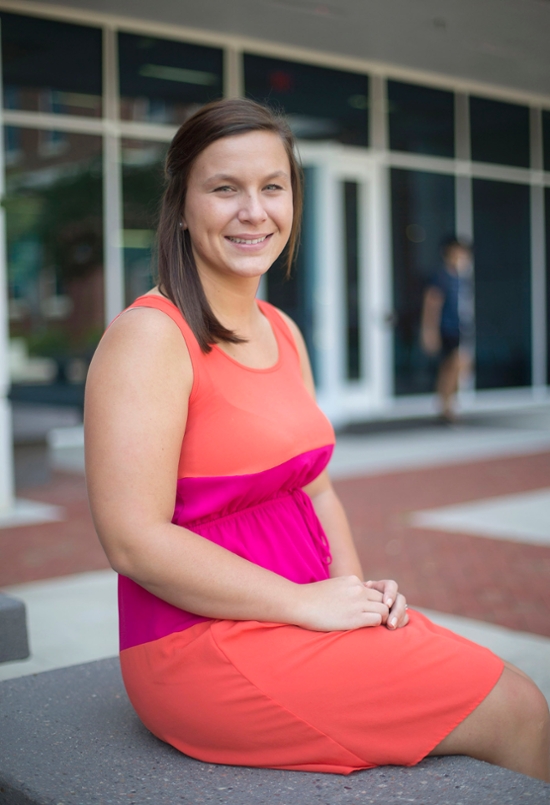 Lauren Jacobs
VALDOSTA — Lauren Jacobs's "Vocalization Production in Nonverbal Children with Autism" won first place in the graduate research student poster competition at the 2016 Georgia Speech-Language-Hearing Association Annual Convention.
Jacobs is a student in Valdosta State University's Department of Communication Sciences and Disorders and expects to graduate with a Master of Education in communication sciences and disorders in May 2017. As part of her curriculum, she serves as a graduate student-clinician in the on-campus Speech and Hearing Clinic, which offers hearing evaluations, communication and cognitive evaluations, and therapeutic services to men, women, and children from the South Georgia area.  
"My research was actually based on my very first client who was completely nonverbal when we started therapy," she explained. "Her parents asked me how they should be communicating with her to increase her communication skills. As a first semester student-clinician, I had no clue really what to say. Therefore, this made me extremely interested, and so I started my research. My research was guided to determine how my language as an interventionist affected her vocalization output."
Jacobs's research was guided by two licensed and certified speech-language pathologists — Dr. Marian S. Jones, clinical supervisor in VSU's Speech and Hearing Clinic, and Dr. Matthew D. Carter, an assistant professor in the Department of Communication Sciences and Disorders.
"I never really thought about research until graduate school, so it was new to me," she said. "I was so nervous to present my research in the first place, and then to win was totally unexpected. It definitely made all the hard work pay off."
During the three-day Georgia Speech-Language-Hearing Association Annual Convention, Jacobs was able to expand her knowledge base by listening to nationally, state, and locally recognized experts from the speech-language pathology, audiology, occupational therapy, and assistive technology fields. She was also able to network with educators and professionals in her chosen career field and learn about the latest research being conducted by students at colleges and universities around the state.
The Georgia Speech-Language-Hearing Association is a professional association of individuals specializing in the prevention, diagnosis, and treatment of communication, swallowing, and hearing disorders. It advocates for the professional interests of its members and the individuals they serve and provides a forum for the exchange of professional information and ideas.
Jacobs, 23, is a member of the Georgia Speech-Language-Hearing Association and the National Student Speech-Language-Hearing Association and works as a graduate assistant for the Department of Communication Science and Disorders. She earned a bachelor's degree in communication sciences and disorders from Florida State University in May 2015. She is married to Greg Jacobs and is the daughter of Danny and Jan Funderburg. She lives in Tallahassee, Florida.  
On the Web:
https://www.valdosta.edu/colleges/education/communication-sciences-and-disorders/welcome.php
---
Valdosta State University's 2013-2019 Strategic Plan represents a renewal of energy and commitment to the foundational principles for comprehensive institutions.
Implementation of the plan's five goals, along with their accompanying objectives and strategies, supports VSU's institutional mission and the University System of Georgia's mission for comprehensive universities. 
The story above demonstrates VSU's commitment to meeting the following goals: 
Goal 1: Recruit, retain, and graduate a quality, diverse student population and prepare students for roles as leaders in a global society.
Goal 3: Promote student, employee, alumni, retiree, and community engagement in our mission.
Goal 4: Foster an environment of creativity and scholarship.
Visit http://www.valdosta.edu/administration/planning/strategic-plan.php to learn more. 
Newsroom
Office of Communications Powell Hall West, Suite 1120
Mailing Address
1500 N. Patterson St.
Valdosta, GA 31698
General VSU Information
Office of Communications