April 20, 2016
16-127
Jessica Pope
Communications and Media Relations Coordinator
Caleb Brown's "Condemned" Wins VSU Art Competition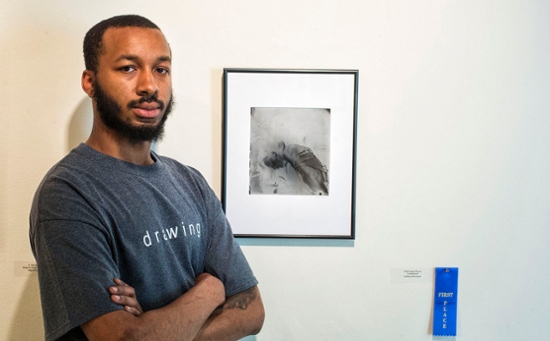 Caleb Brown with his award-winning 8-inch by 10-inch gelatin silver print Condemned.
VALDOSTA — Caleb Brown's Condemned, an 8-inch by 10-inch gelatin silver print inspired by the concept of restraint, won first place at the 18th annual Juried Student Art Competition sponsored by Valdosta State University's Department of Art. The award-winning photograph was recently featured in an exhibit at the on-campus Dedo Maranville Fine Arts Gallery.
A university-wide invitation to participate in the Juried Student Art Competition was issued earlier this year to all currently enrolled VSU students. Regardless of their major area of study, students were encouraged to share their artistic talents by submitting a maximum of four two-dimensional and/or three-dimensional works, including graphic design, illustration, interior design, animation, drawing, printmaking, painting, aqueous media, jewelry, photography, ceramics, small metals, sculpture, and mixed media.
Julie Bowland, Dedo Maranville Fine Arts Gallery director and professor of art, said that 56 students submitted more than 160 works of art for the Juried Student Art Competition.
Elizabeth Turk, a professor of photography from the Savannah College of Art and Design's Atlanta campus, reviewed the submissions and selected 49 pieces to be featured in the exhibition, which ran March 21 through April 8, and to compete for first-place, second-place, third-place, fourth-place, and merit awards.
"In selecting the works for this year's … competition … I was struck not only by the diversity of media and the creative and technical skills of the students but also by the ideas that were being addressed through the work," she shared. "The voices of the young artists and designers in this exhibition … (were) clearly speaking 'out loud' as they … (dealt) with everything from contemporary design challenges to the difficult and complex social issues emerging in our time." 
Brown is the 22-year-old son of Willie and Linda Brown of Marietta, Georgia. He expects to graduate in December with a Bachelor of Fine Arts in art and go on to complete a post-graduate residency program.
On the Web:
https://www.valdosta.edu/colleges/arts/welcome.php
---
Valdosta State University's 2013-2019 Strategic Plan represents a renewal of energy and commitment to the foundational principles for comprehensive institutions.
Implementation of the plan's five goals, along with their accompanying objectives and strategies, supports VSU's institutional mission and the University System of Georgia's mission for comprehensive universities. 
The story above demonstrates VSU's commitment to meeting the following goals: 
Goal 1: Recruit, retain, and graduate a quality, diverse student population and prepare students for roles as leaders in a global society.
Goal 3: Promote student, employee, alumni, retiree, and community engagement in our mission.
Goal 4: Foster an environment of creativity and scholarship.
Visit http://www.valdosta.edu/administration/planning/strategic-plan.php to learn more.
Newsroom
Office of Communications Powell Hall West, Suite 1120
Mailing Address
1500 N. Patterson St.
Valdosta, GA 31698
General VSU Information
Office of Communications