March 10, 2016
16-76
Whitney N. Yarber, Communications Specialist
VSU Welcomes Expert on Medieval Studies March 22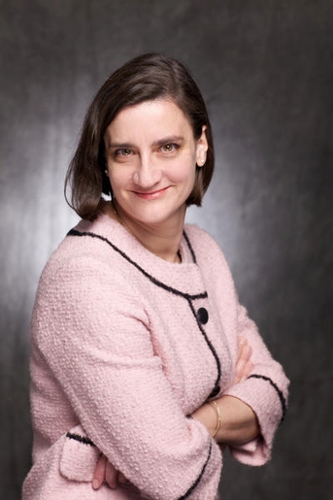 Pictured is Dr. Suzanne Akbari, professor of English and director of the Centre for Medieval Studies at the University of Toronto.
VALDOSTA – Dr. Suzanne Akbari will present Empty Idols and a False Prophet: European Representations of Islam in the Era of Crusade at 7 p.m. on Tuesday, March 22, in Valdosta State University's Hugh C. Bailey Science Center Auditorium Room 1011. Admission is free of charge and open to the public.
A professor of English and director of the Centre for Medieval Studies at the University of Toronto, Akbari will discuss her perspective on medieval encounters between Christian and Islamic cultures. Her visit is sponsored by VSU's Department of English.
"Dr. Suzanne Akbari is an outstanding scholar in medieval studies," said Dr. Theresa Thompson, professor in VSU's Department of English. "Students will benefit from her public talk because it will provide some socio-historical contexts for many contemporary misperceptions of Islam."
Akbari earned a Bachelor of Arts in humanities from the Krieger School of Arts and Science at Johns Hopkins University in 1984. She also earned a Master of Arts in English in 1989, a Master of Philosophy in English and comparative literature in 1991, and a Doctor of Philosophy in English and Comparative Literature in 1995, all from Columbia University. Her research focuses on the intersection of English and comparative literature with intellectual history and philosophy ranging from Neoplatonism and science in the 12th century to national identity and religious conflict in the 15th century.
Akbari serves as a volume editor and coeditor for the Norton Anthology of World Literature and editor of The Oxford Handbook to Chaucer. Her latest research project, The Shape of Time, contrasts the temporal breaks found in medieval chronicle traditions with poetic narrations of the historical past.
The author of more than 30 articles and book chapters and sole author and co-editor of nine books, all constructed on optics and allegory, Akbari's third exclusively written book, Small Change: Metaphor and Metamorphosis in Chaucer and Christine de Pizan, is currently in production.
Contact Dr. Theresa Thompson at tthompson@valdosta.edu or (229) 333-7350 for more information.
On the Web:
http://www.valdosta.edu/colleges/arts-sciences/english/welcome.php
http://www.english.utoronto.ca/facultystaff/facultyprofiles/akbari.htm
https://utoronto.academia.edu/SuzanneAkbari
---
Valdosta State University's 2013-2019 Strategic Plan represents a renewal of energy and commitment to the foundational principles for comprehensive institutions.
Implementation of the plan's five goals, along with their accompanying objectives and strategies, supports VSU's institutional mission and the University System of Georgia's mission for comprehensive universities. 
Presentations by visiting scholars and experts help the university meet the following goals: 
Goal 1: Recruit, retain, and graduate a quality, diverse student population and prepare students for roles as leaders in a global society.
Goal 3: Promote student, employee, alumni, retiree, and community engagement in our mission.
Goal 4: Foster an environment of creativity and scholarship.
Goal 5: Develop and enhance Valdosta State's human and physical resources.
Visit http://www.valdosta.edu/administration/planning/strategic-plan.php to learn more.
Newsroom
Office of Communications Powell Hall West, Suite 1120
Mailing Address
1500 N. Patterson St.
Valdosta, GA 31698
General VSU Information
Office of Communications