March 22, 2016
16-89
Whitney N. Yarber, Communications Specialist
VSU Receives DOAA Award for Excellent Financial Reporting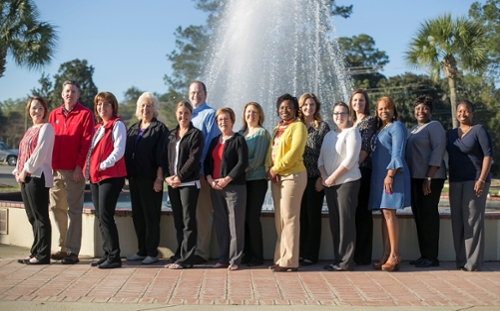 Pictured are the staff from the Office of Financial Services at Valdosta State University.
VALDOSTA – Valdosta State University has earned the Georgia Department of Audits and Accounts Award of Distinction for Excellent Financial Reporting for its Fiscal Year 2015 annual financial report.
The Award of Distinction honors two-and four-year higher education institutions and school districts within the state of Georgia who submit quality financial statements and supporting documentation in a timely manner, who receive an unmodified audit opinion of the annual financial report that is free of any significant deficiencies or material weaknesses, and who comply with all requirements of the Transparency in Government Act.
"In addition to the name recognition that it generates for our institution, receiving this award is significant because it lets the Board of Regents, donors, peer institutions, and other constituents know that they can rely on our financial data," said Antolina E. Pilgrim, director of accounting and procurement in the Office of Financial Services. "This award also validates the hard work that our staff sees to every day to ensure that the university financial records are accurate and can be relied upon.
"We have had good annual financial audits for many years, which reflects that the Office of Financial Services has always strived for accurate financial reporting, implementing a strong system of checks and balances to ensure that effective internal control exists at all times. We are ever grateful to campus budget managers and administrators who work with us on meeting year-end deadlines, etc. It takes a village."
Valdosta State University is one of four University System of Georgia institutions of higher education, including the Board of Regents itself, to receive the Award of Distinction. The others are the Georgia Institute of Technology, Georgia State University, and the University of Georgia.
VSU's Fiscal Year 2015 report covers July 1, 2014 through June 30, 2015.
On the Web:
http://www.valdosta.edu/administration/finance-admin/
http://www.audits.ga.gov/index.html
---
Valdosta State University's 2013-2019 Strategic Plan represents a renewal of energy and commitment to the foundational principles for comprehensive institutions.
Implementation of the plan's five goals, along with their accompanying objectives and strategies, supports VSU's institutional mission and the University System of Georgia's mission for comprehensive universities.
The story above demonstrates VSU's commitment to meeting the following goals:
Goal 1: Recruit, retain, and graduate a quality, diverse student population and prepare students for roles as leaders in a global society.
Goal 3: Promote student, employee, alumni, retiree, and community engagement in our mission.
Goal 4: Foster an environment of creativity and scholarship.
Goal 5: Develop and enhance Valdosta State's human and physical resources.
Visit http://www.valdosta.edu/administration/planning/strategic-plan.php to learn more.
Newsroom
Office of Communications Powell Hall West, Suite 1120
Mailing Address
1500 N. Patterson St.
Valdosta, GA 31698
General VSU Information
Office of Communications