March 15, 2016
16-80
Jessica Pope
Communications and Media Relations Coordinator
VSU Presents Juried Student Art Competition March 21-April 8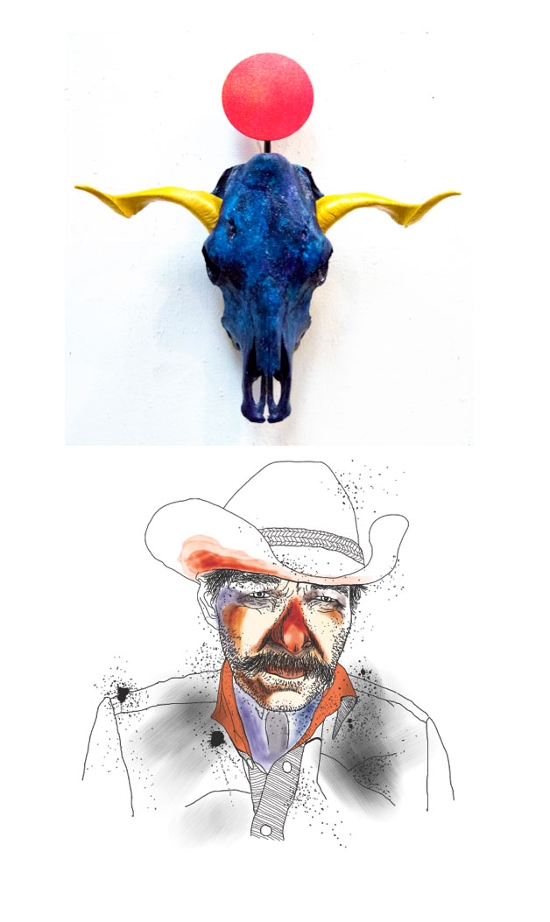 Top: Artist Ashley Cheeks
Bottom: Artist Cody Hudson
VALDOSTA — The Valdosta State University Department of Art will present its 18th annual Juried Student Art Competition March 21 through April 8 in the Dedo Maranville Fine Arts Gallery. Admission is free of charge and open to the public.
A campus-wide invitation to participate in the 2016 Juried Student Art Competition was issued earlier this year to all currently enrolled VSU students. Regardless of their major area of study, students were encouraged to share their artistic talents by submitting a maximum of four two-dimensional and/or three-dimensional works, including graphic design, illustration, interior design, animation, drawing, printmaking, painting, aqueous media, jewelry, photography, ceramics, small metals, sculpture, and mixed media.
Julie Bowland, Dedo Maranville Fine Arts Gallery director and professor of art, said that 56 students submitted more than 160 works of art for the 2016 Juried Student Art Competition. 
Elizabeth Turk, a professor of photography from the Savannah College of Art and Design's Atlanta campus, reviewed the submissions and selected 49 pieces to be featured in the exhibition and to compete for one of several prizes — $200 for first place, $125 for second place, $100 for third place, $75 for fourth place, and five merit awards of $50 Binders Art Supplies gift cards.
The 2016 Juried Student Art Competition winners will be announced during an opening reception from 6 p.m. to 7:30 p.m. on Monday, March 21, in the Dedo Maranville Fine Arts Gallery.
"The participating student artists exhibit a wonderful range of diverse media, styles, and artistic outlooks in this annual showcase of emerging talent," Bowland said. "Interior design, luminaires, graphic illustration, photography, drawing, painting, ceramics, sculpture, animation, small metals, and jewelry are all included in this exciting multi-media exhibition."
Parents and teachers are encouraged to preview the 2016 Juried Student Art Competition before bringing children to see the show.  
The Dedo Maranville Fine Arts Gallery is located on the first floor of the VSU Fine Arts Building, at the intersection of Brookwood Drive and Oak Street. It is open from 8:30 a.m. to 5:30 p.m. Monday through Thursday and from 8:30 a.m. to 3 p.m. on Friday.
Contact Julie Bowland at (229) 333-5835 or jabowlan@valdosta.edu to schedule a guided tour or to learn more.   
On the Web:
http://www.valdosta.edu/art/gallery
https://www.facebook.com/VSU-Fine-Arts-Gallery-133203592765/timeline/
---
Valdosta State University's 2013-2019 Strategic Plan represents a renewal of energy and commitment to the foundational principles for comprehensive institutions.
Implementation of the plan's five goals, along with their accompanying objectives and strategies, supports VSU's institutional mission and the University System of Georgia's mission for comprehensive universities. 
The story above demonstrates VSU's commitment to meeting the following goals: 
Goal 1: Recruit, retain, and graduate a quality, diverse student population and prepare students for roles as leaders in a global society.
Goal 3: Promote student, employee, alumni, retiree, and community engagement in our mission.
Goal 4: Foster an environment of creativity and scholarship.
Visit http://www.valdosta.edu/administration/planning/strategic-plan.php to learn more.
Newsroom
Office of Communications Powell Hall West, Suite 1120
Mailing Address
1500 N. Patterson St.
Valdosta, GA 31698
General VSU Information
Office of Communications