February 8, 2016
16-38
Whitney N. Yarber, Communications Specialist
VSU's IHI Open School Chapter Prepares Blazers for Success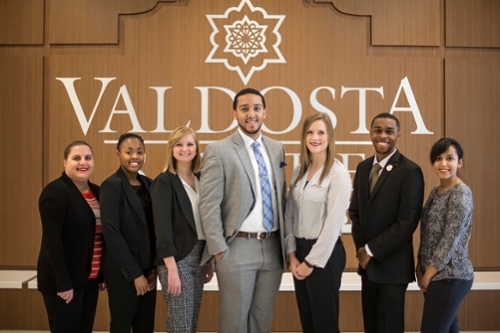 Pictured, from left to right, are Stacey Cochran, chapter director of education; Alaysia Nelson, chapter treasurer; Ashley Stone, chapter director of the Guest Speaker Committee; James Powell, chapter founder and president; Victoria Burke, chapter vice president; Matthew Francis, chapter director of the Outreach Committee; and Wanessa Machado, chapter director of marketing.
VALDOSTA – Valdosta State University's Institute for Healthcare Improvement (IHI) Open School Chapter is committed to helping Blazers prepare for successful careers in the health care profession.
The Institute for Healthcare Improvement is an independent not-for-profit organization that is a leading innovator, convener, partner, and driver of results in health and health care improvement worldwide. The VSU chapter was founded in January 2015 by James Powell, a 21-year-old junior health care administration major from Marietta.
Powell said it was one of his faculty advisors who talked to him about establishing a student organization that would not only provide its members with a certificate in health care quality and safety but also ensure that graduates gain on-the-job experience and training so they will add value to the workplace.
VSU IHI meets at 6 p.m. on the second Thursday of each month in the Health Science and Business Administration Building Room 1107. Each meeting features a guest speaker from the health care administration field. The next meeting will be held on Feb. 11 and will feature Tamara Jackson, chief nursing officer at South Georgia Medical Center, who will speak about her experiences in the health care industry.
Each month, Powell and two or three VSU IHI members attend meetings of the Hospital Authority of Valdosta and Lowndes County, where they have the opportunity to network with the South Georgia Medical Center (SGMC) board of directors, executive team, and administration. The student organization hopes to establish an internship program with SGMC, as well as an executive shadowing program for students who are interested in becoming hospital administrators.
The 82-member student organization is currently raising funds to benefit the Partnership Health Center Dental Clinic, a program developed by the South Georgia Partnership for Health that provides free dental care for working, uninsured individuals in Lowndes County. Visit http://www.firstgiving.com/89266/pdcihi-project to donate or learn more.
Powell said VSU IHI has partnered with Natural Arts Dental Studio in Atlanta, which has agreed to sponsor two sets of dentures each month for the Partnership Health Center Dental Clinic.
Future VSU IHI initiatives include creating alliances with health care organizations and businesses in the Valdosta-Lowndes County community in order to develop more internship and job shadowing opportunities for members.
IHI is open to all undergraduate and graduate students at VSU with an interest in becoming a leading health care professional.
Contact James Powell at jampowell@valdosta.edu or (678) 458-9932 for more information.
On the Web:
https://valdosta.collegiatelink.net/organization/IHI
http://www.ihi.org/Pages/default.aspx
http://www.ihi.org/education/ihiopenschool/Pages/default.aspx
---
Valdosta State University's 2013-2019 Strategic Plan represents a renewal of energy and commitment to the foundational principles for comprehensive institutions.
Implementation of the plan's five goals, along with their accompanying objectives and strategies, supports VSU's institutional mission and the University System of Georgia's mission for comprehensive universities.
The story above demonstrates VSU's commitment to meeting the following goals:
Goal 1: Recruit, retain, and graduate a quality, diverse student population and prepare students for roles as leaders in a global society.
Goal 3: Promote student, employee, alumni, retiree, and community engagement in our mission.
Goal 4: Foster an environment of creativity and scholarship.
Visit http://www.valdosta.edu/administration/planning/strategic-plan.php to learn more.
Newsroom
Office of Communications Powell Hall West, Suite 1120
Mailing Address
1500 N. Patterson St.
Valdosta, GA 31698
General VSU Information
Office of Communications