January 19, 2016
16-18
Whitney N. Yarber, Communications Specialist
VSU Student Health Center Offers After-Hours, On-Call Nurse Service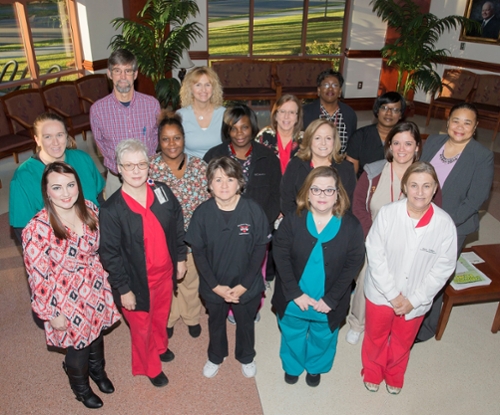 Pictured are the staff from the Student Health Center at Valdosta State University.
VALDOSTA – Committed to ensuring that students are provided with quality health care at minimal costs, the Valdosta State University Student Health Center is now offering an on-call nurse service to current students who have paid the $150 student health fee and are in need of medical advice or assistance after normal business hours.
The Student Health Center team first discussed the opportunity with representatives from the VSU Student Government Association. With their full support, the health care professionals then collaborated with Fonemed — a leading provider of web- and telephone-based medical services, products, and information that serves nearly 25,000 patients each year — to provide students with around-the-clock medical advice and assistance.
"When a student is sick or injured, he or she may want help making a health care decision," said Lynette Lewis, assistant director of VSU's Student Health Center. "The student may not know if he or she should go to an urgent care center, make an appointment at the Student Health Center, or use self-care. The specialty trained, licensed registered nurses will evaluate the student's symptoms via the phone to help answer and guide the student with their health questions."
The Student Health Center is open from 8 a.m. to 5 p.m. Monday through Thursday and 8 a.m. to 2:30 p.m. on Friday.
The after-hours, on-call nurse service can be reached at (229) 259-2083 outside of the Student Health Center's normal business operations, including Saturday and Sunday. Students must provide their own translator for the service if they are not able to speak and/or understand English.
The student health fee does not cover fees to outside clinics or services.
Please note that the after-hours, on-call nurse will not be able to schedule or cancel appointments or take requests for medical records. Students who require those services should call (229) 219-3200 or stop by the Student Health Center located at 200 Georgia Ave.
Contact Lynette Lewis at lalewis@valdosta.edu or (229) 333-5886 for more information.
On the Web:
http://www.valdosta.edu/administration/finance-admin/auxiliary-services/student-health/
https://www.valdosta.edu/administration/finance-admin/auxiliary-services/student-health/after-hours.php
http://www.fonemed.com/wordpress/
---
Valdosta State University's 2013-2019 Strategic Plan represents a renewal of energy and commitment to the foundational principles for comprehensive institutions.
Implementation of the plan's five goals, along with their accompanying objectives and strategies, supports VSU's institutional mission and the University System of Georgia's mission for comprehensive universities.
The story above demonstrates VSU's commitment to meeting the following goal:
Goal 1: Recruit, retain, and graduate a quality, diverse student population and prepare students for roles as leaders in a global society.
Visit http://www.valdosta.edu/administration/planning/strategic-plan.php to learn more.
Newsroom
Office of Communications Powell Hall West, Suite 1120
Mailing Address
1500 N. Patterson St.
Valdosta, GA 31698
General VSU Information
Office of Communications