January 19, 2016
16-19
Jessica Pope
Communications and Media Relations Coordinator
VSU Opera Presents Acis and Galatea Jan. 23-24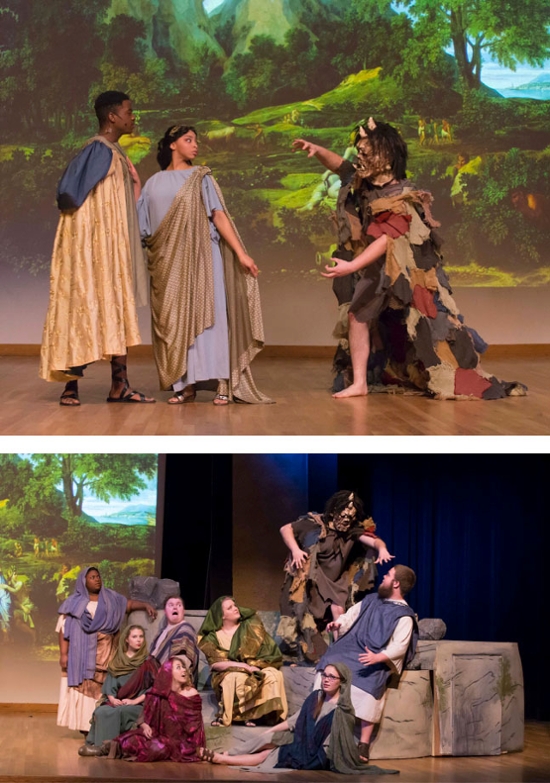 Scenes from VSU Opera's production of Acis and Galatea, which runs Jan. 23-24 in Whitehead Auditorium.
VALDOSTA — Valdosta State University Opera will present Acis and Galatea at 7:30 p.m. Saturday, Jan. 23, and 3 p.m. Sunday, Jan. 24, on the Whitehead Auditorium stage. Tickets are on sale now.
A pastoral opera composed by George Frideric Handel in 1718, with a libretto by John Gay, Alexander Pope, and John Hughes, Acis and Galatea tells the story of Acis, the shepherd son of Pan, and Galatea, a sea nymph. He loves her, and she loves him. Polyphemus, the giant son of Poseidon and Thoosa and one of the Cyclops described in Homer's Odyssey, loves her, too. In a jealous rage, he hurls a boulder at Acis and mortally wounds him. Galatea responds by using her magic powers to change her dead lover into a stream that will flow eternally, making him as immortal as herself in a tribute to the power of love.
The story of Acis and Galatea first appeared in Theocritus's Idyll VI and Idyll XI. It also appears in Metamorphoses, a Latin narrative poem by the Roman poet Publius Ovidius "Ovid" Naso that comprises 15 books and more than 250 myths.
Acis and Galatea is known as the greatest pastoral opera ever composed. Handel created many versions of the work, from an English masque to a bilingual Italian and English seranata to a two-act English opera commonly performed today.
Dr. Tamara Hardesty, chairwoman of the VSU Department of Music's Voice Area, will serve as stage director for this "timeless tale of passion, jealousy, and murder," said Dr. Karl Paoletti Jr., director of opera at VSU. A student orchestra conducted by Dr. Kenneth Kirk, professor of music, will accompany the VSU Opera student performers. The production will feature famous works of art depicting scenes and characters from the story of Acis and Galatea projected on an on-stage screen. Some of these works will feature nudity.
Tickets for Acis and Galatea are $25 for adults, $20 for VSU faculty and staff and members of the military, $5 for children and non-VSU students, and free for current VSU students with a valid university identification card.
Patronages, or "operatunities," are available and range from a low of $100 to a high of $25,000 and help provide scholarship dollars to attract top quality students to the VSU Opera program.
Whitehead Auditorium is located on the first floor of VSU's Fine Arts Building, at the intersection of Brookwood Drive and Oak Street.
Please note that Acis and Galatea contains adult themes and nude imagery and may not be appropriate for young children. A special Opera for Youth performance of Acis and Galatea, scheduled for 10 a.m. on Friday, Jan. 22, is suitable for all ages.
Call the College of the Arts Outreach Office at (229) 333-2150 for tickets or more information, or visit https://www.ticketreturn.com/boxoffice/default.aspx to purchase tickets online.
Contact Dr. Karl Paoletti Jr. at (229) 293-6194 or kppaoletti@valdosta.edu to learn more about patronages.
On the Web:
http://www.valdosta.edu/colleges/arts/music/opera/welcome.php
NOTE: Please visit https://www.facebook.com/vstatenews/?ref=hl to view additional photos and a list of cast, orchestra, production staff, and more. 
---
Valdosta State University's 2013-2019 Strategic Plan represents a renewal of energy and commitment to the foundational principles for comprehensive institutions.
Implementation of the plan's five goals, along with their accompanying objectives and strategies, supports VSU's institutional mission and the University System of Georgia's mission for comprehensive universities. 
The story above demonstrates VSU's commitment to meeting the following goals: 
Goal 1: Recruit, retain, and graduate a quality, diverse student population and prepare students for roles as leaders in a global society.
Goal 3: Promote student, employee, alumni, retiree, and community engagement in our mission.
Goal 4: Foster an environment of creativity and scholarship.
Visit http://www.valdosta.edu/administration/planning/strategic-plan.php to learn more.
Newsroom
Office of Communications Powell Hall West, Suite 1120
Mailing Address
1500 N. Patterson St.
Valdosta, GA 31698
General VSU Information
Office of Communications