January 14, 2016
16-13
Jessica Pope
Communications and Media Relations Coordinator
VSU Fine Arts Gallery Hosts Valdosta National Jan. 19-Feb. 5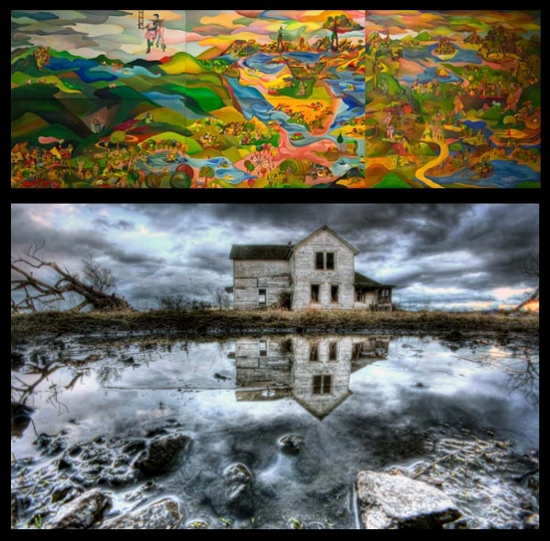 Valdosta National 2016 features 47 works by 42 artists from 28 states. Pictured are works by Alexis Beucler (top) and Eric Demattos (bottom).
VALDOSTA — More than 330 works of art, created by 115 adult artists from across the United States, were submitted for the Valdosta State University Dedo Maranville Fine Arts Gallery's Valdosta National 2016, an all-media juried competition and exhibition.   
For the 28th annual showcase of contemporary visual art, which opens at 6 p.m. on Tuesday, Jan. 19, with a reception and awards ceremony, Carrie Ann Baade, Valdosta National 2016 judge, selected 47 works by 42 artists from 28 states to be featured and to compete for $1,500 in awards.
Julie Bowland, Dedo Maranville Fine Arts Gallery director and Department of Art professor, described Valdosta National 2016 as "an explosively colorful and diverse collection of visual expression that includes oil, acrylic, and mixed media painting; graphite and pastel drawing; mixed-media sculpture; printmaking; silver gelatin print; digital photography; collage; and video." The exhibition will run through Friday, Feb. 5, and is open to the public.  
An internationally exhibiting artist whose oil paintings are rich with allegorical narratives, Baade lives and works in Tallahassee, Fla., where she is an associate professor of painting and drawing at Florida State University. She was awarded the Florida Division of Cultural Affairs Individual Artist Fellowship in 2010 and the Delaware Division of the Arts Established Artist Fellowship in 2005 and was nominated for the prestigious United States Artists Fellowship in 2006 and the Joan Mitchell Grant in 2012. She earned a Master of Fine Arts in painting from the University of Delaware and a Bachelor of Fine Arts from the School of the Art Institute of Chicago, Ill., that included one year of study at the Florence Academy of Art in Italy. 
The Dedo Maranville Fine Arts Gallery is located on the first floor of VSU's Fine Arts Building, at the intersection of Brookwood Drive and Oak Street. It is open from 8:30 a.m. to 5:30 p.m. Monday through Thursday and 9 a.m. to 3 p.m. on Fridays. Admission is free of charge.
Contact Julie Bowland at (229) 333-5835 or jabowlan@valdosta.edu to learn more or to schedule a guided tour of the exhibition.
On the Web:
http://www.valdosta.edu/art/gallery
https://www.facebook.com/VSU-Fine-Arts-Gallery-133203592765/timeline/
---
Valdosta State University's 2013-2019 Strategic Plan represents a renewal of energy and commitment to the foundational principles for comprehensive institutions.
Implementation of the plan's five goals, along with their accompanying objectives and strategies, supports VSU's institutional mission and the University System of Georgia's mission for comprehensive universities. 
The story above demonstrates VSU's commitment to meeting the following goals: 
Goal 1: Recruit, retain, and graduate a quality, diverse student population and prepare students for roles as leaders in a global society.
Goal 3: Promote student, employee, alumni, retiree, and community engagement in our mission.
Goal 4: Foster an environment of creativity and scholarship.
Visit http://www.valdosta.edu/administration/planning/strategic-plan.php to learn more.
Newsroom
Office of Communications Powell Hall West, Suite 1120
Mailing Address
1500 N. Patterson St.
Valdosta, GA 31698
General VSU Information
Office of Communications