January 20, 2016
16-21
Whitney N. Yarber, Communications Specialist
VSU Alumnus, Adjunct Professor Elected on ACTE Board of Directors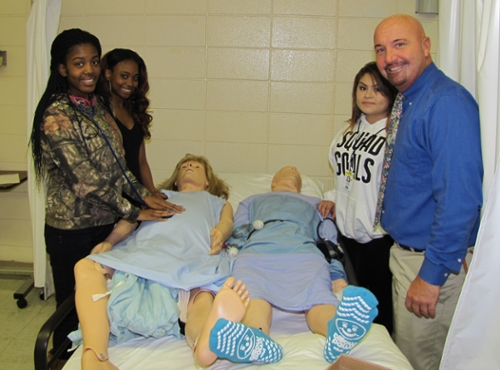 Pictured, from left to right, are Arriyon Hope, Kiera Williams, and Miriam Corado, Valdosta High School students who are participating in the Career and Technical Education Therapeutic Services Pathway, and Brian Law, VSU alumnus and faculty member who will serve as vice president for Region II of the Association for Career and Technical Education's Board of Directors.
VALDOSTA – Brian Law, Valdosta State University alumnus and faculty member, will serve as vice president for Region II of the Association for Career and Technical Education's Board of Directors. His three-year term begins in July.
The Association for Career and Technical Education (ACTE) is the nation's largest not-for-profit organization committed to the advancement of education that prepares youth and adults for successful careers. It represents a community of career and technical education professionals, including educators, administrators, researchers, school counselors, and more, at all levels of education, and it is committed to excellence in providing advocacy, public awareness, and access to resources, professional development, and leadership opportunities.
Law will serve career and technical educators in Alabama, Florida, Georgia, Kentucky, North Carolina, South Carolina, Tennessee, Virginia, Puerto Rico, the Virgin Islands, and the Bahamas as he presents issues and advocates for continued funding and policy support for elementary, middle, secondary, and post-secondary programs.
 "…career and technical education is the backbone of the workforce in a growing economy," said Law. "Many jobs are left vacant when we don't help students explore options for expanding careers that affect our everyday lives. We need students to be prepared to take the helm and lead in these advancing careers."
A three-time graduate from VSU's James L. and Dorothy H. Dewar College of Education and Human Services, Law earned a Bachelor of Science in secondary education in 1993, a master's in guidance and counseling in 1996, and an Education Specialist in 2001.
Law joined the Department of Psychology, Counseling, and Marriage and Family Therapy as an adjunct professor and a professional member of its advisory council in 2009. He has worked as a school counselor, parent involvement coordinator, and public relations coordinator for Valdosta High School for 11 years and previously served as school counselor at the elementary, middle, and middle-alternative levels.
Law said he believes it is important for students to begin exploring careers in the early grades. He said this will allow them to declare pathways and graduate from high school with diploma and degree programs that enable them to enter the workforce prepared for rewarding careers.
Contact Brian Law at (229) 671-6000 ext. 4004 or blaw@gocats.org for more information.
On the Web:
http://www.valdosta.edu/colleges/education/psychology-and-counseling/welcome.php
---
Valdosta State University's 2013-2019 Strategic Plan represents a renewal of energy and commitment to the foundational principles for comprehensive institutions.
Implementation of the plan's five goals, along with their accompanying objectives and strategies, supports VSU's institutional mission and the University System of Georgia's mission for comprehensive universities.
The story above demonstrates VSU's commitment to meeting the following goals:
Goal 1: Recruit, retain, and graduate a quality, diverse student population and prepare students for roles as leaders in a global society.
Goal 3: Promote student, employee, alumni, retiree, and community engagement in our mission.
Goal 4: Foster an environment of creativity and scholarship.
Goal 5: Develop and enhance Valdosta State's human and physical resources.
Visit http://www.valdosta.edu/administration/planning/strategic-plan.php to learn more.
Newsroom
Office of Communications Powell Hall West, Suite 1120
Mailing Address
1500 N. Patterson St.
Valdosta, GA 31698
General VSU Information
Office of Communications