January 19, 2016
16-20
Jessica Pope
Communications and Media Relations Coordinator
VSU, Valdosta School of Ballet Present Sleeping Beauty Jan. 23-24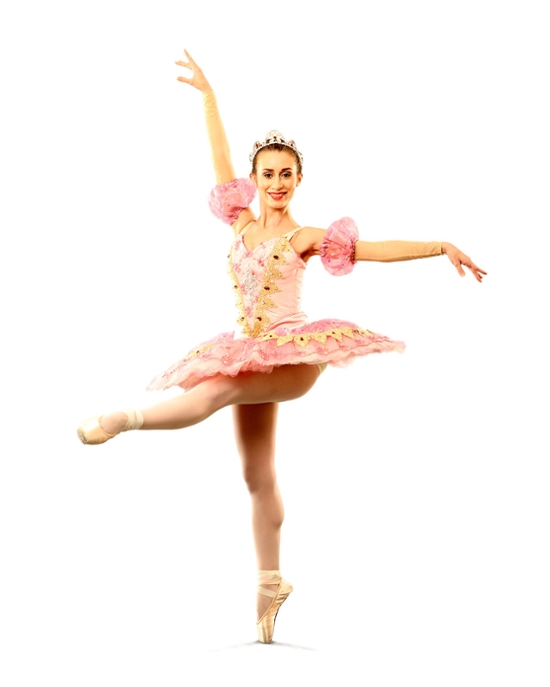 The Valdosta School of Ballet, in partnership with Valdosta State University Theatre and Dance, will present Sleeping Beauty Jan. 23-24 on the Mathis City Auditorium stage. Larren Woodward, a VSU Bachelor of Fine Arts student, will perform the role of Aurora. (Photo courtesy of the Valdosta School of Ballet.)
VALDOSTA — The Valdosta School of Ballet, in partnership with Valdosta State University Theatre and Dance, will present Sleeping Beauty Jan. 23-24 on the Mathis City Auditorium stage. Tickets are on sale now.
"Valdosta is a community with so many talented people," shared Brooke Butler, assistant director of the Valdosta School of Ballet. "To be able to share this classic ballet with the community is an honor."
Adapted for the local stage by the Valdosta School of Ballet and VSU Theatre and Dance, Sleeping Beauty will feature elements of both the classical version of the ballet, as well as elements of the animated versions of the traditional fairytale, all set to the wonderful music of Pyotr Ilyich Tchaikovsky.
VSU Theatre and Dance's own Larren Woodward will perform the role of Aurora. Other Blazers lending their talents to the performance are James Burch, as the king; Lizzy McCullers, as the crow; John Sanders, as the steward; Brandon Chandler, Brandon Haynes, Vaughn Stevens, and Brady Whitehouse, as the court men; Haley Aguero, Hannah Findlay, Kailah Gordon, Caitlin Miller, and MacKinzi von Holten, as the court women; Cassandra Stowe, as the nursemaid; T'Shauna Henry, as a lady in waiting; Leslie Wenning, as the forest queen; Megan Foose, as a forest spirit and Anna; Wendell Hester, as a court man and Aladdin; and Megan Stewart, as one of the townspeople. They will perform alongside Valdosta School of Ballet students and special guest artist Fhilipe Teixeira, a principal dancer with Dance Alive National Ballet in Gainesville, Fla.
Jacque Wheeler, professor of theatre and chairwoman of VSU Theatre and Dance, will serve as stage director and choreographer. Her behind-the-scenes technical team includes the talented Sarah Wildes Arnett, assistant professor of dance, as choreographer; Deana Keyes, as stage manager; Kasey Copeland, as assistant stage manager; Ruth Brandvik, assistant professor of theatre and scenic designer, as light designer; Reynaldo Hicks, as fly operator; Mikeala Smith, as sound board operator; Chelsea Warren, as light board operator; Lily Bryant, as spotlight operator; Esther Iverson, assistant professor and costume designer, as a costume designer; Christie Jo Mayo and Chariece Freeman, as the costume crew; and Jalesa Beaver, as props technician. These Blazers will work alongside Brandi Roberts, founder of the Valdosta School of Ballet; Butler; and other theatre technicians from the community to ensure the performing is a success.   
"This collaborative effort is a wonderful opportunity for our actors and dancers to share their tremendous talents with parents, family, friends, and the community," Butler shared.
Performances are scheduled for 7:30 p.m. Saturday, Jan. 23, and 3 p.m. Sunday, Jan. 26. Tickets are $10 for adults and $8 for children, VSU students with a valid identification card, and persons age 55 and older and may be purchased at City Market, 3215 N. Oak St. Extension; Steel's Jewelry, 3338-I Country Club Road; The Scoop, 401 Northside Drive; and Little Options, 3338-C Country Club Road Suite 1.
Proceeds will benefit the Golden Circle Scholarship and Support Fund and will help VSU Theatre and Dance to attract top quality students to the program by offering scholarship support.
"We as a studio are so grateful to be able to help the theatre and dance students at VSU," Butler added. "Giving back is something we strive to do, and it teaches the students at the Valdosta School of Ballet a valuable lesson in life."
On the Web:
https://www.valdosta.edu/colleges/arts/communication-arts/theatre-and-dance/welcome.php
http://subdomain.valdostaschoolofballet.net
---
Valdosta State University's 2013-2019 Strategic Plan represents a renewal of energy and commitment to the foundational principles for comprehensive institutions.
Implementation of the plan's five goals, along with their accompanying objectives and strategies, supports VSU's institutional mission and the University System of Georgia's mission for comprehensive universities. 
The story above demonstrates VSU's commitment to meeting the following goals: 
Goal 1: Recruit, retain, and graduate a quality, diverse student population and prepare students for roles as leaders in a global society.
Goal 2: Increase financial support for the institution.
Goal 3: Promote student, employee, alumni, retiree, and community engagement in our mission.
Goal 4: Foster an environment of creativity and scholarship.
Goal 5: Develop and enhance Valdosta State's human and physical resources.
Visit http://www.valdosta.edu/administration/planning/strategic-plan.php to learn more.
Newsroom
Office of Communications Powell Hall West, Suite 1120
Mailing Address
1500 N. Patterson St.
Valdosta, GA 31698
General VSU Information
Office of Communications