December 14, 2015
15-299
Jessica Pope
Communications and Media Relations Coordinator
Laura Hanna Receives Phi Kappa Phi Love of Learning Award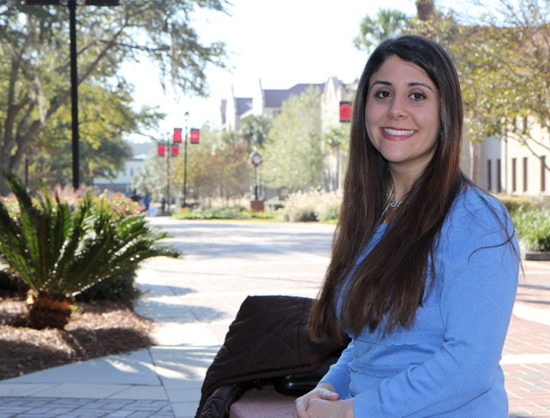 Laura Hanna
VALDOSTA — Laura Hanna, a doctoral student at Valdosta State University, has earned a 2015 Love of Learning Award from The Honor Society of Phi Kappa Phi, the nation's oldest, largest, and most selective collegiate honor society for all academic disciplines, founded in 1897.
"I was excited and surprised to have won the Love of Learning Award because it is very competitive and I knew I would be competing against hundreds of extremely qualified candidates," said the daughter of Joseph and Gezel Hanna of Valdosta. 
The Love of Learning Award helps fund post-baccalaureate studies and/or career development — graduate or professional studies, doctoral dissertations, continuing education, career development, travel related to teaching or studies, and more — for active Phi Kappa Phi members. Only 160 students across the country are selected for this $500 award each year.
Hanna was inducted into Phi Kappa Phi in 2012 and is currently pursuing a Doctor of Education with a major in curriculum and instruction at VSU. She plans to use her Love of Learning Award to purchase books for the upcoming spring and summer semesters and anticipates completing the requirements of her doctoral program in May 2018. She previously earned a Bachelor of Arts with a major in English from VSU in 2013, followed by a Master of Arts with a major in English from Auburn University in 2015.
Hanna works as an advisor to students in VSU's Honors College and as an English instructor at various institutions of higher education across South Georgia. She enjoys reading and writing poetry and even teaches poetry for the South Georgia Regional Library System during the summer months. She is the founding editor and editor-in-chief of These Fragile Lilacs Poetry Journal.   
As an undergraduate student at VSU, Hanna earned the 2013 Annie Powe Hopper Award, which is presented each year to the senior who best represents the high academic standards and exemplifies the traditions of VSU, and the Department of English's Martha Wiseman McKey Award, which is presented each year to the senior English major with the highest cumulative grade point average who has completed at least 90 hours of coursework and at least 60 hours of academic work at VSU. She was an active member of the Honors Student Association and graduated from the Honors Program in 2012. She served as president of VSU's chapter of Sigma Tau Delta International English Honor Society and went on to receive the organization's Edwin L. Stockton Jr. Graduate Scholarship in 2015.  
As a graduate student at Auburn University, Hanna earned the third place award for an original poetry collection titled "Writing Down the Ghosts" during the spring 2015 Research Week Oral Research and Creative Scholarship Presentations Showcase.  That same semester she also received the second runner-up award for an original poetry collection, titled "Seen from the Moon, Our Bones Are Glass," which was presented during the 2015 English Graduate Association Colloquium. 
Hanna said her dream job is to continue teaching at the post-secondary level and to be a mentor to students. 
On the Web: 
http://www.thesefragilelilacspoetry.com
---
Valdosta State University's 2013-2019 Strategic Plan represents a renewal of energy and commitment to the foundational principles for comprehensive institutions.
Implementation of the plan's five goals, along with their accompanying objectives and strategies, supports VSU's institutional mission and the University System of Georgia's mission for comprehensive universities. 
The story above demonstrates VSU's commitment to meeting the following goals: 
Goal 1: Recruit, retain, and graduate a quality, diverse student population and prepare students for roles as leaders in a global society.
Goal 3: Promote student, employee, alumni, retiree, and community engagement in our mission.
Goal 4: Foster an environment of creativity and scholarship.
Goal 5: Develop and enhance Valdosta State's human and physical resources.
Visit http://www.valdosta.edu/administration/planning/strategic-plan.php to learn more.
General VSU Information
Office of Communications
Campus Address
Office of Communications Powell Hall West, Suite 1120
Mailing Address
1500 N. Patterson St.
Valdosta, GA 31698