November 17, 2015
15-287
Jessica Pope
Communications and Media Relations Coordinator
WiFi on Buses Allows Students to Remain Connected, Learn on the Go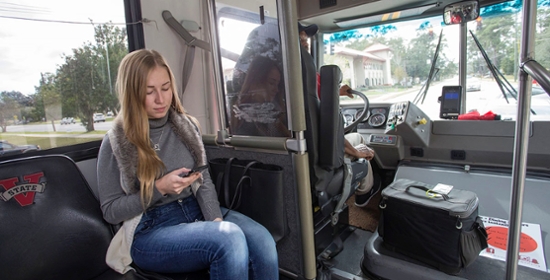 VALDOSTA — Committed to helping students stay connected even when they are on the go, Valdosta State University now offers open WiFi on all athletic and shuttle buses. The network name is WAAV-VALDOSTA-####, with the last four digits being specific to each bus.   
 
Joe Newton, chief technology officer with VSU's Division of Information Technology, said that the service was requested by students and funded by student technology fee monies. 
 
"This should alleviate the need for students to use their data plans when riding the buses, as well as allow them to use tablets, laptops, and other WiFi devices while en route," he explained. "The Division of Information Technology is keen to support students and learning, even when riding the bus, a trend throughout higher education and even K-12 school systems, facilitating efficient and effective use of riding time for learning and related activities, many of which utilize online resources.
 
"The football team has been accustomed to WiFi on their chartered buses for some time now. The VSU Athletics-owned buses used by the other sports teams were outfitted with WiFi this past December so that those student-athletes could study during long trips throughout the Southeast as well."
 
The Division of Information Technology is committed to providing all campus users with a consistently reliable data connection to and from all campus locations, as well as the best services available to enhance the learning experience at Valdosta State.
 
Making open WiFi available on all athletic and shuttle buses is part of the Division of Information Technology's ongoing effort to upgrade the existing wireless network system to provide an even faster and more reliable connectivity for the entire VSU campus — nearly 3 million square feet. The goal is to place approximately 1,600 access points in areas to support high-density usage with coverage including residence student-residents' rooms, auditoriums, classrooms, dining spaces, the pedestrian mall, and the front lawn midpoint. Advanced caching capabilities will allow local delivery of Internet content in the highest bit-rate available, which means fast updates and high-definition media streaming (i.e., Netflix and YouTube).
 
Visit www.valdosta.edu/wireless or contact the Information Technology Solutions Center at (229) 245-4357 or  solutions@valdosta.edu to learn more. The Helpdesk is located on the second floor of Odum Library and available from 8 a.m. to 9 p.m. Monday through Thursday, 8 a.m. to 5 p.m. Fridays, 11 a.m. to 5 p.m. Saturdays, and 1 p.m. to 7 p.m. Sundays. 
---
Valdosta State University's 2013-2019 Strategic Plan represents a renewal of energy and commitment to the foundational principles for comprehensive institutions.
Implementation of the plan's five goals, along with their accompanying objectives and strategies, supports VSU's institutional mission and the University System of Georgia's mission for comprehensive universities. 
The story above demonstrates VSU's commitment to meeting the following goals: 
Goal 1: Recruit, retain, and graduate a quality, diverse student population and prepare students for roles as leaders in a global society.
Goal 3: Promote student, employee, alumni, retiree, and community engagement in our mission.
Goal 4: Foster an environment of creativity and scholarship.
Goal 5: Develop and enhance Valdosta State's human and physical resources.
Visit http://www.valdosta.edu/administration/planning/strategic-plan.php to learn more.
General VSU Information
Office of Communications
Campus Address
Office of Communications Powell Hall West, Suite 1120
Mailing Address
1500 N. Patterson St.
Valdosta, GA 31698