November 30, 2015
15-292
Whitney N. Yarber, Communications Specialist
VSU's IMA Wins Outstanding Student Chapter Award for Excellence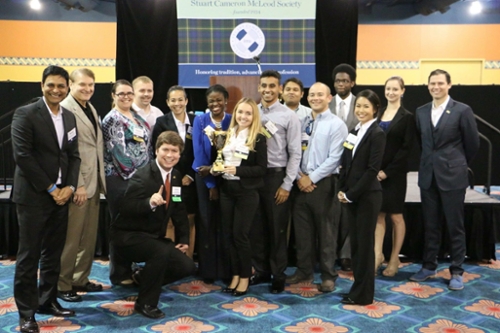 Valdosta State University has earned the 2014-2015 Institute of Management Accountants (IMA) Outstanding Student Chapter Award for Excellence. Pictured, from left to right, are Dr. Sanjay Gupta and Dr. Ron Stunda, VSU IMA student chapter faculty advisors; Heather Harvell, chapter director of the Case Competition for

 the IMA;

 Joseph Michael Cauley; Dylan Heyer, chapter director of communications; Beatriz Morales Hernandez; Diane Isibor; Yekaterina Solomkina, chapter president; Abdulaziz Alfahaid; Farhan Salahuddin; Zackary Stanaland; Miles Hardrick; Ravisara Lisa Dowden; Allyson Hayenga, chapter director of plant tours and events; and Benjamin R. Mulling, chairman of the IMA Global Directors and Governance Committee.
VALDOSTA – Valdosta State University has earned the 2014-2015 Institute of Management Accountants (IMA) Outstanding Student Chapter Award for Excellence.
VSU's IMA Outstanding Student Chapter Award was presented by IMA, the worldwide association of accountants and financial professionals working in business committed to helping more than 70,000 members who seek to expand their professional skills, better manage their organization, and enhance their career.
The award program exists to recognize chapters for achieving distinction in their promotion of IMA's mission and vision to provide a forum for research, practice development, education, and knowledge sharing, the advocacy of the highest ethical and best business practices in management, accounting, and finance, and a broader range of activities and services to their members.
"This is an incredible achievement for any chapter and even more noteworthy given our chapter has been in existence for only four years," said Dr. Sanjay Gupta, associate dean and professor in the Department of Accounting and VSU IMA faculty adviser. "It is a testament to the fact that the Harley Langdale Jr. College of Business Administration students are able to compete with business students from other top tier business programs."
Founded in 2011, VSU IMA is committed to creating a bridge between students and professionals by exposing students to the management and accounting professions, providing networking and professional job opportunities, attending professional meetings, participating in community service activities, creating ethical awareness, and encouraging the pursuit of becoming a certified management accountant.
In order to meet the requirements for the award, the student organization participated in educational meetings and leadership and team-building activities, engaged with business leaders, and completed various community service projects.
Gupta and Yekaterina "Katya" Solomkina, VSU IMA chapter president, were also recognized by the Institute of Management Accountants at the 16th Annual IMA Student Leadership Conference held Nov. 12-14 at Disney's Coronado Springs Resort in Lake Buena Vista, Fla.
Gupta received the Ursel K. Albers Academic Mentor of the Year Award, which recognizes an academic mentor or student chapter advisor who has made significant contributions to the IMA overall, as well as the IMA student members.
"This award was presented in front of a large audience of 600-plus members comprising of CEOs [chief executive officers] and CFOs [chief financial officers] of Fortune 500 companies and students and faculty from more than 100 institutions," said Gupta. "Receiving this award was a proud moment for me, for VSU, and for the Harley Langdale Jr. College of Business Administration."
Solomkina was awarded the IMA Memorial Education Fund Scholarship in the amount of $1,000. The awarding of the scholarship was based on academic merit, IMA participation, recommendations, and more.
"I am delighted to receive a scholarship from an internationally-known organization," the 23-year-old from Almaty, Kazakhstan, said. "It feels rewarding to represent VSU on a global scale. This award has definitely helped to boost my motivation for hard work and high standards."
IMA is open to all undergraduate and graduate business students at VSU.
Contact Dr. Sanjay Gupta at sgupta@valdosta.edu or (229) 293-6061 for more information.
On the Web:
http://blog.valdosta.edu/ima/
http://www.imanet.org/
https://www.imastudentconference.org/
---
Valdosta State University's 2013-2019 Strategic Plan represents a renewal of energy and commitment to the foundational principles for comprehensive institutions.
Implementation of the plan's five goals, along with their accompanying objectives and strategies, supports VSU's institutional mission and the University System of Georgia's mission for comprehensive universities.
The story above demonstrates VSU's commitment to meeting the following goals:
Goal 1: Recruit, retain, and graduate a quality, diverse student population and prepare students for roles as leaders in a global society.
Goal 3: Promote student, employee, alumni, retiree, and community engagement in our mission.
Goal 4: Foster an environment of creativity and scholarship.
Goal 5: Develop and enhance Valdosta State's human and physical resources.
Visit http://www.valdosta.edu/administration/planning/strategic-plan.php to learn more.
General VSU Information
Office of Communications
Campus Address
Office of Communications Powell Hall West, Suite 1120
Mailing Address
1500 N. Patterson St.
Valdosta, GA 31698