October 19, 2015
15-251
Whitney N. Yarber, Communications Specialist
VSU's Society for Human Resource Management Wins Student Chapter Merit Award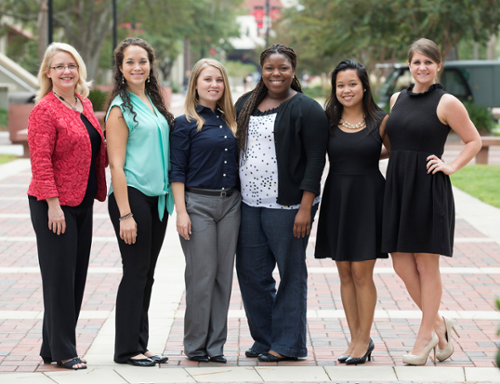 Pictured, from left to right, are Rebecca Murphy, associate director of Human Resources for Employee and Organizational Development and chapter adviser; Lorena Afa, chapter director of communications; Brandi Jackson, chapter president; Holli Dawkins, chapter vice president; Grace Delacruz, chapter director of alumni and community relations; and Korea Black, chapter director of recruitment and retention.
VALDOSTA – Valdosta State University has earned the 2014-2015 Society for Human Resource Management (SHRM) Student Chapter Merit Award. The student organization previously won this award in 2003 and 2013.
VSU's SHRM Student Chapter Merit Award was presented by the Society for Human Resource Management, the world's largest human resources organization representing more than 275,000 members in more than 160 countries. The award program exists to encourage the development of more effective student chapters in four broad areas — chapter operations, chapter programming and professional development of members, support of the human resource profession, and SHRM engagement.
"SHRM has been [internationally] recognized for the majority of its life here at VSU," said Brandi Jackson, president of the VSU SHRM student chapter. "Being [internationally] recognized will help students involved with SHRM reap the benefits of scholarships, national conference attendance, [and] internships, and [it will] help put VSU on the map at the national conferences."
Founded in 2001, VSU SHRM is committed to serving professional-minded graduate and undergraduate students seeking to advance their knowledge, understanding, and application of human resource principles, practices, and other related fields.
The student organization "…is involved with several initiatives for the professional development of student members, including employer site visits with local businesses throughout South Georgia and North Florida, internship placement programs, professional development of interviewing and resume-building skills, and much more," said Jackson.
VSU SHRM is in the process of developing initiatives designed to assist undergraduate and graduate students transitioning into careers after completing their post-secondary education. Its members look forward to collaborating with the newly re-established Greater Valdosta Area SHRM chapter, the leading voice of the human resource professionals in the Valdosta area.
"Our purpose is to educate [students] on what SHRM can do [for them] and assist in job placement after graduation," shared Jackson. "We would like to see a strong network of working professionals, alumni, and sponsors coming together to support VSU SHRM students in the search for careers. We hope to be a well-educated and prepared pool of job applicants that harbor marketable skills for various organizations."
SHRM is open to all undergraduate and graduate students at VSU with an interest in human resources, public administration, business, organizational development, communication, industrial-organizational psychology, and leadership.
Contact Brandi Jackson at bnjackson@valdosta.edu or (229) 259-5105 for more information.
On the Web:
http://www.shrm.org/communities/studentprograms/pages/awards.aspx
https://www.facebook.com/vsushrm
---
Valdosta State University's 2013-2019 Strategic Plan represents a renewal of energy and commitment to the foundational principles for comprehensive institutions.
Implementation of the plan's five goals, along with their accompanying objectives and strategies, supports VSU's institutional mission and the University System of Georgia's mission for comprehensive universities.
The story above demonstrates VSU's commitment to meeting the following goals:
Goal 1: Recruit, retain, and graduate a quality, diverse student population and prepare students for roles as leaders in a global society.
Goal 3: Promote student, employee, alumni, retiree, and community engagement in our mission.
Goal 4: Foster an environment of creativity and scholarship.
Visit http://www.valdosta.edu/administration/planning/strategic-plan.php to learn more.
General VSU Information
Office of Communications
Campus Address
Office of Communications Powell Hall West, Suite 1120
Mailing Address
1500 N. Patterson St.
Valdosta, GA 31698