October 13, 2015
15-244
Jessica Pope
Communications and Media Relations Coordinator
Study Abroad Fair Encourages VSU Students to Explore the World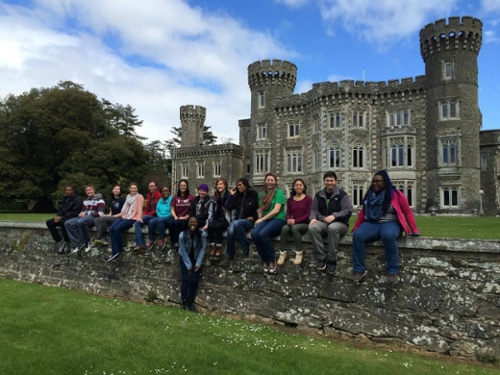 Mycology students in Ireland.
VALDOSTA — The Valdosta State University Center for International Programs and Harley Langdale Jr. College of Business Administration are joining forces to host a Study Abroad Fair from 10 a.m. to 3 p.m. on Wednesday, Oct. 14, in the Health Sciences and Business Administration Building.
Interested students are encouraged to stop by and discover how they can see the world and experience new cultures while taking classes and moving one step closer to earning a degree.
Although the primary focus of this particular event will be on study abroad opportunities open to business majors in Germany, Turkey, and Spain, Center for International Programs staff members will be on hand to discuss any of the various options available to VSU students. Former study abroad participants will also be in attendance for those who wish to ask questions and learn more about living and learning abroad from a student's perspective. 
The Study Abroad Fair will feature information about summer, semester-long, and yearlong exchange programs, as well as scholarships and fundraisers available to help cover the costs of study abroad experiences. Interested students will discover that financial aid can be applied to all approved programs and that they do not have to be fluent in a foreign language to participate.  
VSU recently introduced two new study abroad programs, one in Poland for art students and another in Cuba for history and Spanish students. 
The benefits of studying abroad are endless, shared Irina B. McClellan, Study Abroad Program coordinator. The experience continues to impact each student's personal, professional, and academic lives long after he or she returns to the United States. It has also proven to be a defining moment in a student's life and has the potential to positively influence his or her self-confidence, career path, and view of the world.
Contact Irina B. McClellan at (229) 333-7410 or studyabroad@valdosta.edu to learn more.
On the Web:
http://www.valdosta.edu/academics/academic-affairs/international-programs/
https://www.facebook.com/abroad.programs?ref=hl
---
Valdosta State University's 2013-2019 Strategic Plan represents a renewal of energy and commitment to the foundational principles for comprehensive institutions.
Implementation of the plan's five goals, along with their accompanying objectives and strategies, supports VSU's institutional mission and the University System of Georgia's mission for comprehensive universities. 
The story above demonstrates VSU's commitment to meeting the following goals: 
Goal 1: Recruit, retain, and graduate a quality, diverse student population and prepare students for roles as leaders in a global society.
Goal 4: Foster an environment of creativity and scholarship.
Visit http://www.valdosta.edu/administration/planning/strategic-plan.php to learn more.
General VSU Information
Office of Communications
Campus Address
Office of Communications Powell Hall West, Suite 1120
Mailing Address
1500 N. Patterson St.
Valdosta, GA 31698