September 14, 2015
15-217
Jessica Pope
Communications and Media Relations Coordinator
VSO Opens New Season With Sibelius, Brahms Sept. 19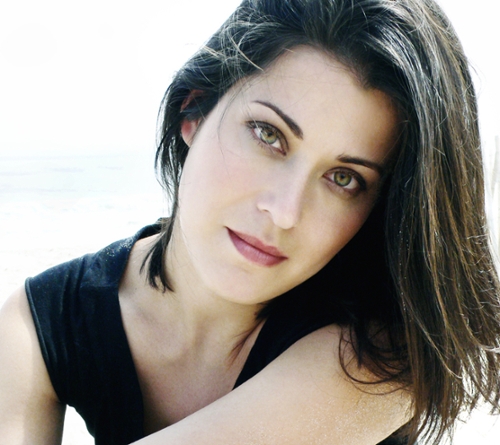 Jennifer Frautschi
VALDOSTA — Performing on a 1722 Antonio Stradivarius violin known as the "ex-Cadiz," on generous loan from a private American foundation, Jennifer Frautschi will join the Valdosta Symphony Orchestra when it kicks off its 26th season at 8 p.m. on Saturday, Sept. 19, in Valdosta State University's Whitehead Auditorium. Tickets are on sale now.
"I first heard … (Jennifer Frautschi) play on a recording of [Arnold] Schoenberg's Concerto for String Quartet, a composition in which Schoenberg reworked a [George Frideric] Handel Concerto Grosso and goes into crazy new musical territory," said Dr. Howard Hsu, VSO music director and conductor. "The solo violinist was handling the fiendish technical demands with ease, and I thought that I definitely wanted to work with that person. That person was Jennifer …."
Frautschi, a two-time Grammy nominee and Avery Fisher Career Grant recipient, will perform Jean Sibelius's Violin Concerto in D Minor, Op. 47 with the American Prize-winning Valdosta Symphony Orchestra. She is known around the world as an adventurous musician with a remarkably wide-ranging repertoire, from the classic to the contemporary. Born in Pasadena, Calif., she began studying violin at the age of 3 and has trained at the Colburn School for the Performing Arts in Los Angeles, Calif., the New England Conservatory of Music in Boston, Mass., and The Julliard School in New York City. She currently teaches at Stony Brook University in Stony Brook, N.Y.  
The Valdosta Symphony Orchestra's season-opening concert, The Distinctive Voice, will also include Charles Ives's Variations on "America" and Johannes Brahms's Symphony No. 1 in C Minor, Op. 68, a piece that allowed him to confidently emerge from Ludwig van Beethoven's "imposing shadow as his true musical heir," Hsu said.
Tickets for Saturday's performance, which is sponsored by First Federal Savings of Valdosta, are $27 for adults and $10 for students. Senior, military, and VSU faculty and staff discounts are available.
Whitehead Auditorium is located on the first floor of VSU's Fine Arts Building, at the intersection of Brookwood Drive and Oak Street.
Visit www.valdostasymphony.org or contact Sarah Cain with VSU's College of Arts Outreach Office at (229) 333-2150 or slcain@valdosta.edu to reserve tickets or learn more. Tickets are also available at the VSO Box Office before each event.
On the Web:
http://www.valdostasymphony.org
http://www.jenniferfrautschi.com
NOTE: The Downtown Symphony Club, a social group for young and young-at-heart music lovers and professionals, will meet after the concert for food and drinks at 10 p.m. at The Bistro in Downtown Valdosta. Contact Dr. Shannon Lowe, principal bassoonist with the VSO, at srlowe@valdosta.edu for more information. Club members receive a discount on single tickets, exclusive dinner deals on concert nights, as well as the chance to meet and socialize with the soloist, conductor, and orchestra musicians, and more. 
About the Valdosta Symphony Orchestra:
Created in 1990, the Valdosta Symphony Orchestra serves both the cultural life of Valdosta and the regional academic mission of Valdosta State University. The high standard of performance of the orchestra enables it to attract guest soloists of national and international renown to the Valdosta community. The orchestra's membership is a unique blend of resident artist-faculty, students studying professional music disciplines, talented community performers, and carefully selected professionals from a five-state region. Supported by an Advisory Board of Directors, the Valdosta Symphony Guild, Valdosta State University, corporate sponsors, and hundreds of individual patrons, the orchestra has become an important part of the cultural life of the entire region.
---
Valdosta State University's 2013-2019 Strategic Plan represents a renewal of energy and commitment to the foundational principles for comprehensive institutions.
Implementation of the plan's five goals, along with their accompanying objectives and strategies, supports VSU's institutional mission and the University System of Georgia's mission for comprehensive universities. 
The story above demonstrates VSU's commitment to meeting the following goals: 
Goal 1: Recruit, retain, and graduate a quality, diverse student population and prepare students for roles as leaders in a global society.
Goal 3: Promote student, employee, alumni, retiree, and community engagement in our mission.
Goal 4: Foster an environment of creativity and scholarship.
Goal 5: Develop and enhance Valdosta State's human and physical resources.
Visit http://www.valdosta.edu/administration/planning/strategic-plan.php to learn more.
General VSU Information
Office of Communications
Campus Address
Office of Communications Powell Hall West, Suite 1120
Mailing Address
1500 N. Patterson St.
Valdosta, GA 31698