September 29, 2015
15-230
Jessica Pope
Communications and Media Relations Coordinator
Planetarium Presents Pluto Revealed Oct. 2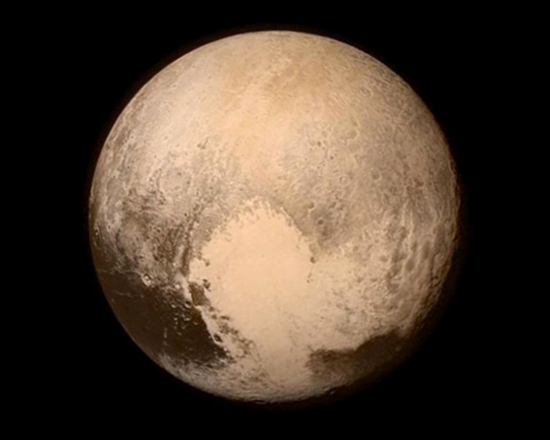 Image captured by the New Horizons spacecraft. 
VALDOSTA — The Valdosta State University Planetarium will present Pluto Revealed at 7 p.m., 8 p.m., and 9 p.m. on Friday, Oct. 2. The presentation is free of charge and open to the public. 
Dr. Kenneth Rumstay, professor of physics and astronomy, will share the story of Pluto, which he referred to as "everyone's favorite dwarf planet."
"The story of Pluto begins in 1781, with the accidental discovery of Uranus and the predicted existence of the eighth planet Neptune," he explained. "But a few astronomers believed that a ninth planet must exist, and the search for it was led by Percival Lowell in Flagstaff, Ariz. After years of searching, the elusive 'Planet X' was discovered in 1930. For 76 years the solar system had nine planets, and generations of schoolchildren learned their names.
"But as knowledge of this new world improved, we came to realize that Pluto is unlike any other planet. Smaller than our moon, Pluto moves a highly elliptical, tilted orbit, which carries it far from the zodiac. In August 2006 the International Astronomical Union officially voted to demote Pluto to the rank of 'dwarf planet.' We now recognize Pluto as the largest known member of the Kuiper Belt, a collection of small icy bodies, which circle the sun beyond the orbit of Neptune. And now, thanks to the spectacular success of the New Horizons probe, we have our first close-up look at Pluto and its moons."
Pluto Revealed is the first show of the VSU Planetarium's 2015-2016 season, which includes Things That Go Bump in the Night on Friday, Oct. 30; Season of Light on Friday, Dec. 4; Where Have All the Planets Gone on Friday, Feb. 12, 2016; Juno: Unlocking Jupter's Secrets on Friday, March 25, 2016; and The Radio Universe on Friday, April 15, 2016.
Seating for each of the three presentations is limited to 47 guests. Free admission tickets will be distributed beginning at 6 p.m. on a first-come, first-served basis at the VSU Planetarium and are limited to seven per person.
The VSU Observatory will be open from 7 p.m. to 10 p.m., weather permitting, allowing guests the opportunity to view the wonders of the heavens.  
Located on the third floor of Nevins Hall, the VSU Planetarium underwent extensive renovations during the summer of 2011 and now includes a Digitarium Kappa digital projector, which can reproduce the night sky as seen from anywhere on Earth or from the surface of any object in the solar system, at any time in history, past or future. This technology is the first of its kind in the world.
Limited parking will be available in front of Nevins Hall and across Patterson Street.
Planetarium public outreach shows are appropriate for children ages 5 and up.
Contact VSU's Department of Physics, Astronomy, and Geosciences at (229) 333-5752 for more information.
On the Web:
http://www.valdosta.edu/colleges/arts-sciences/physics-astronomy-geosciences/
---
Valdosta State University's 2013-2019 Strategic Plan represents a renewal of energy and commitment to the foundational principles for comprehensive institutions.
Implementation of the plan's five goals, along with their accompanying objectives and strategies, supports VSU's institutional mission and the University System of Georgia's mission for comprehensive universities. 
The story above demonstrates VSU's commitment to meeting the following goals: 
Goal 1: Recruit, retain, and graduate a quality, diverse student population and prepare students for roles as leaders in a global society.
Goal 3: Promote student, employee, alumni, retiree, and community engagement in our mission.
Goal 4: Foster an environment of creativity and scholarship.
Visit http://www.valdosta.edu/administration/planning/strategic-plan.php to learn more.
General VSU Information
Office of Communications
Campus Address
Office of Communications Powell Hall West, Suite 1120
Mailing Address
1500 N. Patterson St.
Valdosta, GA 31698