September 22, 2015
15-225
Jessica Pope
Communications and Media Relations Coordinator
Full-Time, First-Year Students at VSU Represent 16 States, 15 Countries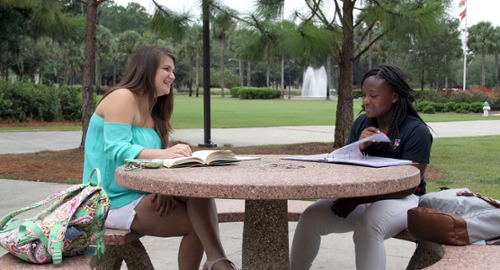 Pictured is Heather L. Woods, left, with her roommate, Christina M. Byrd, a pre-nursing student. 
VALDOSTA — Heather L. Woods of Alamo is part of a promising class of full-time, first-year students who entered Valdosta State University this fall. The early childhood education major has waited her entire life to call herself a Blazer.  
"During my time … (at) VSU … I hope to do my best and learn how to be one of the most amazing elementary school teachers in Georgia," she said.
VSU's Class of 2019 includes 1,332 first-time, full-time students. Of those, 62 percent benefit from Georgia's HOPE and Zell Miller scholarship programs, 60 percent are female, and 28 percent are first-generation college students, just like Woods.
"It feels great to finally be a college student," she said. "College is something you dream about your whole life, and finally being here is a dream come true."
The students who comprise this group of first-time, full-time students come from 16 states (Alaska, Alabama, Colorado, Florida, Georgia, Kansas, Louisiana, Maryland, North Carolina, New Hampshire, New Jersey, New York, Oklahoma, Rhode Island, South Carolina, Texas, and Virginia); 15 foreign countries (Brazil, Chile, China, Colombia, Finland, Germany, Honduras, Hungary, India, Jordan, South Korea, Mexico, Nigeria, Norway, Saudi Arabia); and Armed Forces Europe. Within Georgia, they represent 117 counties, the top five being Lowndes, Gwinnett, Henry, Cobb, and Fulton.  
The average high school grade point average of this group of students is 3.22, up 0.05 from the year before. The average SAT score is 1021, up 13 points from the year before. The average ACT score is 22, the same as last year. The students' top majors include pre-nursing, psychology, engineering studies, and subjects in the business field.
"This year's first-year class clearly confirms all that Valdosta State has to offer," said Dr. Cecil P. Staton, interim president. "I am grateful that VSU continues to attract a diverse and talented student population who find here a home where a world-class faculty and committed staff provide opportunities for academic achievement and personal fulfillment. Student achievement and success is always job No. 1 at Valdosta State."    
General VSU Information
Office of Communications
Campus Address
Office of Communications Powell Hall West, Suite 1120
Mailing Address
1500 N. Patterson St.
Valdosta, GA 31698