September 4, 2015
15-209
Whitney N. Yarber, Communications Specialist
Courageous Conversations about Race Series Begins Sept. 9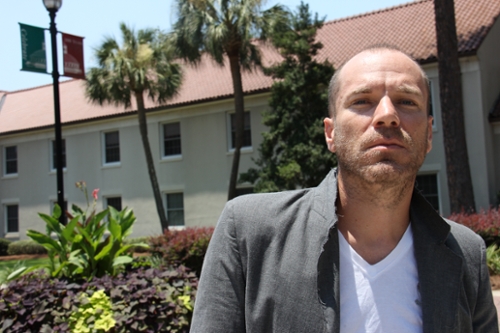 Pictured is Dr. Thomas Aiello, associate professor in the Department of History and the African American Studies program.
VALDOSTA – Dr. Thomas Aiello, associate professor in the Department of History and the African American Studies Program at Valdosta State University, will present Black Lives Have Always Mattered: The History Behind Contemporary Racial Controversies from 7:30 p.m. to 9 p.m. on Wednesday, Sept. 9, in Whitehead Auditorium. Admission is free of charge and open to the public.
Aiello said his lecture, "…will be about the historical and ideological background of the Confederate flag debate, the Black Lives Matter movement, and race riots…I think [those topics]…are kind of perpetually in the news right now."
Aiello has taught at VSU since 2010 and has led classes on African American history, the Harlem Renaissance, the economics of slavery, black power, and the history of black political murder. He is considered an expert on the subject of black history and has shared his knowledge through dozens of peer-reviewed articles and chapters, book reviews, essays, conferences, and presentations.
The author of eight books, Aiello's ninth book, The Battle for the Souls of Black Folk: W.E.B. Du Bois, Booker T. Washington, and the Debate that Changed the Course of Civil Rights, is currently in production and will be released in 2016.
Aiello's talk is part of a series of presentations collectively known as A Complex and Tangled History: Courageous Conversations about Race that will continue throughout the semester with Dr. Larry Rivers, professor in the Department of History, discussing why race matters in a multicultural society on Sept. 29; Dr. Ari Santas, professor in the Department of Philosophy and Religious Studies, discussing the matrix of racism on Oct. 14; and Dr. Leslie S. Jones, associate professor in the Department of Biology, discussing how to untangle human diversity from the social construction of race on Nov. 18.
Each event will begin with a 45-minute presentation, followed by a 45-minute question-and-answer/discussion session. Doors open at 7 p.m.
"This event has been organized as a university/community event, also referred to as a Town and Gown," said Jones, series organizer. "We hope that any interested member in the community will join us. This ongoing speaker series has been initiated by students and faculty members as an academic approach to the challenge of addressing all forms of racism in our country."
Whitehead Auditorium is located on the first floor of the VSU Fine Arts Building, at the intersection of Brookwood Drive and Oak Street.
Contact the African American Studies Program at (229) 249-4843 or Dr. Leslie S. Jones at lesliesj@valdosta.edu or (229) 219-1337 for more information.
---
Valdosta State University's 2013-2019 Strategic Plan represents a renewal of energy and commitment to the foundational principles for comprehensive institutions.
Implementation of the plan's five goals, along with their accompanying objectives and strategies, supports VSU's institutional mission and the University System of Georgia's mission for comprehensive universities.
The story above demonstrates VSU's commitment to meeting the following goals:
Goal 1: Recruit, retain, and graduate a quality, diverse student population and prepare students for roles as leaders in a global society.
Goal 3: Promote student, employee, alumni, retiree, and community engagement in our mission.
Visit http://www.valdosta.edu/administration/planning/strategic-plan.php to learn more.
General VSU Information
Office of Communications
Campus Address
Office of Communications Powell Hall West, Suite 1120
Mailing Address
1500 N. Patterson St.
Valdosta, GA 31698