August 4, 2015
15-190
Jessica Pope
Communications and Media Relations Coordinator
VSU Alumna, Artist Creates Painting for Alabama Governor's Mansion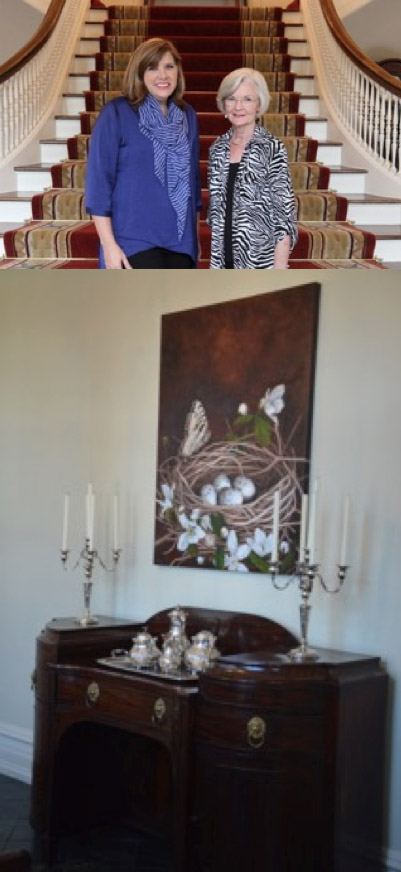 Pictured are Amy Ellis Crews and Alabama First Lady Dianne Bentley.
VALDOSTA — A 36-inch by 48-inch oil on canvas created by Amy Ellis Crews, a two-time Valdosta State University graduate, is now part of the permanent collection at the Alabama governor's mansion.
"I toured the governor's mansion on a field trip to Montgomery, and while there, I noticed an empty picture hanger on a wall over a sofa covered with magnolia blooms," she said. "I had recently begun a series of magnolia paintings, and then it occurred to me that I could offer to provide a piece. I had only one business card on me at the time, and thankfully, it had a photo of one of my magnolias on it. I gave it to our guide and explained that I am an artist and would love to discuss the possibility of commissioning a piece. A couple of months later, my husband and I were invited back and met with First Lady Dianne Bentley and her assistant. At that meeting we came up with an idea of a state nest. She knew just where she would display it."
"Alabama Nest" was unveiled at the governor's mansion in February and will remain in what has become known as "The People's House" for current and future first families to enjoy while in residence, Crews shared. Robert and Dianne Bentley have occupied the home since 2011; he was elected the 53rd governor of Alabama in 2010 and recently began his second four-term . 
The painting symbolizes home and reflects many of the state's symbols. The state bird, a yellowhammer, is represented by four yellowhammer eggs displayed in the nest; the state butterfly, an Eastern tiger swallowtail, is pictured resting atop the nest; and the state fruit, blackberry, is represented by the fruit's blossoms that surround the nest.
Crews studied fine art in VSU's College of the Arts for two years before transferring to the Harley Langdale Jr. College of Business Administration, where she completed a Bachelor of Business Administration in management in 1994, followed by a Bachelor of Business Administration in marketing a year later.
"I was working full time during the day for Cooper Real Estate in Valdosta the last several years, and it was not possible to take art classes while working," she said. "I have always been artistic and hoped for a creative career of one form or another. Circumstances led me to completing degrees in business instead, but I think the business degrees have helped me tremendously in my work as an artist.
"After graduating, I worked in banking and then marketing. I did take additional art classes along the way, and I've been working as an artist since 2001. I think I will always find ways to continue my art education even now. The opportunities and variety of workshops out there are limitless."
Crews has received numerous awards across the South, including Best in Show at the 2015 Mountain Brook Art Association Show and Best in Show at the 2015 University of Alabama ArtBlink, and has been featured in several publications, including Birmingham Home & Garden, Nashville Arts Magazine, StyleBlueprint, and Southern Living at Home. She was most recently named an emerging artist and featured in Art Galleries and Artists of the South. However, what may have been the biggest highlight of her year was having the opportunity to share her work with Bono of the band U2 while in New York City in July; she presented him with a necklace featuring one of her original paintings of an iris, which just so happens to be his mother's name.
"After I explained the details of the piece and he listened closely, Bono said, 'Oh my gosh. How beautiful,'" said Crews, a lifelong fan who listens to the band's music in her art studio. "He then handed me his hat to hold while he hung the piece around his neck. It was a dream come true."
Crews boasts a body of work that is varied but consists predominantly of flora and fauna subject matter with an emphasis on light and shadow. Among her corporate collectors are the Alabama Wildlife Federation, Children's Hospital of Alabama, Energen Corporation, and the Birmingham Botanical Gardens.
Born in Atlanta, Crews has lived in Birmingham, Ala., for 16 years. She and husband Matt Crews have two children.
On the Web:
http://www.amycrewsgallery.com
On Facebook:
https://www.facebook.com/amycrewsartist 
On Instagram:
@amycrewsartist
---
Valdosta State University's 2013-2019 Strategic Plan represents a renewal of energy and commitment to the foundational principles for comprehensive institutions.
Implementation of the plan's five goals, along with their accompanying objectives and strategies, supports VSU's institutional mission and the University System of Georgia's mission for comprehensive universities. 
The story above demonstrates VSU's commitment to meeting the following goals: 
Goal 1: Recruit, retain, and graduate a quality, diverse student population and prepare students for roles as leaders in a global society.
Goal 3: Promote student, employee, alumni, retiree, and community engagement in our mission.
Goal 4: Foster an environment of creativity and scholarship.
Visit http://www.valdosta.edu/administration/planning/strategic-plan.php to learn more.
General VSU Information
Office of Communications
Campus Address
Office of Communications Powell Hall West, Suite 1120
Mailing Address
1500 N. Patterson St.
Valdosta, GA 31698