July 30, 2015
15-187
Whitney N. Yarber, Communications Specialist
VSU Receives Models of Excellence Award for Student Success Initiatives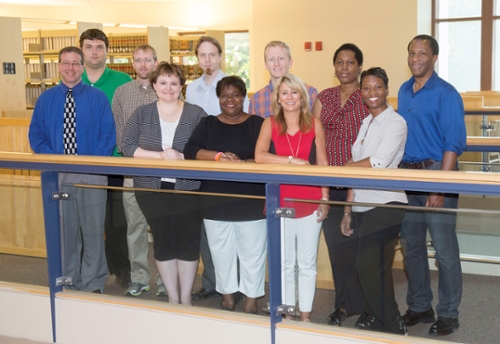 Pictured, from left to right, are David Pulliam, p

rogrammer analyst specialist for the Division of Information Technology; Arthur "Art" Rinberger, programmer analyst coordinator for the Division of Information Technology; Matthew McIntyre, academic advisor for Centralized Advising; Alicia Roberson, director of Centralized Advising; Nicholaus Clinite, programmer analyst associate for the Division of Information Technology; Dr. Beverley Blake, senior advisor for Centralized Advising; Barrie Fitzgerald, interim director for the Office of Institutional Research; Lori Lovell, academic advisor for Centralized Advising; Janice Inman, senior secretary for Centralized Advising; Wendy Butler, senior administrative secretary for Centralized Advising; and Kirk Johnson, academic advisor for Centralized Advising.
VALDOSTA – Valdosta State University received the Summer 2015 University Business Models of Excellence Award for using data to improve retention, academic success, campus life engagement, and graduation rates. This is the sixth national and international award that VSU has received for innovation and data analytics.
"The numerous awards over the past three years highlight our commitment to student success and performance improvement," said Brian Haugabrook, chief information officer. "The improvements in retention and performance excite me the most — not so much the awards themselves. I am proud my work in higher education is making a positive impact on student's lives, which is ultimately most important to me. Our efforts so far are highly recognized, but the journey is far from being finished. The higher education industry has a lot of work ahead to increase graduation rates and college affordability. I hope our work continues to improve success rates at VSU and have a global impact in improving education for all learners."
University Business magazine, in partnership with Higher One, introduced Models of Excellence to recognize colleges and universities that have implemented innovative, effective and inter-departmental initiatives that are bolstering student success.
"VSU is currently testing predictive algorithms that will provide daily monitoring and risk metrics," continued Haugabrook. "We have been successful in measuring risk on an annual and term basis with our existing tools. Daily monitoring across academic and engagement indicators will help ensure students receive immediate help when needed. It will also improve communication with academic and support departments with early intervention strategies. The predictive models will integrate with existing technologies to provide more information to students, advisors and faculty as we continue to improve academic success and graduate more students."
Contact Brian Haugabrook at bahaugab@valdosta.edu or (229) 333-5974 for more information.
On the Web:
https://www.universitybusiness.com/mox
---
Valdosta State University's 2013-2019 Strategic Plan represents a renewal of energy and commitment to the foundational principles for comprehensive institutions.
Implementation of the plan's five goals, along with their accompanying objectives and strategies, supports VSU's institutional mission and the University System of Georgia's mission for comprehensive universities.
The story above demonstrates VSU's commitment to meeting the following goals:
Goal 1: Recruit, retain, and graduate a quality, diverse student population and prepare students for roles as leaders in a global society.
Goal 3: Promote student, employee, alumni, retiree, and community engagement in our mission.
Goal 4: Foster an environment of creativity and scholarship.
Goal 5: Develop and enhance Valdosta State's human and physical resources.
Visit http://www.valdosta.edu/administration/planning/strategic-plan.php to learn more.
General VSU Information
Office of Communications
Campus Address
Office of Communications Powell Hall West, Suite 1120
Mailing Address
1500 N. Patterson St.
Valdosta, GA 31698