July 28, 2015
15-185
Whitney N. Yarber, Communications Specialist
VSU Implements QLess Module to Reduce Wait Times for Financial Aid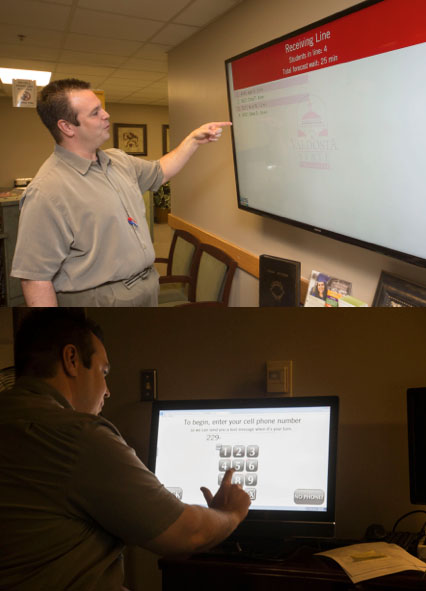 Pictured is Julian Vickers, operations manager for processing in the Office of Financial Aid, demonstrating the QLess module.
VALDOSTA – Valdosta State University's Office of Financial Aid is implementing QLess, a mobile wait management solution, to eliminate lines and additional frustration.
"I'm pretty excited about the potential of this upcoming project to reduce overall stress levels for both the staff and students," said Julian Vickers, operations manager for processing in the Office of Financial Aid. "The director asked me to figure out a queuing solution for the students, and having been through one iteration of what they call the 'crazy time' here, I agreed that we did need one."
QLess helps organizations of all sizes manage customer service by turning physical lines into virtual ques.
"QLess is a take-a-number-and-wait system, but it has a pretty major twist," shared Vickers. "First, you take the number using either a computer, cell phone, or kiosk here in the office — meaning you can take a number from anywhere. Second, you don't wait in the office. As long as you are [in the Office of Financial Aid] when your number is called, you have, in fact, been 'waiting in line.'"
QLess enables organizations to share real-time information with customers, including updates on their number in line and up-to-date predictions on wait time. This reduces pressure on staff, while giving customers the opportunity to wait wherever they please.
Contact Julian Vickers at (229) 333-5935 or jvickers@valdosta.edu for more information.
On the Web:
https://www.valdosta.edu/admissions/financial-aid/
---
Valdosta State University's 2013-2019 Strategic Plan represents a renewal of energy and commitment to the foundational principles for comprehensive institutions.
Implementation of the plan's five goals, along with their accompanying objectives and strategies, supports VSU's institutional mission and the University System of Georgia's mission for comprehensive universities.
The story above demonstrates VSU's commitment to meeting the following goals:
Goal 1: Recruit, retain, and graduate a quality, diverse student population and prepare students for roles as leaders in a global society.
Goal 3: Promote student, employee, alumni, retiree, and community engagement in our mission.
Goal 4: Foster an environment of creativity and scholarship.
Goal 5: Develop and enhance Valdosta State's human and physical resources.
Visit http://www.valdosta.edu/administration/planning/strategic-plan.php to learn more.
General VSU Information
Office of Communications
Campus Address
Office of Communications Powell Hall West, Suite 1120
Mailing Address
1500 N. Patterson St.
Valdosta, GA 31698