July 8, 2015
15-180
Jessica Pope
Communications and Media Relations Coordinator
Sara Reed Awarded Marriage and Family Therapy Fellowship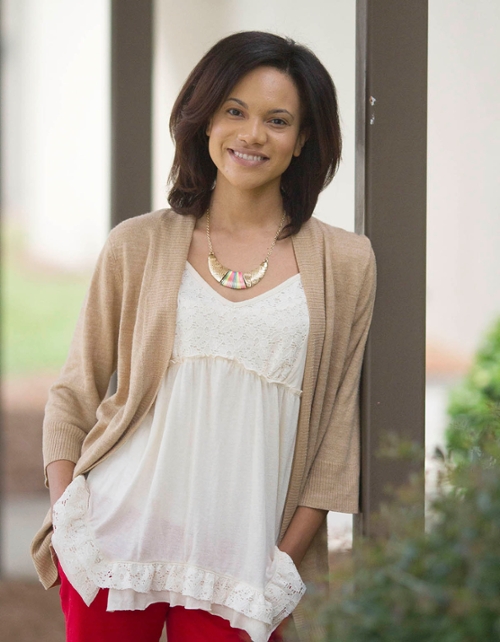 Sara J. Reed, winner of the Georgia Association for Marriage and Family Therapy's Christus Powell Minority Fellowship Program
VALDOSTA — Sara J. Reed, 25, was recently selected by the Georgia Association for Marriage and Family Therapy to receive $750 in fellowship funds through its Christus Powell Minority Fellowship Program. Only those higher education students who show promise in and a commitment to a career in marriage and family therapy education, research, or practice are considered for this award each year.
"Marriage and family therapy is such a rich and rewarding field," said the daughter of Gerald and Joyce Reed, of Hopkinsville, Ky. "I love the conversational approach to therapy and enjoy being able to utilize my strengths in a way that can be beneficial to the clients I encounter. This field allows me to embrace differences in a way that encompasses the complexity of human experience. I love being able to learn about different theoretical orientations, as well as learn more about who I am and who I want to be in the world."
Having already earned a Bachelor of Arts in philosophy, with a bioethics and pre-medicine concentration, from the University of Louisville in her home state of Kentucky, Reed arrived at Valdosta State University in the fall of 2014, eager to study in the nationally recognized Department of Marriage and Family Therapy. Since that time, she has maintained a 4.0 grade point average, developed lasting relationships with her faculty and peers, and, as a socially minded individual, worked to expand culturally sensitive practices in the marriage and family therapy profession.
"She is eager to explore the application of systemic ideas and family therapy practice to work with minority communities in hopes of reducing disparities in service provision among underrepresented groups," said Dr. Lana H. Kim, assistant professor and licensed marriage and family therapist.
"[Sara] … shows great promise as a scholar and future clinician in the field of marriage and family therapy," Kim added. She went on to describe Reed as "bright, thoughtful, humble, and diligent in her work."  
Reed anticipates completing the requirements for the Master of Science in marriage and family therapy in July of 2016.
"My professional interests are composed largely of the ability to understand human perception, not in some absolute, objectifying way, but in a way that allows me to glimpse into the lives of others and guide them to a desired state of being," said Reed, recipient of VSU's 2015 Excellence in Marriage and Family Therapy Award. "I have grown to understand that not everyone has access to the same opportunities, whether it is tangible, physical, or emotional. As such, I hope to be of assistance to those who are emotionally underprivileged. One of my professional goals is to have a nonprofit organization that focuses on women and teens in emotionally underprivileged areas."   
Reed is a member of the Department of Marriage and Family Therapy's Student Advisory Committee.
The Georgia Association for Marriage and Family Therapy's Christus Powell Minority Fellowship Program is open to higher education students pursuing an advanced degree in the field of marriage and family therapy who identify themselves as African-American, Hispanic, Native American, Asian-American,  Pacific Islander, or another minority group.
On the Web:
http://www.valdosta.edu/colleges/education/marriage-family-therapy/
General VSU Information
Office of Communications
Campus Address
Office of Communications Powell Hall West, Suite 1120
Mailing Address
1500 N. Patterson St.
Valdosta, GA 31698