June 18, 2015
15-166
Jessica Pope
Communications and Media Relations Coordinator
VSU Names Ronald Seacrist Director of Public Safety, Chief of Police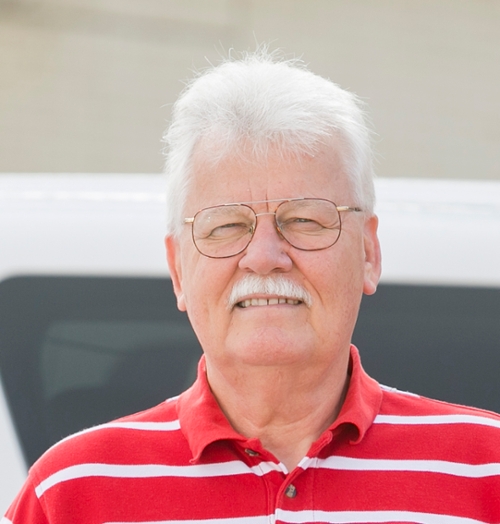 Photo courtesy of Texas Tech University
VALDOSTA — Valdosta State University has selected Ronald Seacrist to be its next director of public safety and chief of police, effective July 20.
Seacrist will succeed Oswell "Oz" Armour, who was appointed interim director of public safety and chief of police at VSU on Feb. 18, following Scott Doner announcing his retirement from the university.
"After an extensive national search, I am pleased that Chief Seacrist will be joining VSU," said Dr. William J. McKinney, president. "He brings a wealth of campus policing experience and an enlightened perspective on the roles and responsibilities of a university police force."   
"I am pleased to have such a qualified candidate who received strong support from the search committee and campus presentation responses," said Traycee F. Martin, interim vice president for VSU's Division of Finance and Administration. "Seacrist's years of experience in a campus law enforcement environment will be instrumental in enhancing the culture of safety on our campus."  
Seacrist is no stranger to VSU, having previously served as director of public safety from October 1989 to August 1994. During that time, he developed and implemented a 24-hour communications center, a crime prevention program, a field training officer program, a student security and parking enforcement program, an environmental health and safety program, and a criminal investigations division.
"Police in a university environment is unique to the policing profession," he said. "University police officers are expected to provide what I call 'pure police' services to the university community as efficiently, or better than, a municipal agency. However, when those services are not needed, there is an expectation of the community that the police department will provide what I refer to as a 'corporate security' approach to their university organizational responsibilities. This would include, but not be limited to, escort services, building security duties, and general public safety services.
"They key to a successful university police organization is to have a staff that understands and can perform both 'pure police' and 'corporate security' tactics and, more importantly, know when it is appropriate to apply each. A successful university police manager recruits individuals who understand these two tactics and are willing to accept this dual role.
"My personal philosophy regarding managing a university police agency is to identify strengths and weaknesses of the staff and try to place individuals within the organization where their strengths can outweigh their weaknesses."
A Vietnam War veteran, Seacrist served as a military intelligence coordinator with the United States Army from January 1967 to January 1970. Three months after being honorably discharged, he joined the Tampa Police Department, where over the course of decade, he worked as a narcotics detective, police corporal, and police sergeant; merited Police Officer of the Year honors; and earned an Associate of Arts in political science and administration from Hillsborough Community College and Bachelor of Arts in education from the University of South Florida, both in Tampa, Fla.
Seacrist went on to work as assistant director of security for Tulane University in New Orleans, La., where he developed a pre-employment screening system, a loss reporting system, a personnel training program, and a personnel evaluation system. Twenty-two months later, he returned to the Sunshine State, accepting the director of public safety position at the University of Central Florida in Orlando, Fla. During the next five and a half years, he implemented various crime prevention programs, including a student escort service, a residence hall auxiliary patrol, a campus-wide computerized fire and security alarm system, a disaster contingency plan, and an executive training plan. He also developed a field-training program for police personnel and a criminal investigator training program and graduated from the FBI National Academy, located at the FBI Academy on Marine Corps Base Quantico in Virginia. 
Seacrist then worked a brief stint as director of risk management for Manatee Memorial Hospital in Bradenton, Fla., before relocating to Valdosta.
After nearly five years with VSU, where he earned a Master of Science in sociology, Seacrist headed west to serve as executive director of business administration at the University of Texas in San Antonio, Texas, assuming responsibility for the institution's Police Department, Office of Institutional Compliance, Risk Management, Park and Transportation, and Occupational Health and Safety. He developed and implemented a university risk management program, as well as a staffing and security plan for a newly constructed downtown campus, during his nearly five years of service.
Turning his sights on the West Coast, Seacrist accepted a position with California State University in Northridge, Calif. As director of public safety, he accomplished much in a less-than-three-year period, including developing a full-time crime prevention program, decreasing overtime costs by $90,000 a year through personnel management, and creating both a full-time records manager position and a dispatch supervisor position without increasing the use of state funds. His next stop was the University of West Florida in Pensacola, Fla., where he served as chief of police before returning to the Lone Star State in October 2004 to serve as chief of police for the Texas Tech University System, which is headquartered in Lubbock, Texas, and boasts four institutions, 15 campuses and academic sites, and a 62,000-seat football stadium. He retired from there in late May.  
With 45 years of law enforcement experience, including 33 years as chief of police in the university environment, Seacrist believes that he has the knowledge and skills that will help VSU continue to build an environment that promotes a feeling of safety and security.
"I am excited for the opportunity to return to Valdosta State and contribute to its continuing growth," he said.
Seacrist is an American Society for Industrial Security-certified protection professional, a certified risk manager in the state of Florida, and a graduate of the National Association of College and University Business Officers College Business Management Institute. He has published several articles in Campus Law Enforcement Journal. He is a member of Alpha Kappa Delta, an international sociology honor society, and the American Society for Industrial Security, the world's largest association for security management professionals, and has taught courses in criminal justice at the university level. His son is a GBI agent assigned to Lowndes County; his twin granddaughters live in Valdosta.
Visit http://www.valdosta.edu/administration/finance-admin/police/documents/director-of-public-safety-chief-of-police.pdf to view a complete job description for VSU's director of public safety and chief of police.
Visit http://www.valdosta.edu/administration/finance-admin/police/director-public-safety-search/welcome.php to view the search committee timeline.
---
Valdosta State University's 2013-2019 Strategic Plan represents a renewal of energy and commitment to the foundational principles for comprehensive institutions.
Implementation of the plan's five goals, along with their accompanying objectives and strategies, supports VSU's institutional mission and the University System of Georgia's mission for comprehensive universities. 
The story above demonstrates VSU's commitment to meeting the following goals: 
Goal 5: Develop and enhance Valdosta State's human and physical resources.
Visit http://www.valdosta.edu/administration/planning/strategic-plan.php to learn more.
General VSU Information
Office of Communications
Campus Address
Office of Communications Powell Hall West, Suite 1120
Mailing Address
1500 N. Patterson St.
Valdosta, GA 31698