June 23, 2015
15-170
Whitney N. Yarber, Communications Specialist
VSU Geoscience Faculty Lead 7,000-Mile Trek with Students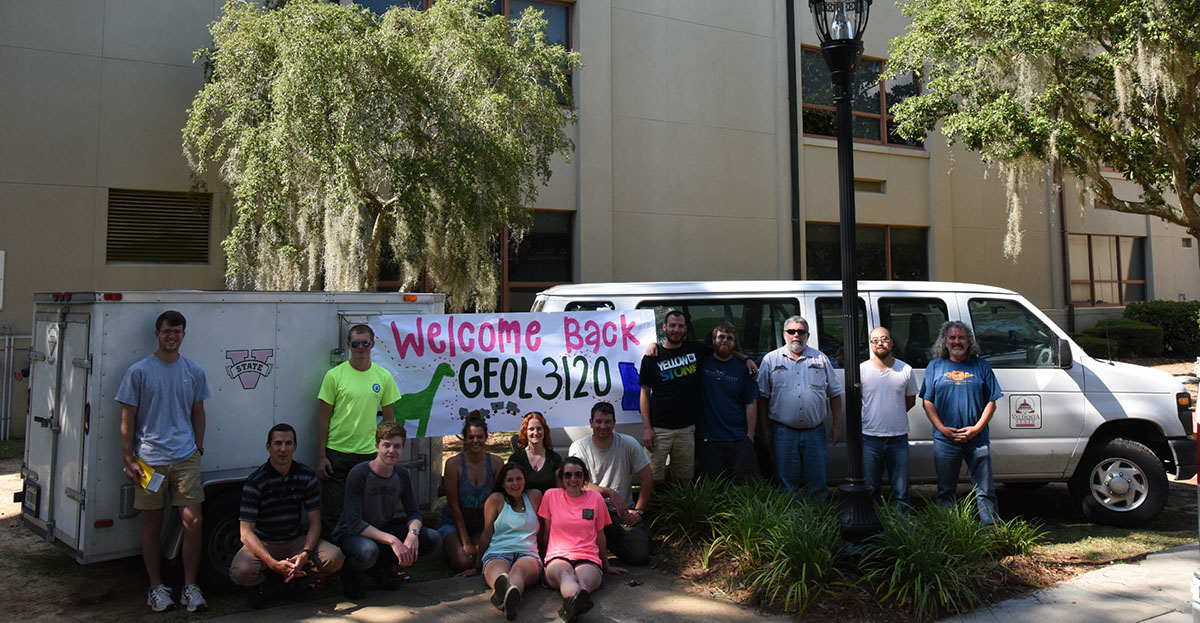 Pictured are Eric Parrish, Matt Morbey, Sean Bolan, Kendall Brown, Dmytri Kuliy, Seth Brown, Morgan Cowart, Mary Ruth Foster, Lance Foster, Rachel Wilkerson, Jenna Detar, Dr. Mark Groszos, associate professor of geosciences; Dr. Weimin Feng, assistant professor of geosciences; and Dr. Can Denizman, associate professor of geosciences.
VALDOSTA – Three faculty members and 11 students from Valdosta State University's Department of Physics, Astronomy, and Geosciences recently returned to Valdosta from a 7,000-mile trek across 17 states.
The GEOL 3120: Geosciences Field Trip is a field-based class offered by VSU every other summer session where students study the geology and geography of a selected region in a classroom for three days, followed by a 19-day field trip to the pre-selected points of interest.
Dr. Mark Groszos, associate professor of geosciences, has directed the trip since 2003. He was assisted by Dr. Can Denizman, associate professor of geosciences, and Dr. Weimin Feng, assistant professor of geosciences.
"The primary reason for the trip is to expose our students to a range of environments, rock types, and geologic settings that they do not encounter on our regular field trips — those focus mainly on the Southeast," said Groszos.
"One of my areas of expertise is field geology," he shared. "I have studied a number of locations in the U.S. as well as Canada and Brazil. I like to share what I learned from those experiences with our students."
"Nothing compares to conducting field trips where students are exposed to real-world examples of almost everything we discuss in the classroom," said Denizman. "They get to identify the minerals and the rocks, observe geologic structures, and more importantly try to interpret the geologic processes based on the evidence available in the field."
The geosciences field trip included a van trip from Valdosta to various campgrounds, resorts and RV parks in Texas, New Mexico, Colorado, Utah, Arizona, Nevada, Wyoming, South Dakota, Missouri, and Tennessee.
Students were expected to participate in all trip activities from cooking and cleaning to discussions and sample collecting at each stop. They were required to conduct research and serve as expert guides on their assigned topics throughout the experience.
"We try to have our students do different things at every location," said Groszos. "We almost always focus on the rocks; sometimes we focus on processes, and other times we focus on landforms and related natural hazards. Some stops are primarily for our geography students, and other stops are primarily for our geology students.
"The final exam was derived from their in-field presentations. Our day-to-day activities are always different. We do that intentionally. We don't want them to get bored with the routine. We do try to include a short hike every day. Most are a mile or so, but the elevation increase and the irregular terrain is what makes them challenging."
Participating students were Eric Parrish, a junior from Gray; Matt Morbey, a senior from Axminister, England; Sean Bolan, a senior from Brunswick; Kendall Brown, a junior from Jasper, Fla.; Dmytri Kuliy, a 2015 graduate from Odessa, Ukraine; Seth Bryan, a sophomore from Adel; Morgan Cowart, a junior from Tallahassee, Fla.; Mary Ruth Foster, a 2009 graduate from Hartsfield; Lance Foster, a senior from Hartsfield; Rachel Wilkerson, a junior from Monticello; and Jenna Detar, a junior from Lilburn.
Highlights of the trip included being able to relate the scenery to its geologic origins and processes; visiting the Great Sand Dunes and the Black Canyon of the Gunnison River in Colorado, the Grand Teton and Yellowstone National Park in Wyoming, the Arches in Utah, the Carlsbad Caverns in New Mexico, and the Lehman Cave ecosystem in Nevada; riding an old-fashioned steam locomotive train for 50 miles through the Rocky Mountain wilderness; observing snow, sand, and mud all in the same place; experiencing changing environments, vistas, and geologic forces; and seeing wild life roaming free.
Groszos said the students were "one of the best groups to attend the trip" in his tenure as director.
The GEOL 3120: Geosciences Field Trip class will be offered again in May 2017. Contact Dr. Edward Chatelain, department head and associate professor of geosciences, at (229) 333-5752 or echatela@valdosta.edu for more information.
Visit https://www.flickr.com/photos/127775090@N08/albums to view additional photos.
On the Web:
http://www.valdosta.edu/colleges/arts-sciences/physics-astronomy-geosciences/
---
Valdosta State University's 2013-2019 Strategic Plan represents a renewal of energy and commitment to the foundational principles for comprehensive institutions. 
Implementation of the plan's five goals, along with their accompanying objectives and strategies, supports VSU's institutional mission and the University System of Georgia's mission for comprehensive universities. 
The story above demonstrates VSU's commitment to meeting the following goals: 
Goal 1: Recruit, retain, and graduate a quality, diverse student population and prepare students for roles as leaders in a global society.
Goal 3: Promote student, employee, alumni, retiree, and community engagement in our mission.
Goal 4: Foster an environment of creativity and scholarship.
Visit http://www.valdosta.edu/administration/planning/strategic-plan.php to learn more.
General VSU Information
Office of Communications
Campus Address
Office of Communications Powell Hall West, Suite 1120
Mailing Address
1500 N. Patterson St.
Valdosta, GA 31698