June 29, 2015
15-175
Whitney N. Yarber, Communications Specialist
Terrell "Tee" Mitchell Named Director of Admissions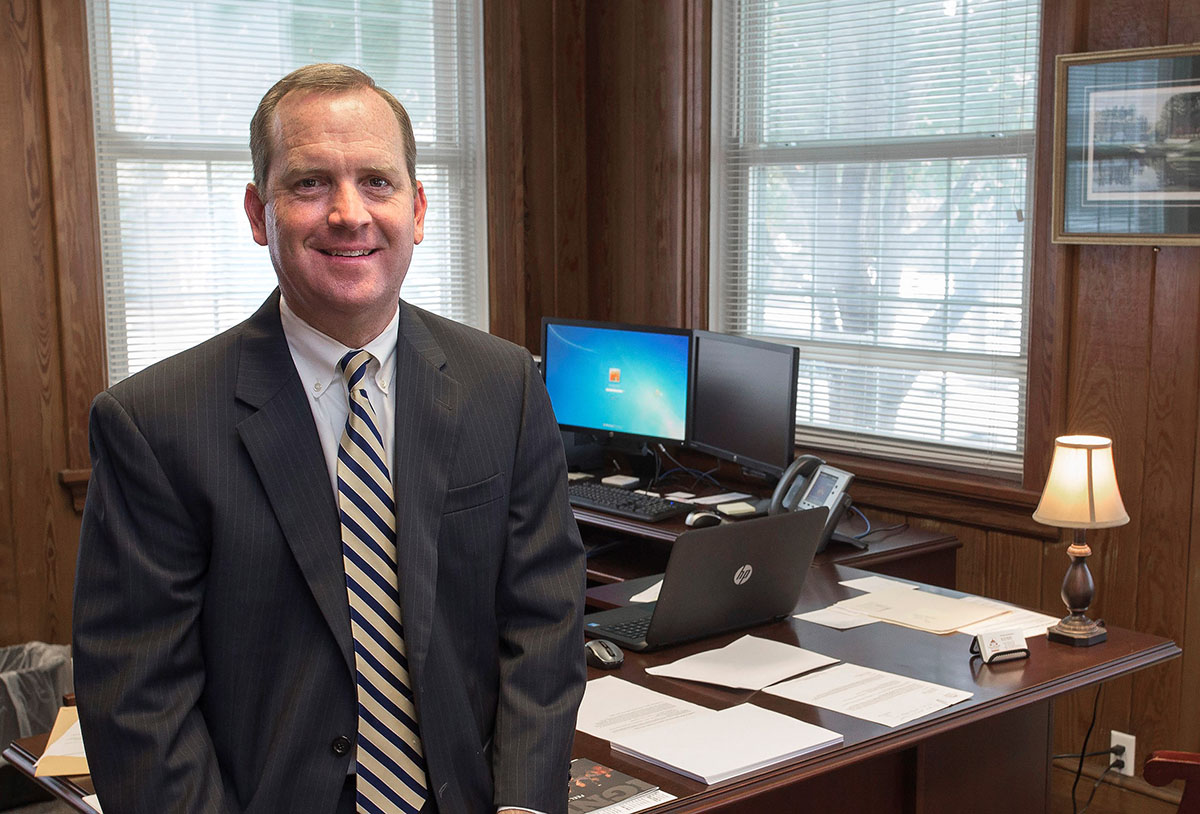 Terrell "Tee" Mitchell
VALDOSTA – Valdosta State University welcomed Terrell "Tee" Mitchell as its director of Admissions June 1.
Mitchell joins the university with more than 16 years of experience in higher education. He began his career as an admissions counselor at Middle Georgia State College (MGSC) in 1996. Two years later, he was promoted to assistant director of Admissions, and served as director for six years. During his service, MGSC became the fastest growing institution in the University System of Georgia, as enrollment increased over 73 percent.
Before joining Valdosta State University, Mitchell served as the director of Student Recruitment and Admissions at Georgia Gwinnett College (GGC) for five years. Under his direction, GGC witnessed an enrollment increase of more than 200 percent.
Mitchell is involved in a number of professional affiliations, including the Georgia Association of Collegiate Registrars and Admissions Officers, the Southern Association of Collegiate Registrars and Admissions Officers, the American Association of Collegiate Registrars and Admissions Officers, and the Regents Advisory Council on Records and Admissions Officers.
"One of my career goals has been to work for a comprehensive university," Mitchell said. "Growing up in Macon, I have always had a lot of respect for VSU and consider it an honor to be a part of the Blazer family."
Mitchell and his wife, Kea, have been married for 18 years. They have three children, Tee Jr., 13, Lillian, 12, and Anna Claire, 8. Prior to his career in higher education, Mitchell signed and played briefly with the Los Angeles Dodgers organization after playing baseball at Mercer University.
"We are glad to have Tee Mitchell here with us at Valdosta State University," said Andy Clark, vice president for Enrollment, Marketing, and Communications. "He brings a wealth of knowledge with regard to admissions, and he is going to bring some exciting new ideas for recruiting students."
As director of Admissions, Mitchell will work with Clark to develop and implement an enrollment management strategy to achieve annual new student enrollment goals. He will be responsible for all aspects of domestic recruitment, staff development and travel, search initiatives, and ensure admission decisions are made in accordance with strategic objectives and follow Valdosta State University policy.
"My experience over the past two weeks at VSU has been amazing," said Mitchell. "Everyone that I have come in contact with on campus has been very welcoming and eager to help me with the transition to VSU. I am truly fortunate to be a part of the VSU family and look forward to making a positive impact in the years to come.
"I am fortunate to already have a great team in place at VSU. I hope to continue to build on the team atmosphere that we currently have and hope to assist VSU in implementing some of the strategic recruiting strategies that I have learned over the past 16 years. After meeting with the current staff in the Office of Admissions, we hope to expand on our current communications plan. We are so excited about the potential of recruiting many more out-of-state students given the fact that Florida, South Carolina, and Alabama residents will be afforded the opportunity to pay in-state tuition at VSU."
---
Valdosta State University's 2013-2019 Strategic Plan represents a renewal of energy and commitment to the foundational principles for comprehensive institutions.
Implementation of the plan's five goals, along with their accompanying objectives and strategies, supports VSU's institutional mission and the University System of Georgia's mission for comprehensive universities.
The story above demonstrates VSU's commitment to meeting the following goal:
Goal 5: Develop and enhance Valdosta State's human and physical resources.
Visit http://www.valdosta.edu/administration/planning/strategic-plan.php to learn more.
General VSU Information
Office of Communications
Campus Address
Office of Communications Powell Hall West, Suite 1120
Mailing Address
1500 N. Patterson St.
Valdosta, GA 31698